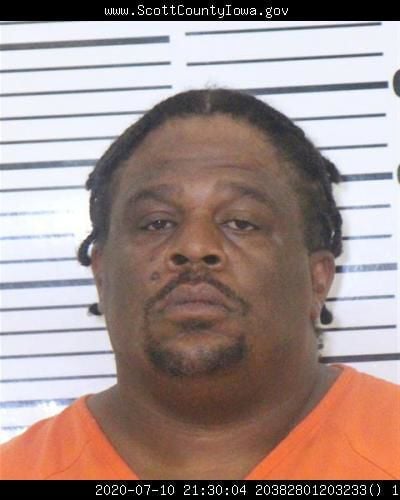 Scott County prosecutors have added two more sex offender registration violations against Henry Earl Dinkins, 47, the man who police have described as a person of interest in the disappearance of 10-year-old Breasia Terrell.
Dinkins is now charged with three counts of sex offender registration violation second or subsequent offense. Each of the charges is a Class D felony that carries a prison sentence of five years.
However, according to documents filed Wednesday in Scott County District Court by Assistant Scott County Attorney Steven Berger, prosecutors are also letting the court know the intention of prosecuting Dinkins as a habitual offender given his six felony convictions in Scott County dating back to Aug. 23, 1990, with the most recent one coming on Oct. 17, 2019.
If Dinkins is sentenced as a habitual offender, he would have to spend at least three years in prison before he is eligible for parole and could remain in prison for no longer than 15 years.
Dinkins is scheduled to be arraigned Thursday in Scott County District Court.
Once Dinkins case has worked its way through the Iowa criminal justice system, he will then have to go to Bureau County, Illinois, were he is facing methamphetamine trafficking charges. According to Bureau County Circuit Court electronic records, Dinkins is facing one count of manufacture and delivery of more than 200 grams of amphetamine or an analog of amphetamine, and one count of delivery of more than 900 grams of methamphetamine.
Both of the Illinois charges are Class X felonies under Illinois law that carry a prison sentence of six to 30 years.
Dinkins has not been charged with the disappearance of Breasia, but police have named him a person of interest in the case.
Dinkins is a registered sex offender because in 1990, when he was 18, he pleaded guilty to sexually abusing a 5-year-old girl. He was sentenced to 10 years in prison. The offense took place when he was 17.
Breasia has been missing since July 10. She was last seen in the 2700 block of East 53rd Street.
Breasia's grandmother Donita Gardner, of Davenport, said Breasia had joined her grandson, Dinkins' son, at a sleepover at Dinkins' apartment on Thursday, July 9. Breasia was reported missing the following morning.
The apartment where he has been living, 2744 E. 53rd St., Davenport, was searched by police July 10. However, that was not the address Dinkins had registered on the sex offender registry.
Dinkins was taken into custody the day Breasia was reported missing.
He is being held in the Scott County Jail on a $25,000 cash-only bond on the sex offender registry charges, and without bond on a parole violation and without bond on the charges from Bureau County, Illinois.
Sign up for our Crime & Courts newsletter
Get the latest in local public safety news with this weekly email.