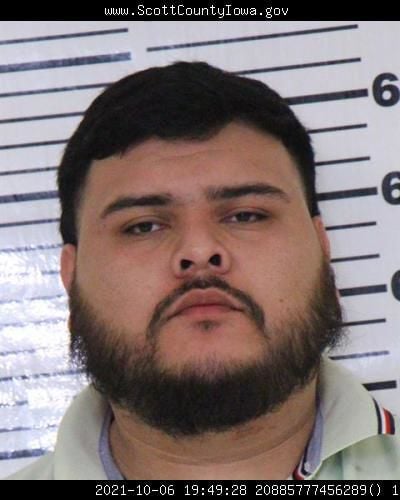 Jose Alejandro Mejia-Martinez, 22, was arrested Wednesday evening by Davenport police. He's charged with two counts of third-degree sexual abuse for having sex twice with a minor who is a member of his same household, according to court documents.
The first assault reportedly happened on Aug. 8, 2020, and the second on Sept. 11, 2021.
Mejia-Martinez was in a hospital for a few months of 2021 after he reportedly drove a car into the Mississippi river early in the morning of Feb. 7.
The site of the crash in Moline was being used by Interstate 74 bridge contractor Lunda Construction. The turn into the property is located just east of the River Drive on-ramp to the new westbound bridge.
The crash was discovered by a Lunda Construction worker around 6:15 a.m. when he spotted tire tracks in the snow and a hole in the icy river.
The temperature that morning was minus-8, and Mejia-Martinez sustained severe injuries related to the cold. A passenger in his car, Francisco Javier Vera Vasquez, 32, of Davenport, died from drowning. Early information indicated the two men may have been in a downtown bar before the accident.
He was charged in Rock Island County with aggravated DUI resulting in the death of a passenger. He was released after paying 10% of a $30,000 bond, or $3,000. 
Mejia-Martinez's next court appearance in Rock Island is scheduled for Oct. 28. He is currently being held in the Scott County Jail on a $10,000 bond for the sexual abuse charges.