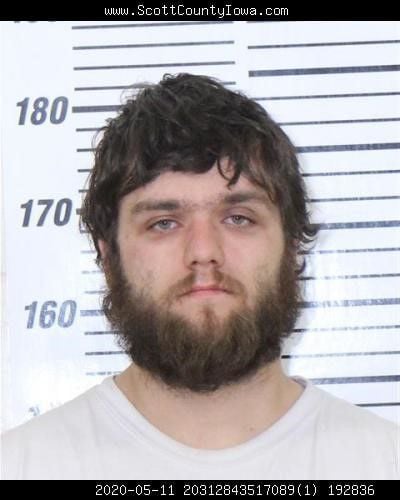 A Davenport man was facing charges Monday, accused of involvement in one of five April 29 incidents of gunfire in the city.
Gabriel Juras, 23, has been charged with intimidation with a dangerous weapon, going armed with intent and carrying weapons for an April 29 shooting at 200 W. 53rd St., according to the Davenport Police Department. 
Juras also faces separate charges of assault while displaying a dangerous weapon, carrying weapons and trafficking stolen weapons allegedly for threatening someone with a gun Sunday in the 600 block of West 64th Street, the department said.
The April 29 incident of which Juras is accused was the second of five unrelated gunfire complaints the Davenport police investigated that day.
The department alleges Juras quarreled with another driver and the confrontation escalated. He is accused of pointing a gun at a person while driving and following the other driver.
He then got out in the area of 5200 Sheridan St., aimed and fired at the other person as he drove past, the department said. One shot was fired and no one was reported hurt. A shell casing was recovered at the scene.
During the incident on Sunday, Juras was sitting in a grey sedan when he threatened a person around 7:52 p.m. by pointing a gun at the man while he was at his home on 64th Street, the department said. Juras and the unnamed person also allegedly knocked on the man's front door while threatening to shoot him.
Another person allegedly was with Juras when these events occurred, but that person was not identified in the narrative provided by the police department.
The victim was able to identify the two people, the department said.
Officers called to investigate pulled over a vehicle that matched the sedan's description in the 5000 block of Welcome Way, police said.
Juras was allegedly driving and the passenger allegedly had a loaded .22-caliber Walther P22 pistol, according to the police reports. The department accused Juras of stealing and using the pistol during the 64th Street crime then giving the gun to his passenger.
The gun was reported stolen by one of Juras' relatives on Monday, the department said.
Juras was being held Monday evening on a total bond of $31,000, according to the Scott County Jail website.
His next court date is scheduled for June 4, court records state.
Sign up for our Crime & Courts newsletter
Get the latest in local public safety news with this weekly email.