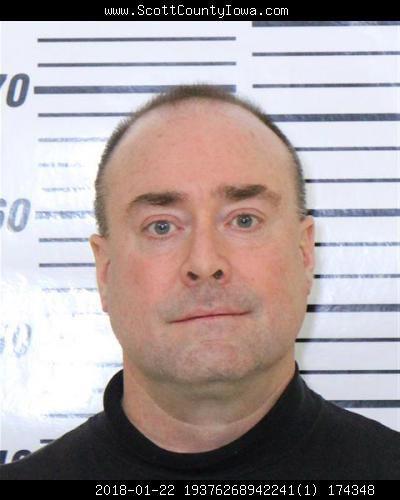 A Scott County jury on Wednesday convicted James Lee Mathias of possessing a firearm on the grounds of Brady Street Stadium in September.
The jury of eight women and four men deliberated for several hours Tuesday and Wednesday before finding Mathias, 53, of Davenport, guilty of carrying weapons, a Class D felony punishable by up to five years in prison.
Mathias, who is free on bond, will be sentenced June 28. He declined comment after Judge Henry Latham read the verdict.
His attorney, Ryan Beckenbaugh, also declined comment.
Around 11 a.m. Wednesday, the jury foreperson sent a note to the judge saying the jury was deadlocked with 10 votes for "guilty" and two votes for "not guilty."
The note, which Latham read aloud, stated the jurors were "very firm" with their votes and no amount of discussion would change that.
Latham sent a note back telling jurors to continue their deliberations. They were brought back into the courtroom with a verdict around 2:15 p.m.
Mathias was arrested in January and charged in connection with the Sept. 22 incident.
Davenport Police Capt. Jamie Brown testified Tuesday he was working in an off-duty capacity at a high school football game at the stadium, which is owned by the Davenport Community School District. Around 9 p.m., a person told him a man was putting fliers on cars in the parking lot.
Brown did not testify as to the content of the fliers, but court documents said they promoted National Alliance, a white supremacist organization.
Brown approached the man, identified as Mathias, and asked for identification. When Mathias reached into his back pocket, the officer noted a bulge on the man's waistband and asked him if he had a gun.
Mathias said yes and produced a valid weapons permit. Brown further testified he told the man to leave the property and later consulted with the Scott County Attorney's Office about possible charges.
Although Mathias had a weapons permit, Iowa law prohibits firearms on school property.
The Iowa Department of Education says on its website the only exceptions for having a firearm on school property is if the person is a peace officer; a member of the armed forces or National Guard or correctional officer who is carrying the weapon in connection with his or her duties; the weapon is unloaded and inside a closed and fastened container; or the school has specifically authorized the person to bring the weapon onto school grounds for the purposes of conducting an instructional program regarding firearms.
During closing arguments Tuesday, Beckenbaugh argued prosecutors failed to prove Mathias had a firearm that night and pointed to Brown's testimony that he never actually saw a gun or patted him down to determine what the bulge was.
He also argued there was no evidence presented that the parking lot was owned by the school district.