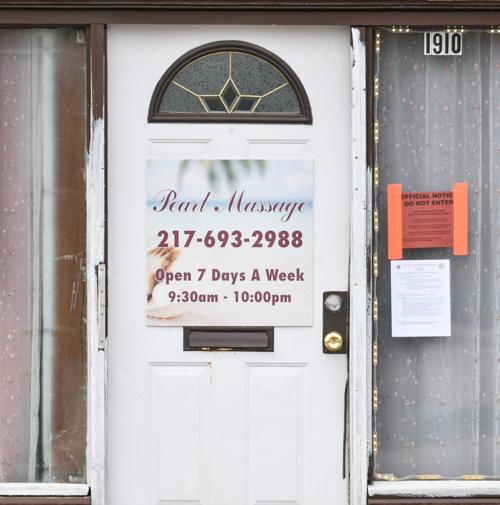 Six Davenport massage businesses have been shut down until they comply with a newly-adopted ordinance that seeks to address a growing concern of illicit massage parlors in the Quad-Cities.
On Tuesday, the City of Davenport's enforcement team, which includes police, fire and Neighborhood Services Department, partnered with the Scott County Sheriff's Office, Metropolitan Enforcement Group, Scott Emergency Communications Center (SECC), Family Resources, and the Iowa Department of Public Safety in a dual purposed investigation involving numerous massage businesses in the city, the Davenport Police Department said in a media release.
The operation included a criminal investigation into complaints received about illegal activity occurring inside the businesses and also to ensure code compliance with the ordinance, which requires massage therapists to be licensed by the state of Iowa and for reflexologists — people who massage feet, ears, hands — to be licensed by the city.
The city passed the ordinance in March.
City officials and victims' rights groups say massage parlors are a common front for illegal activities like human trafficking and illegal sex work. Legitimate businesses, meanwhile, have also called for regulations to be put in place, saying illegal ones contribute to a negative stereotype that can subject legitimate massage therapists to harassment.
Moline also passed a similar ordinance, and Bettendorf and Scott County are looking at ordinances of their own.
The businesses that were found in violation of Davenport's ordinance and other building code violations Tuesday are:
• Pearl Massage, 1910 Washington Street
• Asian Garden Massage, 3119 Brady Street
• Spa Magic, 730 W. 3rd Street
• Sunset Massage, 307 E. Locust Street
• Asian Massage, 1114 Mound Street
• Tuina Studio, 7211 Hancock Court
During Tuesday's operation, the enforcement team placed "notice of code violation" signs on the doors of the businesses.
The notice of code violation states that it is "unlawful to provide or receive massage therapy services at this location and is subject to criminal and/or civil penalty per Davenport Municipal Code Chapter 5.24. This notice shall remain posted until required business information is obtained by the City or other legal use has been established."
No arrests were made Tuesday, Davenport Police Maj. Jeff Bladel said.
The investigation is ongoing and no other information was released.
Police ask anyone with information regarding this incident or potential illegal activity to call 563-326-6125 or submit an anonymous tip via the mobile app "CityConnect Davenport, IA" or "CrimeReports by Motorola."
Sign up for our Crime & Courts newsletter
Get the latest in local public safety news with this weekly email.