Davenport police aided Rock Island police in capturing a suspect wanted in a shooting incident that occurred Wednesday night in Rock Island.
A person who was a victim in shooting showed up at Genesis Medical Center in Davenport. The victim's condition was not known late Wednesday.
Police said that shooting occurred about 7:30 p.m. in the 2600 block of 9th Street, Rock Island. 
When Rock Island police located the vehicle believed to be involved in the later shooting, a black Toyota SUV, and attempted to stop it, the SUV fled into Davenport over the Talbot Memorial (Centennial) Bridge.
Davenport police, who at 10:45 p.m. were in the middle of a shift change, heard the call, and the SUV was soon being pursued by Davenport police. The vehicle fled up Gaines Street at speeds of 90-95 mph to Locust Street where police say the suspect discarded a .357 revolver with one spent shell casing, then turned eastbound and then headed into downtown Davenport.
Davenport Police Cpl. Brandon Koepke was able to use his Davenport Police SUV to pin the Toyota against the Brady Street side of the parking ramp located between Brady and Main streets.
The driver of the SUV suffered minor injuries and was taken to Genesis Medical Center-East Rusholme Street, Davenport, for treatment. After treatment, police said the man will be booked into the Scott County Jail.
---
UPDATE: According to court documents, Zaccheus Nathaniel Hayes, 20, is in the Scott County Jail Thursday morning facing multiple charges including eluding and interference with official acts - firearm, both felonies.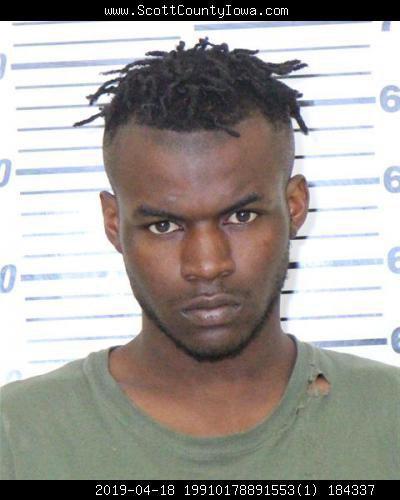 Hayes also was charged with carrying weapons, reckless driving, failure to maintain control of a vehicle, no valid drivers license, operating a motor vehicle with registration card or plate, failure to provide proof of financial liability, and striking fixtures upon a highway. 
---
Anyone with information about the shootings that took place Wednesday night in Rock Island is asked to call the Rock Island Police Department at 309-732-2677 or Crime Stoppers of the Quad-Cities at 309-762-9500.