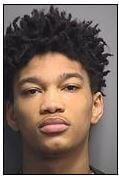 Daryel Deanthony Shears, of Davenport, was sentenced in April 2020 to 10 years in prison for threatening to shoot someone's house and shooting a flare gun into the air while driving past the house in August 2019.
Shears was admitted to the work-release facility on Sept. 13, 2021. He is a 17-year-old Black male; 5 feet, 9 inches tall; and weighing 140 pounds.
Anyone with information about Shears' whereabouts should contact the Davenport Police Department.