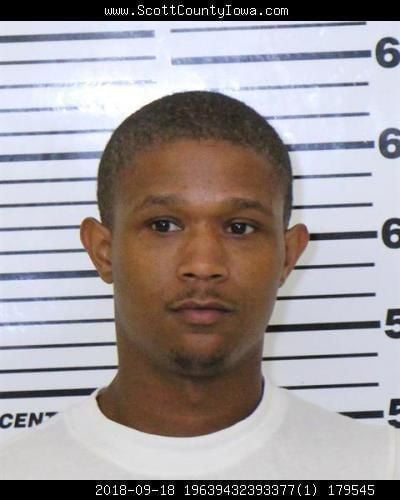 Ja'Shawn Bussell was a little spoiled.
That's how Chanetta Brown described her 5-year-old grandson Thursday while answering questions from Scott County Attorney Mike Walton. The testimony came during the third day of Tre Henderson's trial in the boy's beating death.
Henderson, 28, faces charges of first-degree murder, multiple acts of child endangerment, as well as child endangerment resulting in Ja'Shawn's death.
"What I mean is Ja'Shawn liked to be held — even as he got a little bigger," said Brown, the boy's paternal grandmother. "He liked to be held and he liked to be rocked to sleep."
After hearing medical testimony, Scott County prosecutors called Brown and Robin Jeffries, one of Ja'Shawn's aunts, to testify about the child and his mother, Jacqueline Rambert.
During both testimonies, a picture of a wide-eyed, healthy Ja'Shawn was shown on courtroom No. 3's flat screen.
Rambert called 911 on April 27, 2018, and told emergency personnel her son had been choking and was unresponsive. He was transported to the University of Iowa Hospitals with life-threatening injuries.
Ja'Shawn died May 1, 2018. An autopsy determined his death was caused by complications of blunt force injuries to the head. He also had numerous injuries to his body.
Investigators concluded Rambert, 25, and her boyfriend, Henderson, were responsible for the boy and the sole occupants of the Davenport apartment where the injuries occurred. Rambert pleaded guilty Jan. 24 to multiple acts of child endangerment and child endangerment resulting in death, and is expected to testify against Henderson, who is not the boy's father. She will be sentenced March 20.
As prosecutors questioned Brown and Jeffries, they zeroed in on Rambert's relationship with her son. Both called Rambert a "good mom" who "would do anything for her son."
You have free articles remaining.
Henderson's defense team bore down on testimony from both women who said Rambert spent time away from her son because " ... he cried all the time."
Brown said she'd never met Henderson. Rambert and Ja'Shawn spent a lot of time with both women from the time the child was 2 until the time he was 4.
"Jacque told me she was going to move to Chicago because she didn't have anyone," Brown said. "But she did. She had me and she had Robin (Jeffries)."
Brown testified she thought Rambert moved from Chicago to Davenport "a little before Ja'Shawn turned 5." Investigators believe Rambert lived in Davenport for almost a year before her son died.
Two of her Brown's daughters who were in the courtroom watching the trial agreed. Geannette Malone and Monae Whitehurst arrived Wednesday afternoon.
"We didn't have any idea who Jaqcue (Rambert) was living with — or that she was even with anyone," Malone said. "Everyone struggles at times. Being a mom is not easy and there were times she struggled.
"But we never saw Jacque hit that child. She loved him and would do anything for him," Malone said.ee
While Jeffries was on the witness stand, Henderson's attorneys tried to chip away at the picture of Rambert presented by the prosecution.
Jeffries was asked if she recalled asking Henderson if Rambert "was hitting Ja'Shawn again?"
Jeffries denied ever asking Henderson that question.
The trial will resume Friday at 9 a.m.