A Davenport man on parole out of the Illinois Department of Corrections and who is wanted on charges in two states was arrested Friday by Davenport Police for allegedly peddling ecstasy and marijuana.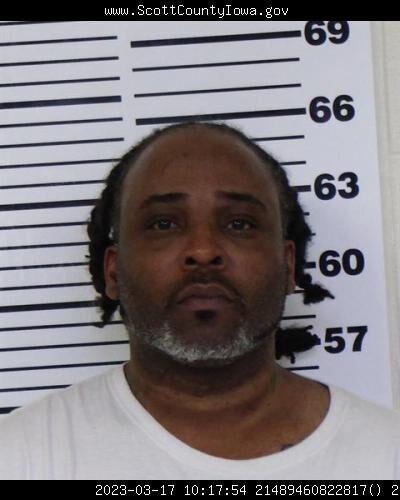 Michael Lashawn Robinson, 43, is charged in Scott County District Court with one count of possession with the intent to deliver more than 5 grams of a substance containing methylenedioxymethamphetamine, or MDMA, commonly referred to as ecstasy. The charge is a Class B felony under Iowa law that carries a prison sentence of 25 years.
Robinson also is charged with possession with the intent to deliver marijuana and with two counts of violating Iowa's drug tax stamp law. Each charge is a Class D felony that carries a prison sentence of five years.
According to the arrest affidavits filed by Davenport Police Officer Emily Rasche, at 6:04 a.m. Friday, the Davenport Police Department's narcotics unit served a search warrant at 1601 ½ W. 4th St. in connection with an ongoing drug investigation involving Robinson.
During the search, officers seized 4.70 pounds of marijuana, 113 ecstasy pills a digital scale and packaging materials. A follow-up search was done at an apartment at 1825 Grand Ave., where Robinson was taken into custody.
During a first appearance on the charges Saturday in District Court, Magistrate Cynthia Taylor scheduled a preliminary hearing for March 28.
Robinson is currently on parole out of the Illinois Department of Corrections' Lincoln Correctional Center. He was sentenced to three years in prison on charge of possession of more than 5 grams but less than 15 grams of methamphetamine.
That conviction and sentence was out of Bureau County. In that case, Robinson had been arrested on Dec. 7, 2020. He was admitted to the Illinois DOC on June 29, 2021, and was paroled April 12, 2022. He is scheduled to be discharged from parole in that case on April 12, 2024.
Robinson is wanted in both Illinois and Indiana.
In Rock Island County, Robinson is wanted for failure to appear on a charge of improper use of registration or title.
In Lake County, Indiana, Robinson is wanted on a charge of failure to return to lawful detention and for sentencing in a burglary case.
According to Lake Superior Court electronic records, Robinson was charged on May 18, 2020, with felony counts of burglary, theft and criminal mischief damage. He was under the supervision of Lake County Community Corrections.
A plea agreement in that case was filed on Dec. 6, 2022, and Robinson was to be sentenced Feb. 7. He failed to appear for sentencing and a warrant for his arrest was issued. 
Lake Superior Court records show that on March 17 Robinson was in custody in Scott County, Iowa.
Robinson was being held Sunday night in the Scott County Jail on a $20,000 cash-only bond for the new drug charges, and a $1,000 cash-only bond for failure to appear on a Scott County charge of interference.
He also was being held on a $3,000, 10%, bond for the charge out of Rock Island County, and without bond on the Indiana charges.