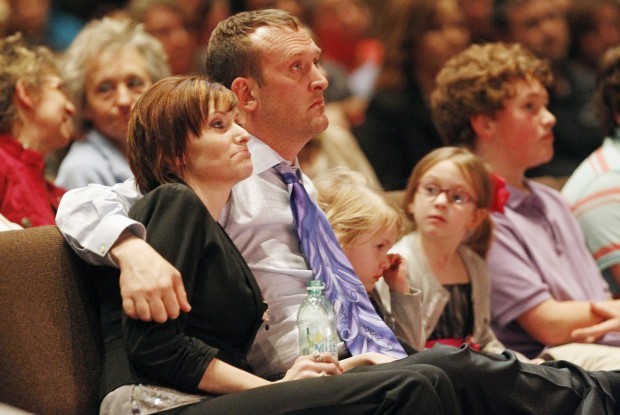 EVANSDALE, Iowa — Two years into the disappearance and death of his daughter, Drew Collins is trying to get his life back on track.
Collins and his wife, Heather, threw themselves into the role of activists shortly after their 8-year-old daughter, Elizabeth, disappeared while riding bikes with her cousin, Lyric Cook-Morrissey, 10. The girls were later found dead in a wilderness area in rural Bremer County.
As two-year mark of the July 13, 2012, disappearance passes today, no arrests have been made in the case, and no arrests seem imminent.
The Collinses have lobbied to speed up public notification in child abduction cases and campaigned to raise money for missing children groups. The couple is part of Team Hope, which counsels parents whose children have disappeared, and in May, Drew Collins traveled to New York to participate in a bike ride to raise money for the National Center for Missing and Exploited Children.
But they also are turning their focus inward.
"A lot of what we are trying to do is put our lives back together, me and Heather and the kids," Drew Collins said.
"All of that becomes harder and harder as time goes," he said. "Holding your marriage together, holding your family together. It's hard on marriage, it's hard on day-to-day life. All around a tough situation."
Collins keeps in regular contact with investigators, and he's satisfied with their work, even though he's kept in the dark about most of what they know. He's confident an arrest will be forthcoming, but he worries that a killer is still at large.
"I hope the scenario isn't that they do it again and get caught," he said. "That's my biggest fear, that they will do it someone else."
Evansdale Police Chief Kent Smock said the case brought awareness to the fact that even small, Midwest communities aren't immune from such tragedies.
Authorities looking for the kidnapper continue to chase new leads and sort through old information.
"The case is definitely not cold," Smock said. "We are continuing investigate leads and develop new leads and follow up on information."
The Iowa Division of Criminal Investigation has an agent assigned to the cousins' case full time, and every month generates five to 10 tips, Smock said. The authorities have tapped into the FBI's behavioral analysis unit to produce profiles showing the type of people likely to be behind the girl's disappearance and death.
"If you watch the crime drama television shows, you will see where they do a profile of who might be more prone to do a bank robbery or a kidnapping or a child molestation," Smock said. "There is actually some science to this, and they use statistics and history to develop profiles and then give us a profile based on the demographics.
"We are looking through what they have and what we can release to the public that may help the public identify people that we haven't seen."
Smock said his department also is in the process of starting a website to act as a clearinghouse for information and developments in the case.
In the past two months, a National Center for Missing and Exploited Children team made up of retired child abduction investigators reviewed steps taken in the investigation.
"Initially, they came back and said that anything that could have been done, we had done, and we did it in a very timely manner," Smock said.
They also took an independent look at information generated in the probe and offered suggestions.
Officials continue to offer rewards for tips that close the case. A $150,000 reward is available for information leading to an arrest and conviction in the case.
On top of that, Cedar Valley Crime Stoppers has a $20,500 reward for anyone coming forward with information that simply leads to an arrest, said Bryce Lippert, a Waterloo officer who coordinates with the Crime Stoppers organization.