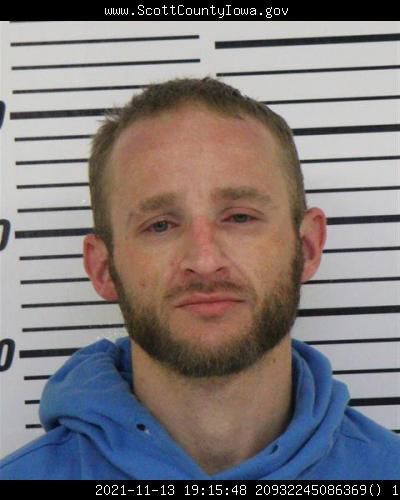 A LeClaire man who was charged in January for allegedly selling methamphetamine to an undercover agent with the Quad-City Metropolitan Enforcement Group has been arrested again on drug charges.
Zackery L. Vaugh, 35, was arrested Saturday evening by the Scott County Sheriff's Office on a warrant charging possession with intent to deliver a counterfeit or simulated controlled substance containing a detectable amount of a substance purporting to be methamphetamine. The charge is a Class B felony punishable by up to 25 years in prison.
Vaugh was also charged with possession with intent to deliver psilocybin mushrooms, a Class C felony punishable by up to 10 years in prison and a fine of between $1,370 and $13,660, and failure to affix a drug tax stamp, a class D felony punishable by up to five years in prison and a fine of between $1,025 and $10,245.
He was being held in the Scott County Jail on a $40,000 cash-only bond.
According to an arrest affidavit, the Scott County Sheriff's Office and LeClaire Police Department executed a search warrant at Vaughn's residence in LeClaire, where they found vacuum-sealed drug packaging and 370 grams of a crystal-like substance resembling meth. Vaugh told officers in a post-Miranda interview he would use the crystal-like substance to imitate methamphetamine, according to the affidavit. Officers also found a digital scale, $5,450 in cash in a duffel bag and 24.57 grams of psilocybin mushrooms.
Vaughn was arrested in January after allegedly selling 2.52 grams of crystal methamphetamine to an undercover MEG agent in the parking lot of a business located in the 800 block of Middle Road in Bettendorf.
He was also arrested in Minnesota by the Owatonna Police Department for allegedly selling 2,276 grams of simulated methamphetamine to an undercover officer, according the arrest affidavit.
Vaughn has requested a court-appointed lawyer and a preliminary hearing, which is scheduled for Nov. 23 at the Scott County Courthouse in downtown Davenport.