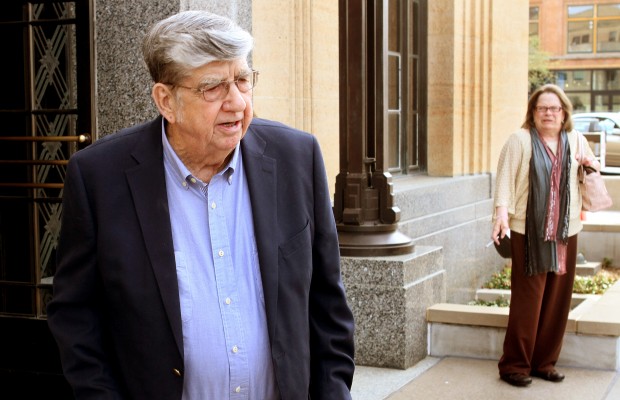 A woman who first brought the abusive living and working conditions of 32 mentally disabled men to the attention of Iowa authorities said Monday she couldn't believe the jury verdict awarded each man is now being slashed from $7.5 million to just $50,000.
Sherri Brown of Fayetteville, Ark., called the Iowa Department of Human Services in February 2009 about her brother, James Keith Brown, who was working for Texas-based Henry's Turkey Service. Days after her call, a bunkhouse where her brother lived in Atalissa was raided and earlier this month, a federal jury awarded the men a total of $240 million in damages.
On Monday, she found out the verdict amount may actually be a lot less.
"It's extremely disappointing," she said. "I knew there might be limitations, but not this much. It's totally unbelievable. This is an extreme circumstance. Henry's enslaved these guys. That's all they were to them, slaves and cattle. They were things to them, not people."
Kenneth Henry, the 72-year-old owner of the now defunct Goldthwaite, Texas-based company, declined to comment when reached Monday, saying he was unaware of the latest news and referred all questions to his attorney, David Scieszinski of Wilton, Iowa.
Scieszinski couldn't be reached for comment.
Scieszinski and the Equal Employment Opportunity Commission, which sued Henry's, filed briefs Friday in U.S. District Court, Davenport, agreeing that damages for each man would be limited to $50,000, plus interest.
U.S. Senior Judge Charles Wolle is expected to enter a final judgment in the coming days.
Scieszinski's brief didn't include any mention about an earlier ruling on back pay for the men. Each plaintiff is entitled to separate back pay averaging around $50,000 under an earlier order in the case finding they were underpaid by about $1.37 million.
You have free articles remaining.
Henry's hired the men, all at various stages of intellectual disability, and brought them to Iowa in the 1970s to work at a turkey processing plant in West Liberty, Iowa. Kenneth Henry testified that 1,500 mentally disabled men worked for him over 45 years at locations across the country.
The Davenport jury had returned the largest verdict in the EEOC's 48-year history, finding that Henry's violated the Americans with Disabilities Act in paying the disabled workers 41 cents an hour, forcing them to live in a rodent-infested bunkhouse in Atalissa, and subjecting them to daily physical abuse and neglect.
But businesses that employ fewer than 101 employees, such as Henry's, can only be ordered to pay a maximum of $50,000 per worker for compensatory and punitive damages under the Americans with Disabilities Act, EEOC attorney Robert Canino said in his brief.
"The EEOC, therefore, understands that the amount of damages of $7,500,000 assessed and awarded by the jury to each of the 32 class members, while certainly an appropriate and meaningful measure of the actual harms suffered by these victims of discrimination, including but not limited to, the mental anguish, pain and suffering, and 'loss of enjoyment of life', must be drastically reduced in order to come within the stringent statutory limits for recovery," he said.
Jurors awarded each man $5.5 million to compensate them for their pain and suffering after the weeklong federal trial, and an additional $2 million in punitive damages after finding that Henry's violated their civil rights. 
Canino asked Wolle to enter a judgment of $1.6 million, plus interest of $188,000. Each man would receive $58,885 in damages, under EEOC's proposal.
The drastic reduction in the award could make it more likely that Henry's may be able to satisfy the judgment. Canino has said the EEOC will consider seizing more than 1,000 acres of Texas ranchland, which was worth between $2 million and $4 million when founder T.H. Johnson died in 2008 and transferred it to his widow, according to The Associated Press.
Sherri Brown said her brother would certainly appreciate receiving any of the money, especially so that he can fulfill his dream of buying a mobile home and living on the family farm in Arkansas. Meanwhile, she said he's getting by in his own apartment and working a full-time job.
He's also emotionally recovering from years of being physically abused by Henry's supervisors at the bunkhouse, she said.
For instance, James Keith Brown used to come home for summer visits and never liked being touched. On Sunday, his grandniece and grandnephew were all over him, Sherri Brown said.
"Keith bent down and hugged them," she said. "They just love their Uncle Keith."
(This story includes reports from The Associated Press.)