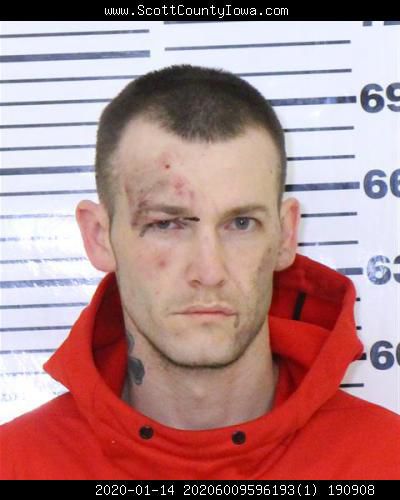 The Scott County Sheriff's Department arrested a man Tuesday morning who is accused of trafficking meth and possessing stolen weapons.
David Christopher Westby, 33, of 308 S. Thornwood Ave. is charged with one count of possession with the intent to deliver less than 5 grams of meth. The charge is a Class C felony under Iowa law that carries a prison sentence of 10 years. 
Westby also is charged being a felon in possession of a firearm, possession of a firearm by a domestic abuser, and trafficking in stolen weapons. Each charge is a Class D felony that carries a prison sentence of five years. 
He also is charged with two counts of carrying weapons, an aggravated misdemeanor that carries a prison sentence of two years. 
According to the arrest affidavit filed by Scott County Sheriff's Deputy Jonathon Johnson, at 12:48 a.m. Tuesday a traffic stop was conducted in the 1700 block of North Division Street on a Mazda 6 with an improper registration plate lamp. 
Westby, a passenger in the back driver's side seat, tried to get out of the vehicle. When Johnson told him to remain in the vehicle, Westby moved to the passenger side of the vehicle to try to get out. 
Johnson was able to get Westby out of the vehicle, but Westby pulled away and attempted to run east across Division Street. Johnson kept ahold of Westby's arm, and Westby continued to reach near his waistband. 
You have free articles remaining.
After a struggle, Johnson got Westby down and, with the help of other officers, cuffed Westby's hands. 
During a search officers recovered a stolen firearm that Westby had inside a pistol holder. Also seized from Westby was 2.3 grams of methamphetamine and $363 in cash. 
Westby has felony convictions for burglary and domestic assault. 
Westby was being held Tuesday night in the Scott County Jail on cash-only bonds totaling $35,428.45, and a $10,000 bond, cash or surety. 
He is also wanted in Rock Island County on a Class 3 felony theft charge. A Class 3 felony in Illinois carries a prison sentence of three to five years. 
Federal authorities have been quick to take over gun cases in the area, especially when they involved drugs. 
Under federal law, Westby is prohibited from possessing firearms since he already has felony convictions. Users of illicit drugs also fall under this federal category. A person convicted under these federal statutes faces a maximum prison sentence of 10 years. 
Possession of a stolen weapon also is a federal offense and can lead to the enhancement of any sentence received. 
Also, Westby is charge with trafficking in meth. Federal authorities could charge him with possession of a firearm in furtherance of a drug crime. This charge carries a minimum prison sentence of five years and must run consecutive to any other prison sentence he would receive for other drug and weapons convictions.