Court records show Brett Samuel Dennis Sr., 28, waived his right to a formal arraignment, which was scheduled for Thursday, and filed a written plea through his attorney, Miguel Puentes.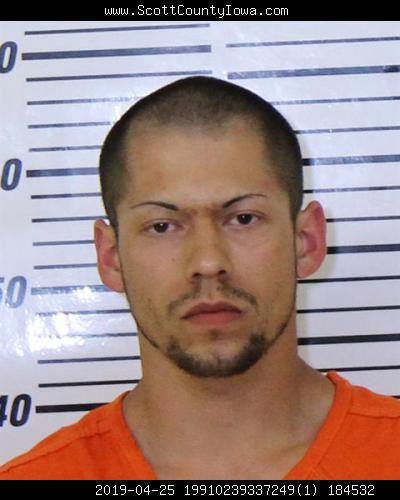 Assistant Scott County Attorney Amy DeVine on Thursday filed trial information, the document that formally charges Dennis with attempted murder of a peace officer; possession of a firearm by a felon; interference with official acts-dangerous weapons; and possession of methamphetamine, second offense.
Dennis has a pretrial conference June 28. His trial is slated for July 8.
At 4:25 p.m. April 25, Leabo made contact with Dennis and Nathaniel Osman Viering, 27, who police have said were acting suspiciously in the area of West 17th and Sturdevant streets, according to arrest affidavits.
Leabo told them to stop several times, but they refused. Viering was taken into custody nearby, while Dennis ran. Leabo caught up to him, and the two had a physical struggle in a yard in the 1600 block of West 17th Street.
Dennis fired two shots; one hit Leabo in the leg and the second struck him in the chest of his bulletproof vest.
Leabo fired at Dennis, hitting him in the leg. After the shooting, Dennis ran away, prosecutors say.
He was arrested nearby a short time later. Prosecutors say Dennis told police in an interview that he was trying to get the officer to shoot him, and that Leabo's use of force that day was "reasonable and justified."
Viering was charged with possession with intent to deliver, possession of a controlled substance, interference with official acts and possession of drug paraphernalia.
Leabo remained on paid leave Thursday, Davenport Police Maj. Jeff Bladel said. 
Dennis also is facing charges in several other cases.
On May 9, Davenport police filed charges of first-degree robbery and possession of a firearm by a felon for an incident that occurred April 24.
At 11:36 p.m. that day, Davenport police responded to Smokin' Joe's, 1606 W. Locust St. for a report of a robbery. Police say in arrest affidavits filed May 9 that Dennis went into the business and, when approached by an employee, pulled a gun out of his sweatshirt pocket and demanded all the money from the register.
The employee refused to give Dennis any money, and he fled the store. The employee told police that the gun displayed by Dennis had a distinct red sight.
When Dennis was taken into custody in connection with the shooting of Leabo the next day, police recovered a black Springfield XD with a red sight.
During a search of his vehicle officers recovered clothing similar to the ones worn by the robbery suspect. Cell records place Dennis near Smokin' Joe's at the time of the robbery, according to the affidavit.
Police have not said whether the gun in the robbery case was the same one used to shoot Leabo.
Dennis will be arraigned in the robbery case June 20.