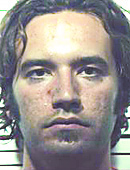 A Scott County jury on Tuesday convicted a man on first-degree arson and second-degree burglary charges for breaking into his ex-girlfriend's Davenport condominium and setting it on fire.
Michael Mitrisin, 29, faces a prison sentence of 25 years for the arson conviction and up to 10 years on the burglary charge. The trial lasted more than a week.
On Feb. 5, 2011, Mitrisin broke into his ex-girlfriend's home at the Harrison Manor condominiums at 2514 N. Harrison St.
Mitrisin was upset that the woman had ended their relationship, and he broke a window to get into her home with the intent of destroying it by setting it on fire.
Authorities said Mitrisin knew the woman would not be home because he had been following her whereabouts on Facebook. He had even gone to the location where the woman was that night.
Mitrisin's car was seen at the condominium at the time of the fire.
About 9:45 that night, a 911 call was made about a fire at the complex, which was built in 1925. When firefighters arrived, they were directed to the third floor where residents had reported smoke.
Firefighters found no fire on the third floor, but then they were directed to a unit in the basement of the building located on the corner of West Central Park Avenue and Harrison Street.
When firefighters entered the unit, they found flames and smoke. Firefighters quickly contained the blaze.
The fire caused heavy damage to the condominium.
After a quick survey of the condominium, firefighters called for an arson investigator.
Scott County Attorney Mike Walton said that in addition to the property damage, Mitrisin put at risk the lives of the other occupants of the complex and the firefighters.
Sentencing is set for 1:30 p.m. Sept. 6 in Scott County District Court.