While reading Madison Russo's social media posts about having cancer and undertaking treatment, medical professionals noticed inaccuracies in the photos she posted of herself, according to a search warrant filed Wednesday by Eldridge Police in Scott County District Court.
Additionally, some of the photos were taken from the social media sites of real cancer patients, police allege.
The search warrant, filed by Eldridge Police Officer Garrett Jahns has shed more light into the investigation of Russo and what led to her arrest for allegedly bilking more than $37,000 from donors on a fake cancer diagnosis.
Russo, 19, of Bettendorf, is charged with first-degree theft in the case. The charge is a Class C felony under Iowa law that carries a prison sentence of 10 years.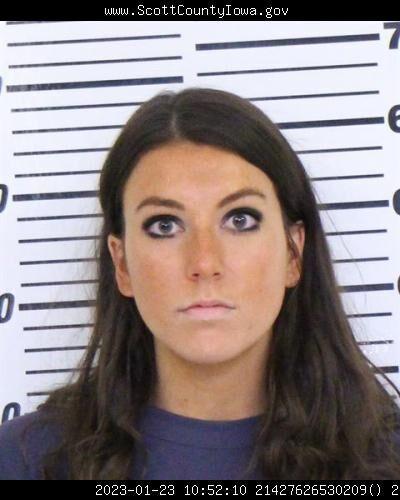 According to Jahns' search warrant it was at 6 p.m. Jan. 11 that police received a report that Russo had taken money from more than 439 donors that included businesses, national and local cancer foundations, school districts, colleges and private citizens.
As of Jan. 19, Russo's GoFundMe page had raised $37,303, according to the search warrant. According to the GoFundMe page, "Maddie's Fight Against Pancreatic Cancer" has raised $37,228 from 438 donations.
In social media posts, Russo has talked about her cancers and has been a guest speaker for the National Pancreatic Cancer Foundation, Project Purple, The Ohl Foundation and St. Ambrose University.
She said she had been diagnosed with stage two pancreatic cancer, acute lymphoblastic leukemia, or ALL, and suffers from a "football sized" tumor on her lower back that "wraps around her spine."
However, medical professionals looking at her social media posts noticed problems with the photos she was posting.
Within those posts, medical professionals have come forward to report the "terrible life-threatening inaccuracies of her medical equipment placement on her body" in the photos she has shared on social media.
According to the search warrant, the photos appear that she has taken these photos from inside her apartment and not a medical office. The medical professionals Jahns spoke with are prepared to testify.
Some of the photos she posted were found to have been taken from actual cancer patient's social media pages.
One example, according to the search warrant, is a photo Russo posted on her Instagram story that looks as though it is her lying in a hospital bed wearing a mask and sleeping. In this photo, the central line is in a different spot than it was in all her other photos. Additionally, Russo labeled the photo in her story with text across the photo that reads, "drained from chemo era." The photo also shows that it was on Russo's account by the TikTok watermark that shows Russo's user name.
However, it was not Russo's photo. The original photo, from the actual person shown in the photo, can be found on an Instagram public page and posted by "@jessie_sand." According to the search warrant, the photo is the exact same photo and it was posted Jan. 2, 2022.
According to Russo's GoFundMe page, she did not find out she had pancreatic cancer until Feb. 10, 2022.
Police checked medical records from Genesis Medical Center, UnityPoint Health-Trinity, and the University of Iowa Stead Family Children's Hospital where she is a patient, but has never been treated for any cancers or tumors, according to the search warrant.
According to the search warrant, police seized from her apartment such items as an IV adapter, bank info titled "My Cancer Story," bank information and nausea pills for her mother, an IV pole, a brown paper bag with medical supplies, a bank checkbook, bank statements, a brown wig, and a Kia Sportage registered to Russo.
According to the GoFundMe page, the organizer of the page, Tom Boulund, has disabled any new donations.
An update posted to the GoFundMe page on Jan. 9 states that, "Maddie's cancer has been progressively getting worse and has spread all over her body including throughout her blood and also on her spine. She has tried everything and given it her all. Chemo, radiation, and other methods have no longer helped. She has decided to start a clinical trial drug to see if this could be a miracle and put Maddie in remission. The process is unfortunately not short and will be years ahead. Yet, she is still smiling, even with feeding tubes and IV poles Maddie thanks all of you for your continued support and prayers during this time and she wants you to know how grateful she is for each and everyone of you all. She says she wishes she could "just go and give everybody a big Maddie hug and individually thank each person." Without this support, she would not be where she is today and couldn't have made it this far. Heres (sic) to the greatest comeback story ever and a miracle in 2023!"
Russo was arrested January 23 and booked into the Scott County Jail. She was released a few hours later after Boulund posted a $10,000 cash bond. Russo is due back in Scott County District Court for an arraignment hearing on March 2.
According to the search warrant, Russo has no criminal record.