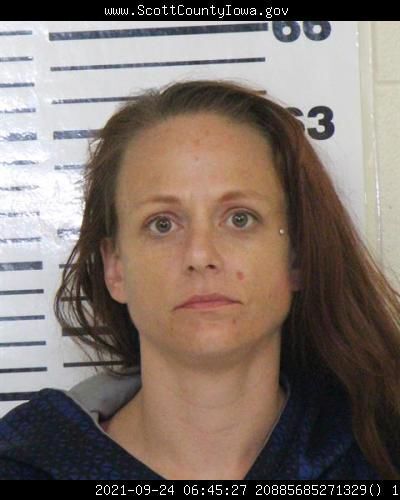 A Rock Island woman was arrested early Friday morning by the Scott County Sheriff's Department after allegedly ramming two squad cars as part of a high-speed chase that ended with a crash in LeClaire. 
Whitney Ann Eckermann is charged with four felonies — possession with intent to deliver, eluding, failure to affix a drug tax stamp and probation violation — as well as five misdemeanors for failure to stop.
She is being held in the Scott County Jail on a total $20,000 bond.
According to an affidavit, shortly before 4:45 a.m., Scott County deputies conducted a record check on a silver 2004 Saturn ION. Eckermann, 34, had a valid warrant out of the Rock Island County Sheriff's Department.
When attempting to take Eckermann into custody, she rammed two squad cars causing minor damage, then fled the area.
While driving, Eckermann exceeded the speed limit by 25 miles per hour or more and failed to yield at multiple stop signs. The pursuing officer recorded top speeds of 87 mph during the pursuit.
Eckermann lost control of the vehicle and crashed in the 23000 block of 220th St. where she was taken into custody. A search of the vehicle found 10 separate plastic baggies containing a total of 11.1 grams of heroin.
Eckermann is set for a preliminary hearing Oct. 5 in Scott County Court, according to court records.