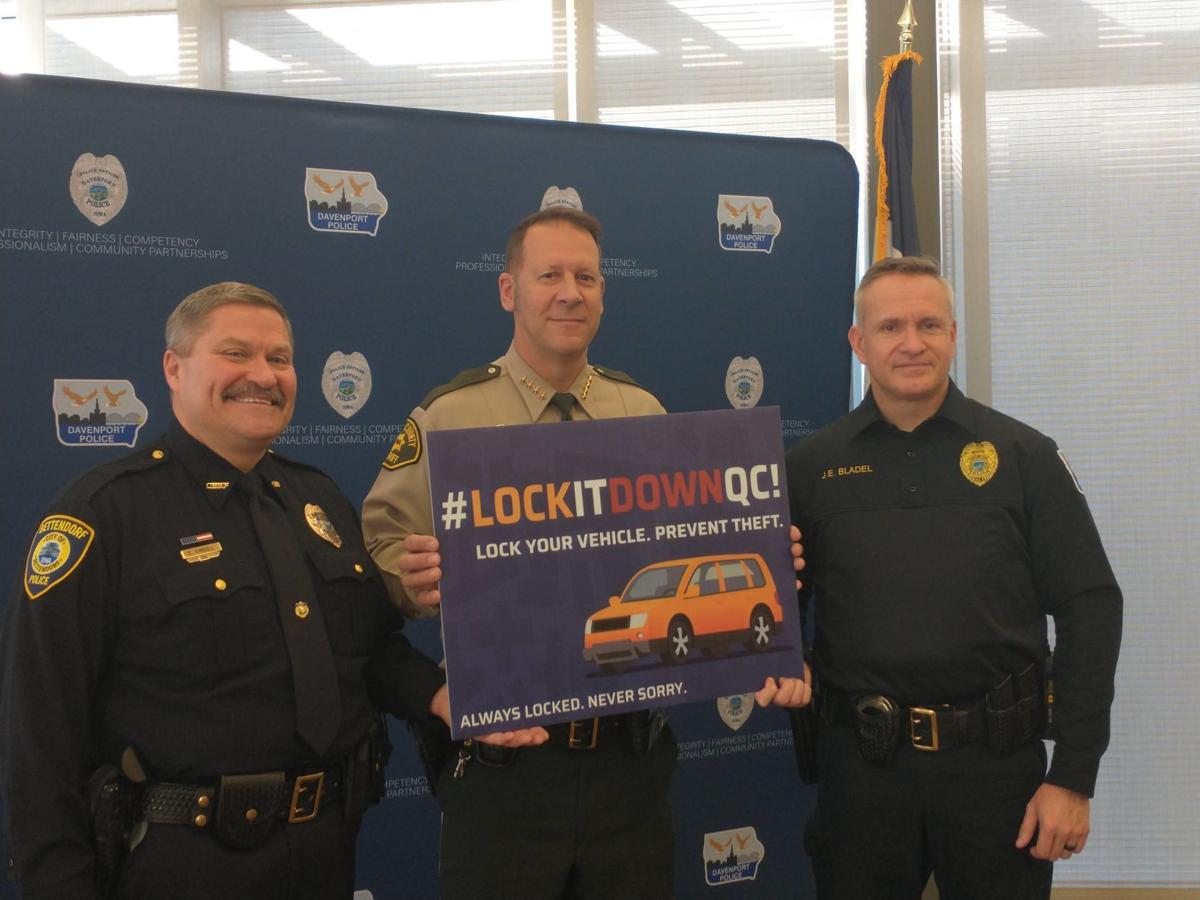 Car thefts in Davenport have gone down in the past few years, but they continue to rise in the rest of the Quad-Cities, according to Scott County law enforcement officials.
In a press conference Thursday morning, Davenport Maj. Jeff Bladel, Bettendorf Police Chief Keith Kimball and Scott County Sheriff Tim Lane spoke about the number of car thefts in the Quad-Cities and how they can be prevented. They gave updated numbers from 2021 and spoke about the Quad-Cities Lock it Down campaign.
Davenport has seen a 21% decrease in car thefts since 2018, according to Bladel, but there were still almost 500 stolen cars in 2021. 
"One car stolen is too many cars. The impacts we have, the damages that occur, the other crimes that are somewhat associated with stolen cars. To bring that down, it's simple. This is a simple request that we're having. Stolen cars are nearly 100% preventable, if we lock it down," Bladel said.
Bladel said many of the car thieves were juveniles — he's seen 9-years-old kids in a stolen vehicle. Kimball said the thefts usually happened when a group of young people got together and checked cars to see if they're unlocked or had keys visible. The stolen cars are often used to commit other crimes.
"These are crimes of opportunity, and, yes, they're random. They occur everywhere. There's nowhere in the Quad-Cities that you're immune from this," Kimball said.
Kimball outlined three basic things that that can prevent car thefts: never leave vehicles running unattended, never leave keys in a car and always keep cars locked.
Bettendorf's car thefts went up from 42 in 2020 to 55 in 2021, Kimball said. He said across the Quad-Cities, on both the Iowa and Illinois sides, there had been an overall increase in thefts. Kimball believes the thieves are spreading out more and beginning to target more rural areas. 
Lane agreed, stating that people living in rural areas tend to think they are immune to the crimes that happen in the cities, but in reality these thefts are happening everywhere. 
"Those people that live in those rural areas, should take notice that it is very important for them also to lock their cars," Lane said.