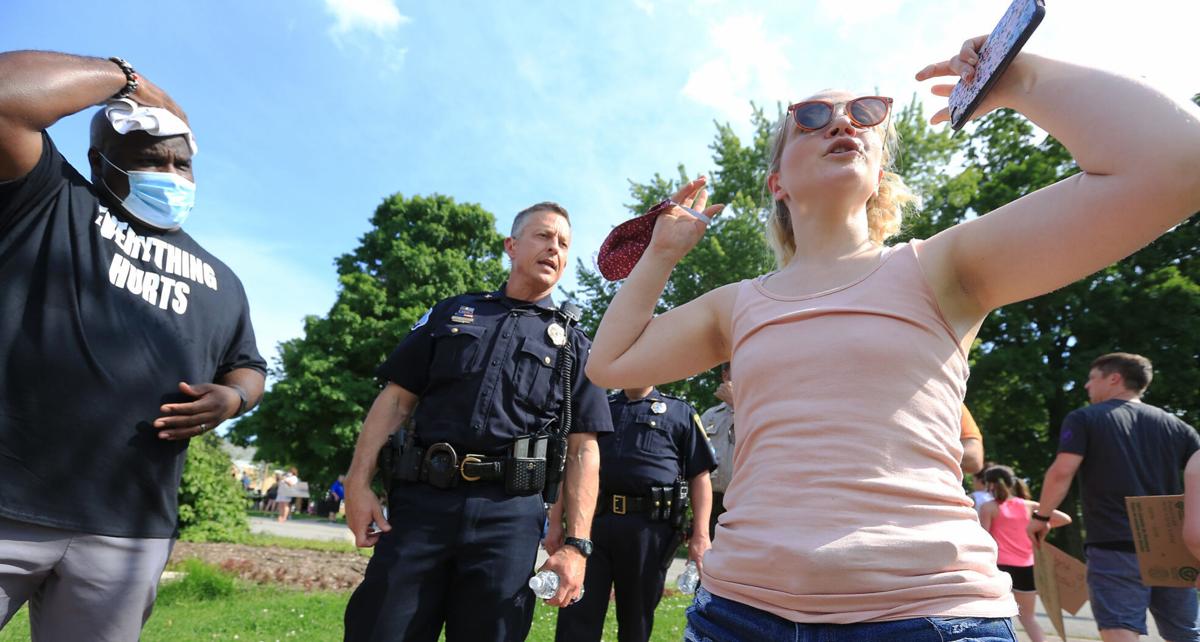 Hope Luce was the driving force behind June 4's protest of police violence in Vander Veer Park in Davenport.
Now the 24-year-old mother is teaming up with Quad-Cities Interfaith to call on the Davenport School District to remove School Resource Officers from the district's schools.
Luce will host a Zoom meeting from 6:30 p.m. to 7:30 p.m. Saturday, Aug. 18. Anyone interested in participating can find a link to the Zoom event on the "Summer of Social Change" Facebook page.
School Resource Officers — or SROs — are Davenport Police officers who serve in the schools. They started at West and Central high schools, with a third overseeing all the schools. In 2017, the city was awarded a $600,000 matching grant to create two more positions for the intermediate schools, raising the number of officers in schools to five.
The goal, officers and school officials said, was to build rapport with students, so they had a trusted adult to turn to when there was trouble.
Luce said during the protest at Vander Veer Park, some attendees thought it didn't work out that way, and saw an opportunity for change.
"There was a group of about 40 to 50 people who really started talking about the possibility of making some substantial changes in our school district," Luce said. "The feeling is SROs are a key part of the school-to-prison pipeline and students of color are particularly targeted."
The group isn't alone in this thinking. Since the death of George Floyd at the hands of a Minneapolis police officer sparked Black Lives Matter protests, several school districts, including in Minneapolis, Portland, Denver and Seattle, have voted to phase out SROs.
In 2018, Davenport schools were cited by the state for disproportionately disciplining minority special-education students. Disproportionality refers to the disproportionate number of students of color being identified for special education services, and students of color and students with disabilities — and those students who are both — being disciplined at higher and often more severe rates than their peers.
Not all discipline stems from an interaction with a SRO. But Davenport schools reported record-high numbers of suspensions and expulsions in 2018–19. The district's removals increased more than 485% from the previous year, and the state noted in its reporting that Davenport's "significant increase" impacted statewide totals.
During the 2018-19 school year in Iowa, 94 students in K-12 schools were expelled, statewide. Of those expulsions, 21 were in the Davenport Community School District, resulting in 22 percent of the state's total expulsions.
Luce said the desire to remove SROs is fueled by those numbers.
"Our numbers show black girls are nine times more likely to be arrested than their white counterparts," Luce said. "If we want change, we have to look at how children are treated and the kind of environment they're educated in."
Sign up for our Crime & Courts newsletter
Get the latest in local public safety news with this weekly email.