The witching hour tends to begin around 7 p.m. for Fulton Police Officer Nick Neblung as he patrols the streets in his unmarked, black pick-up truck.
"There's a lot of activity downtown," Neblung, who has been with the department since March 2017, said on a Thursday night in November. "The bars, I believe, they just draw the crowds. Gambling parlors, anything that has slot machines, is just prime."
But what he's looking for tonight, and most nights, is methamphetamine, a drug that has quickly and aggressively become a major problem for the small town on the banks of the Mississippi River in Whiteside County.
The first traffic stop he made was on a van that failed to properly stop at a stop sign.
The driver of the vehicle, a 29-year-old woman, was someone Neblung had had contact with in the past. She told him she was dropping off her daughter and taking her fiancé to the airport the following day so he could catch a flight to Arizona to attend rehab for methamphetamine addiction.
The woman said that the drug had "destroyed my family, my life, my kids' life, his life."
"It's horrible," she said. "He's only clean right now because he sat in jail for two weeks. Guarantee if he wasn't, he would still be hooked on it."
Nebulng gave her a written warning and sent her on her way.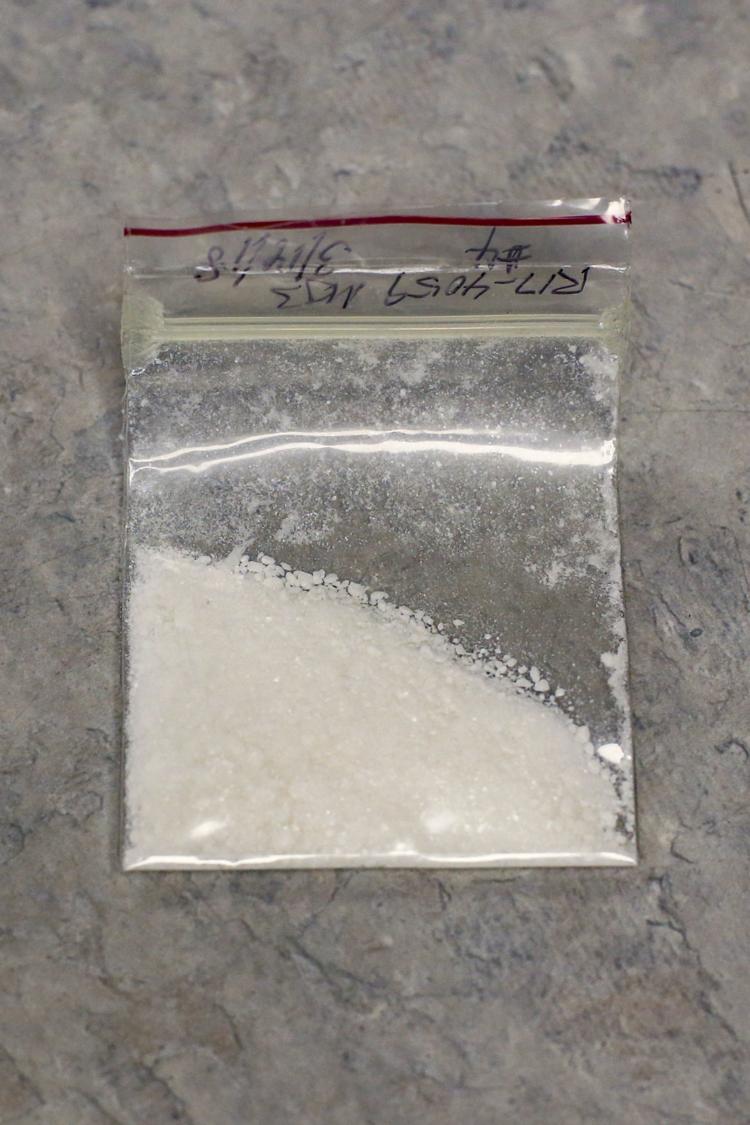 Later, Neblung pulled over a maroon pick-up truck for improper lane usage, among other traffic infractions.
The driver explained that he was on his way to Clinton to sell a boat motor, which sat in the bed of the truck. He offered a meth story of his own: He was arrested for possession in another Illinois County less than a month earlier.
Suspicious, Neblung asked Officer Dwayne Hamilton, the handler for the police department's new K9, Woz, to do a free air sniff of the vehicle.
Hamilton and the dog took several laps around the truck. Finally, he shook his head at Neblung and placed the dog back inside his squad car.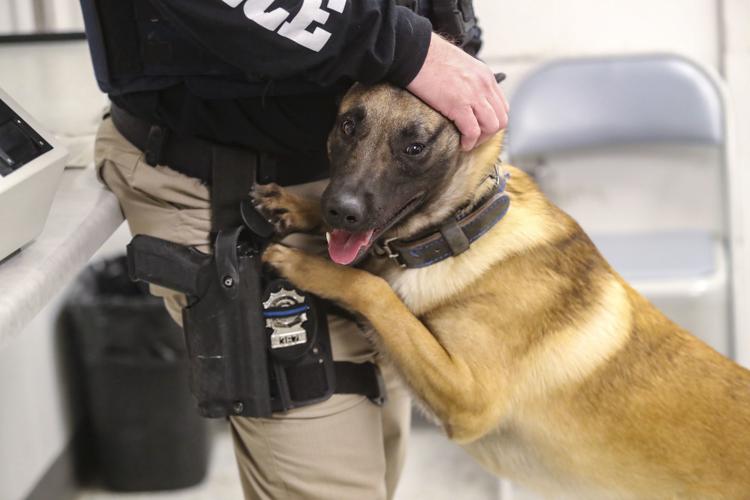 Neblung gave the driver a written warning, confiscated a pair of brass knuckles and sent him on his way.
It's becoming an all too typical night in Fulton.
"We're 3,900 people, and in just about three hours, the two traffic stops we've had are both meth contacts," he said. "It's everywhere."
And it's not limited to Fulton. Meth is also prevalent in Clinton, across the river, as well as the Illinois and Iowa Quad-Cities.
While meth labs are down, police are seeing more people using the purer and more readily available form of the drug known as crystal "ice" methamphetamine, which often comes from Mexico.
"Meth is a problem, specifically for our area," said James Rieck, director of the Quad City Metropolitan Enforcement Group. We probably spend, I would bet, 60 percent of our time currently investigating meth cases. And it's not just specific to the Quad-City area. It's nationwide."
"The use has skyrocketed," Fulton Police Lt. Donnie Pridemore said. "That's really where it's at. There's just so many more people using now."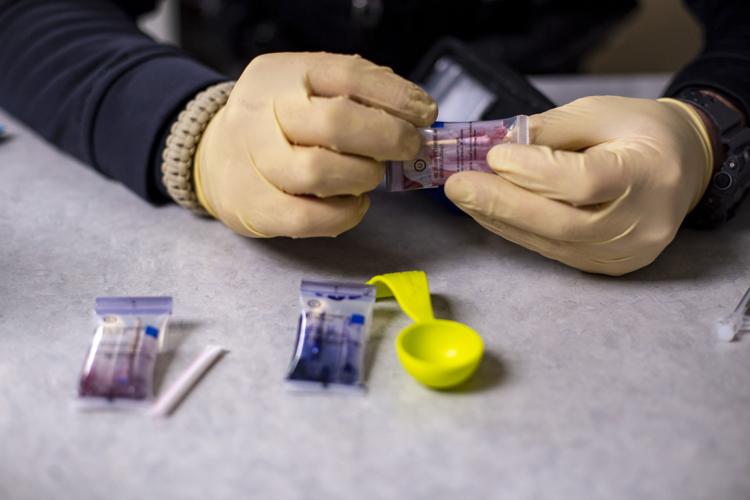 Same drug, new method
A 2018 drug trends report by the Midwest High Intensity Drug Trafficking Areas, which includes Iowa and Rock Island County in Illinois, found that methamphetamine "remains the greatest danger when considering its nexus to violence and other criminal activity used by traffickers to advance or protect their illegitimate trade.
"More alarming," the report continued, "methamphetamine availability and use was higher than any other drug type, which indicates its popularity is unlikely to fade."
The Iowa Department of Public Health reported a 38 percent increase in methamphetamine treatment admissions in Iowa between 2014 and 2017.
Shaela Meister from the Department of Public Health said from 2011 to 2017, methamphetamine-related deaths in Iowa increased from 12 to 96, an eight-fold increase.
According to the Midwest HIDTA report, the supply of methamphetamine in the region has shifted in the past decade from locally produced meth to product imported from other regions, primarily Mexico.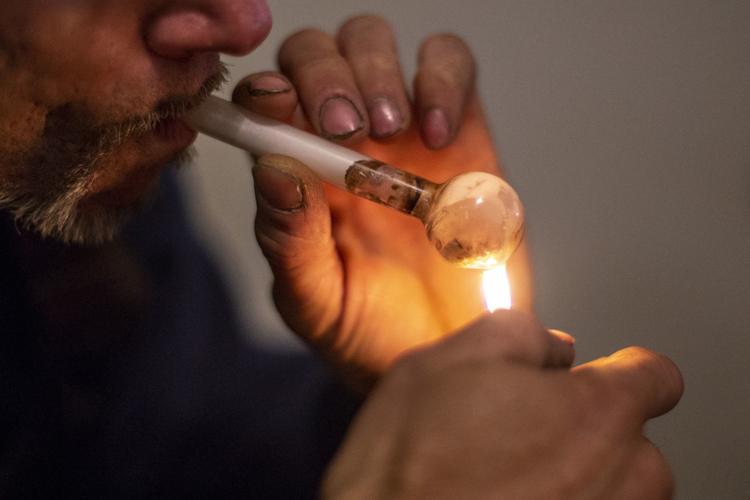 Locally, some cooks would use the "shake-and-bake," or "one-pot" method, where they combine in a container pseudoephedrine tablets, lithium commonly found in batteries, Coleman fuel, water and ammonia nitrate found in cold packs. The chemical reaction leaves behind a crystalline power that users can smoke, snort or ingest.
But in an effort to crack down on meth labs, both Iowa and Illinois passed laws more than a decade ago that placed pseudoephedrine, a nasal decongestant that's also used to make methamphetamine, behind the counter in pharmacies and set a limit to how much buyers could purchase each month.
The laws also required buyers to be at least 18 and show an ID when purchasing pseudoephedrine. Pharmacists maintain a log of those purchases.
With meth labs at an all-time low, police several years ago started to see more crystal methamphetamine, which looks similar to ice, invading their communities.
Rieck said MEG sees the occasional one-pot manufacturing method but "the numbers are down so much that we don't even hardly talk about it anymore."
"If we get a meth lab call, by the time we get there, it usually turns out to be something else."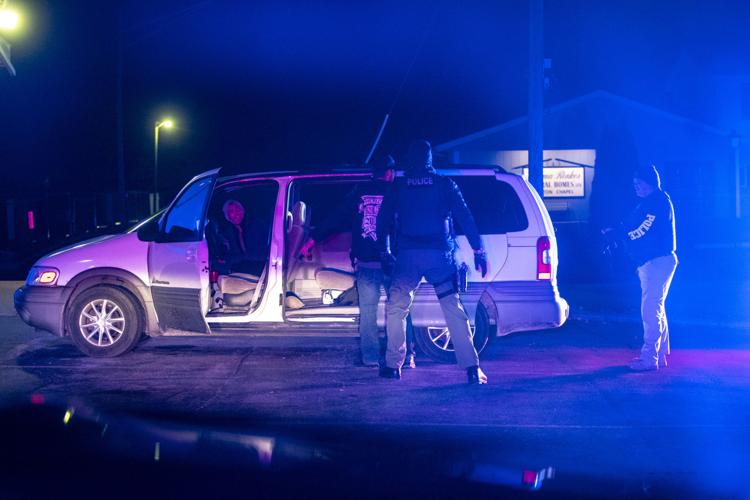 Another reason for the increase in crystal meth, Scott County Sheriff Tim Lane said, is the legalization of marijuana in other parts of the United States, which has essentially dried up the market out of Mexico.
"They had to find other sources of income from the cartels," he said. "So they went to methamphetamine and heroin and fentanyl. So that's been the driving force of manufacturing the methamphetamine and marketing (it) in the United States."
The latest rounds of crystal methamphetamine, Rieck said, is also purer and cheaper than what was previously on the market. In the past, methamphetamine sold for between $1,600 and $1,700 an ounce and $15,000 for a pound. Over the last two years, he said, the price has plummeted.
"I've heard $450 (for an ounce), I've heard $600," he said. "I've heard $80 a gram up to $120. Just depends on who you get it from and what kind of connections they have."
Burlington is a hot spot for methamphetamine coming to the Quad-Cities, Rieck said.
"Prior to that, it was Muscatine," he said. "October 2015 is when we started noticing meth getting crazy."
Pridemore coined it as a circle of methamphetamine.
"If you draw a circle starting around Dubuque and it goes around the Dixon (Illinois) area, down to Sterling (Illinois), to the Quad-Cities, Muscatine, Cedar Rapids and back to Dubuque," he said. "And if you look in this big circle Clinton and Fulton are right smack in the middle of this. So, these people are connected."
Along with the increase in methamphetamine, police in Fulton and even Clinton are seeing more syringes than ever before.
"It would be a couple cases where you caught people's illegal narcotics with syringes a few times a year," Pridemore said. "Now it's become commonplace."
"(Pridemore's) been doing it for 30 years, I have been doing it for 40, and in the last year, I think, combined, we've never seen so many syringes," said Chief David Bartels. "Everybody's got a syringe in their pocket when you stop them."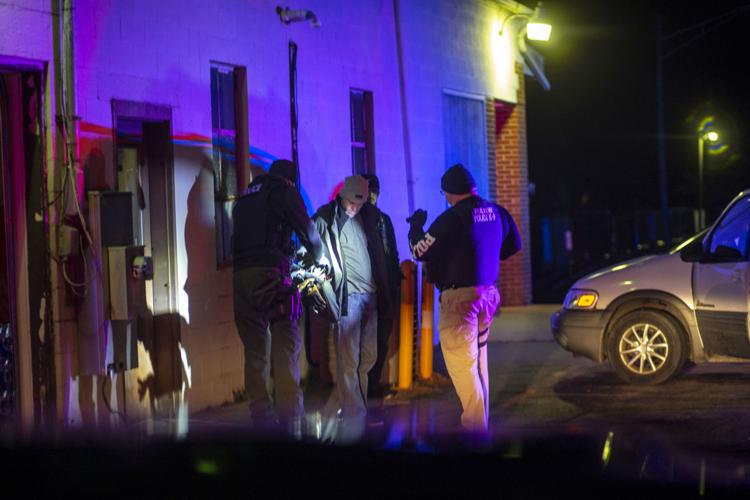 On patrol
Neblung and his truck, which he said some methamphetamine users have dubbed "Black Death," are well-known in the city.
"I mean, nobody's dying," he said. "But in the mindset of the users, it is that. If you get stopped by the guy in a black pickup truck in Fulton, you're going to jail."
As Neblung drove around a one-mile path in the city in November, he pointed out several homes that police had previously busted.
"The gentleman who used to live in the second house here, huge into the distribution of methamphetamine, finally got picked up on a drug charge over in Clinton, so he's sitting in Iowa DOC (Department of Corrections) now," he said.
He pointed out an apartment building by the police department where someone used to deal heroin, methamphetamine and cocaine. That dealer was run out of town, he said.
He also pointed out a "flop house" where a lot of needle use occurs.
Methamphetamine use isn't just happening in certain parts of town – it's everywhere.
In nearby Clinton, meth arrests have remained steady over the last three years. In the Quad-Cities, Davenport, Rock Island, Moline, Scott County have exceeded arrest numbers for the previous two years, while Rock Island County arrest numbers were steady.
Bettendorf's methamphetamine arrest numbers have fluctuated from seven in 2016, to 19 in 2017, to seven so far this year.
"It doesn't escape anybody," he said.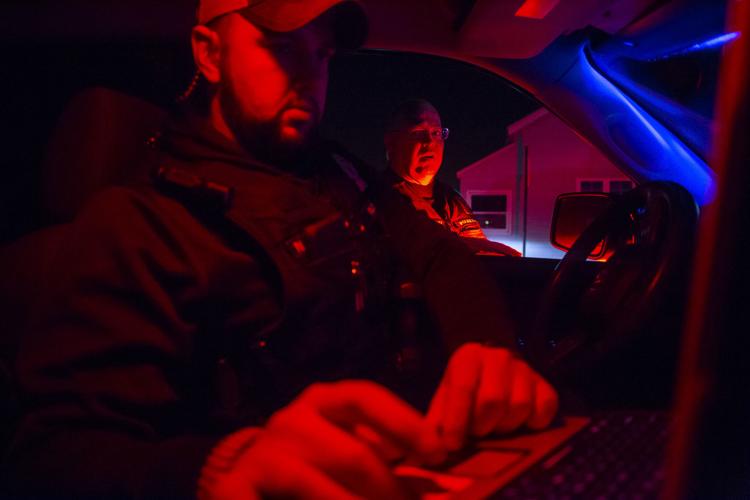 Neblung, who previously was a paramedic and worked as an officer with the Rock Falls Police Department in Whiteside County, said 99 percent of his contacts with meth is at street level. Those include "everything from a gram to just over an ounce during either pedestrian stops, routine contacts or traffic stops."
"Not very often do we stumble across the 'I'm higher than a kite' people," he said. "I don't think they go out and get cranked and get behind the wheel. I think more they like to get cranked at home."
In one traffic stop in November, Neblung and Hamilton pulled over a van whose driver, a woman, had a suspended driver's license out of Iowa.
A search of the vehicle turned up multiple small "jeweler's bags" and a blue zip-up sunglasses case underneath the front passenger seat.
Inside the case, officers found several syringes, a plastic tablespoon measuring cup, small cotton swabs and a small plastic straw.
"They use plastic straws – it's literally a McDonalds-type straw – and they will seal the end of it and they'll carry the product in there," Neblung said later.
Neblung arrested the front seat passenger, who initially gave a false name, and charged him with possession of a controlled substance and possession of drug paraphernalia.
In Illinois, possession of up to five grams of methamphetamine is a Class 3 felony punishable by two to five years in prison. In Iowa, possession of methamphetamine charges can range from a serious misdemeanor to a Class D felony.
The most serious charge, possession of methamphetamine with intent to deliver between five grams and five kilograms, is a Class B felony punishable by up to 25 years in prison. Possession of methamphetamine with intent to deliver less than five grams is a Class C felony punishable by up to 10 years in prison.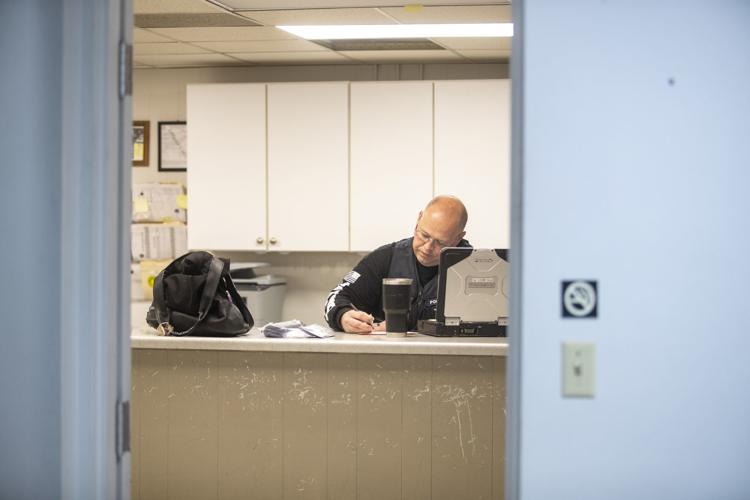 Enforcement
Despite staffing shortages, the nine-officer Fulton Police Department has taken a more proactive approach to tackling the methamphetamine problem.
"It's the intelligence gathering, it's confidential informants, realizing the realm of possibilities," Neblung said.
The lower call volume relative to other parts of the Quad-City area helps officers focus on drug enforcement. Communication with other area law enforcement, including Clinton's Street Crimes and Targeted Enforcement (SCAT) team, is also a key, Neblung said.
"Everybody's got puzzle pieces on the table," he said. "And if you can take those pieces of that puzzle together…that's what's going to get the job done."
City officials and even businesses have also been supportive, Bartels said.
"It's a true community effort," he said.
In 2016, the Clinton Police Department, under the leadership of Chief Kevin Gyrion, launched SCAT team to investigate drug and other cases that arise.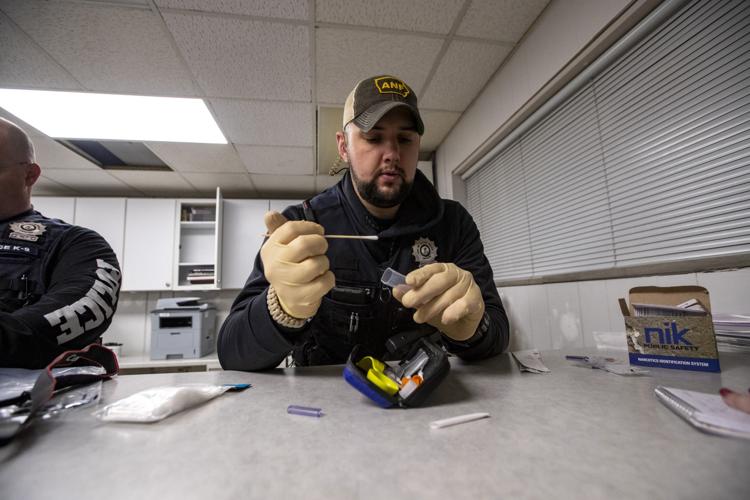 The team typically doesn't work "historic" or long-term drug cases, said Capt. Joe Rayymakers. Rather, if the team gets a methamphetamine case and it looks like it is going somewhere, police will obtain and execute a search warrant and make an arrest within a week.
One case they worked in 2017 netted three-quarters of a pound of methamphetamine and one pound of methamphetamine in another case. Both cases have been referred for federal prosecution.
"We work on a strategic subject list and we target who we think or who we hear about through intelligence or what the officers tell us on the street and we specifically target those people on zero tolerance," said Rayymakers .
Clinton typically works with the Iowa Drug Enforcement Agency and is in the process of re-joining the Illinois State Police Blackhawk Area Task Force, a Sterling, Ill.-based drug enforcement group, Rayymakers said.
The police department also received a Crime Free Housing grant, which will help them better work with area landlords to keep illegal activity out of rental housing.
But are all of those initiatives making a dent in a problem that appeared quickly and aggressively in the Quad-City area?
"We're controlling it, is a better word," Pridemore said.
"A dent, yeah, but man, it's a big problem," he said. "Of course, having more resources would be awesome. We're trying to keep things under control, but it's not easy."