Nikki was 17 when she moved to Clinton and tried methamphetamine for the first time.
"Three days later, boy, I was hitting the foil for the first time," she said. "All my friends were doing it and I kept wondering, 'what are you doing in this bedroom, why can't I go in there?' Finally, they told me, and I tried it."
She smoked the drug every day for three years. Then one day, she decided to quit.
"REO Speedwagon's 'Time for Me to Fly' was coming on the radio and, I don't know, I sat there and cried for, like, two days," she said. "And I kept myself convinced that if I didn't stop now…if I didn't fly, if I didn't quit then, I was going to die. I was convinced I was going to die."
Because the drug was so accessible through her friends, she "flew the coup" and initially isolated herself from everyone. While she still used other substances, she didn't touch methamphetamine again for 12 years.
Then, history repeated itself.
"Everybody was doing their thing and I'd sit there and smoke my weed, and they were all shooting up, and finally one day I asked them to load me a foil. About two weeks later, after that I was using a needle, injecting myself with meth. It basically went downhill from there.
"It's weird because I was scared, but I was excited because it does something for your sex drive. It was just, God, I don't even really know. It was an amazing feeling that I had that I wanted again, and I don't think that I ever got that again."
While the act of shooting methamphetamine wasn't particularly painful, she said the aftermath was.
"I've got some scars where I had blown out my veins," she said, pulling up an arm of her sweatshirt to reveal a small scar.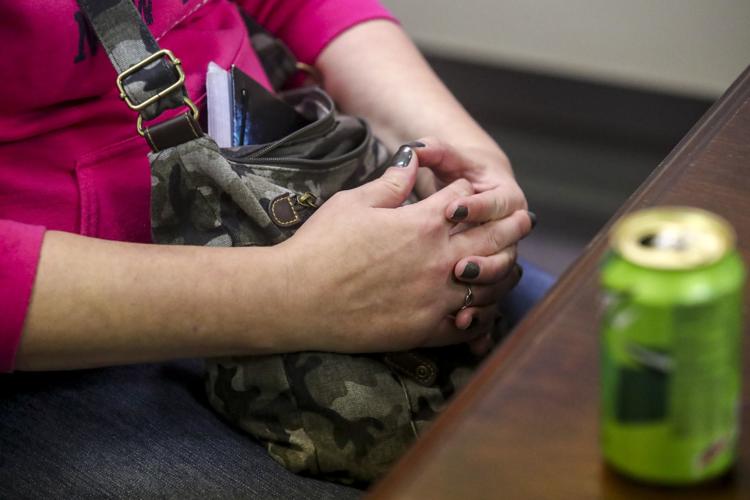 Nikki lived on the streets for a while, bouncing from place to place in search of a place to sleep at night.
"I probably always tried to find a place where there was dope to have that be my place to stay at night," she said.
To support her drug use, she stole from local stores.
"I've never stolen anything until I started doing dope," she said. "And I went big. I bet you Farm and Fleet in Clinton probably doesn't put Dysons on the shelf because of me.
Days on end
Brandon, 28, is a current methamphetamine user, and he has pending meth-related charges against him. A Fulton resident, he began using meth when was 17 or 18, and at one time manufactured the drug using the "shake and bake" method, also known as the one-pot method.
"It's just a rush for me," he said of using methamphetamine. "Kind of like kleptos who get high whenever they steal. You get sidetracked a lot. So, if you're working on something, I'd focus on that one thing or else you're just going to start jumping to a million different things. Head can't sit still, stuff like that. You're up all night or for days at a time. It just depends on how much you use."
Brandon said he uses both marijuana and methamphetamine, though he tends to use the former more during the day.
"Quite a few people have always asked me (why I would use both drugs)," he said. "It was just the feeling of both at the same time, I don't know. People call it speeding with the brakes on, in other words."
The longest he's ever been awake while using methamphetamine is seven days, Brandon said.
"I blacked out and I crashed my old lady's car in front of KFC," he said. "I wasn't hurt, except for the baby powder inside the air bags got into my pores and it felt like my face was on fire. That's the first time and the only time I've ever done that. Seven days, maybe an hour catnap, throughout all the days."
During that time, Brandon and a family member cooked their own methamphetamine.
"We were just cooking for days on end pretty much," he said. "And I think the fumes alone — that will wake you up."
The fumes of ammonia, Brandon described, was "like you've got 30 cats inside your house, probably, using one litter box, and you haven't cleaned it forever."
Brandon said he is ready to get treatment for his addiction. One challenge, he said, will be to stay away from others who use the drug.
But for his daughters, he wants to get better.
"If you're not currently a user, I'd stay away from it, honestly," he said. "Don't try it. I can't wait until the end of this. I don't even want to touch the drug and I can't believe I still am."
Recovery
In March, Nikki violated the terms of her probation in a drug case and stayed in jail for 30 days. She was pregnant were her son at the time.
"I slept for about two weeks, probably most of my days," she said. "That was the hardest part — trying to stay awake. Had I not been in jail, I don't know. I probably wouldn't be clean today."
After her release from jail, Nikki moved to a halfway home and entered treatment. She graduated from the program a month early.
"I learned how to be myself again, my sober self," she said. "That was probably the most important thing."