The Davenport man charged with killing Italia Marie Kelly during a night of civil unrest in the Quad-Cities will remain jailed.
District Court Judge Joel Barrows denied a motion to set bond for Parker M. Belz, 21, during a telephone conference Tuesday.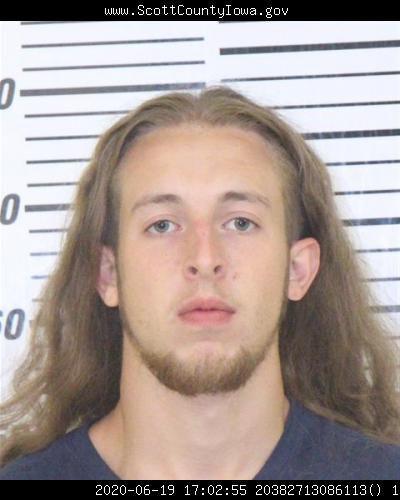 Kelly, 22, was shot once in her back while getting into a vehicle to leave Walmart, 3101 W. Kimberly Road, at about 11:27 p.m. May 31. That was one of the Quad-Cities areas of civil unrest in the wake of the nationwide reaction to the death of George Floyd in Minneapolis.
Belz is charged with first-degree murder, a Class A felony that carries an automatic sentence of life in prison without the possibility of parole upon conviction.
With "premeditation, malice aforethought and intent to kill, (Belz) fired a gun at (Kelly) striking her one time. The victim died as a result of the gunshot wound," Davenport Police allege in an arrest affidavit.
Belz was arrested June 19 and pleaded not guilty June 22, according to online court records. He has been held without bond at the Marshall County Jail since his arrest.
During Tuesday's hearing, his lawyer, Thomas Gaul, asked for bond to be set at $50,000 cash or surety bond.
Gaul cited a lack of felony convictions and history of making court appearances as scheduled, with the exception of one failure-to-appear warrant that was resolved within days of being issued.
Assistant Scott County Attorney Robert Bradfield argued against bond, citing the seriousness of the case as well as Belz's "violent" record, including convictions of participating in a riot (2016), assaulting a police officer (2016) and criminal mischief (2017), all misdemeanors with probation.
The previous convictions were under the name Parker Voss; Belz petitioned the Scott County District Court for a name change in 2018.
Attorneys continue the discovery process — the exchange of evidence between prosecutors and defense attorneys of materials to be presented at trial. Belz and his defense team have been restricted from sharing materials and information from discovery with the public since late July.
Scott County Attorney Mike Walton said in a July 3 call from jail, Belz planned to disseminate witness names and details about what witnesses told police.
Belz "said when he gets his paperwork he wants a copy sent to his mom's house in Texas, 'So (expletive)s can highlight what [a specific witness said] and all them said and post that (expletive) all over Facebook.' He said he will send it to [others] if she won't post it," Walton wrote in a court filing July 29, asking to restrict the sharing of evidence.
Barrows granted Walton's motion the same day.
Belz's case could go to jury trial by May 2021.
Concerned about COVID-19?
Sign up now to get the most recent coronavirus headlines and other important local and national news sent to your email inbox daily.