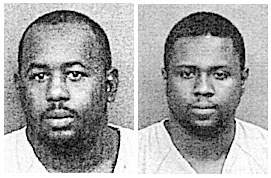 Moline police captured two Texas men as they tried to run from the scene of a burglary Wednesday.
Officers responded to a residential burglary in progress at 3512 12th St. Court shortly after 1 p.m., Moline Police Detective Scott Williams said.
The first officers who arrived saw two men leaving the rear door of the home and run westbound through the woods. The men were taken into custody within minutes by responding patrol officers.
Williams said a white SUV was observed in the area before the burglary. It is believed that vehicle was associated with the break-in.
The men allegedly forced their way into the home through the front door.
Arrested on charges of residential burglary were Ortiz O. Marangeli, 26, and Luis Madera-Martinez, 29.
They were being held Wednesday night in the Rock Island County Jail without bond, pending a first appearance in Rock Island County Circuit Court at 1 p.m. Thursday.