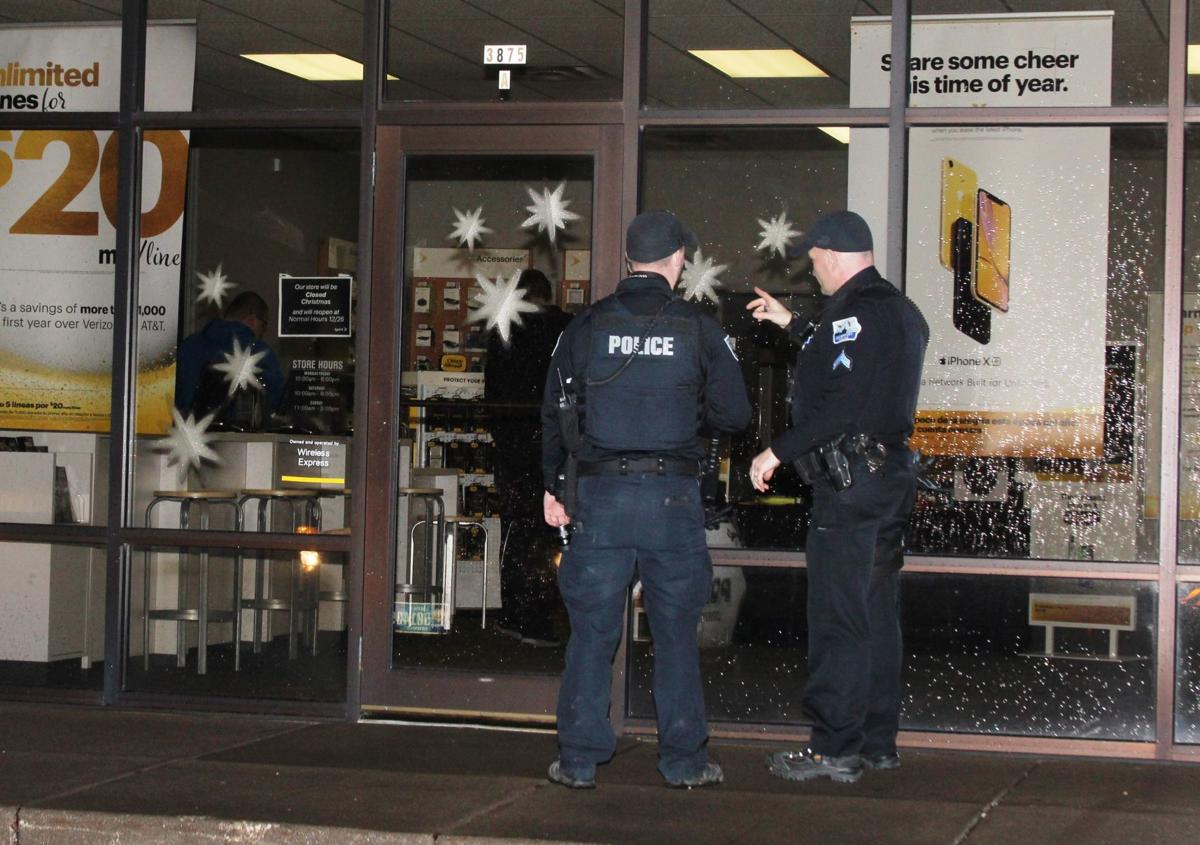 Davenport police have arrested two men in connection with the robbery of the Sprint store on Elmore Avenue at gunpoint Thursday. 
A man wearing a black ski mask and gloves, whom police identified as Christopher R. Martin,  walked into the store  at 3875 Elmore Ave., at 6:16 p.m. and brandished a loaded Beretta .380 semi-automatic handgun. 
According to the arrest affidavit filed by Davenport Police Detective Bill Thomas, Martin forced the clerk to open the store safe. Martin the took 70 brand new cell phones and five tablets and placed them in a large duffel bag he had brought into the store. 
Martin also took the cash from the store and ordered the clerk to lie on the floor and stay there, according to the affidavit. 
Martin then fled in a waiting vehicle. 
Davenport police had swarmed the area after the robbery.
However, according to the arrest affidavit, one of the phone boxes taken by Martin contained a GPS tracker.
Scott County Emergency Communications dispatchers were able to locate the car with the tracker and inform officers of its location. 
Officers surrounded a 1998 Ford Contour in the parking lot of the Mart Stop convenience store and gasoline station located at Kimberly Road and Spring Street.
You have free articles remaining.
Martin was sitting in the passenger seat of the vehicle. 
Martin, 35, who refused to give an address, is charged with one count each of first-degree robbery, first-degree theft and being a felon in possession of a firearm. 
Martin already has served time in Illinois on an armed robbery conviction from 2004, and in Iowa on a second-degree robbery and second-degree theft charges. He ended his prison sentences in Iowa in June of 2015. 
DuQwain Cornell Hopkins Sr., 22, of Rock Island, the driver of the car, is charged with one count each of first-degree robbery and first-degree theft. 
All of the stolen items, valued at $75,000, were found in the duffel bag that was in the trunk of the car. Officers also found in the trunk Martin's ski mask, gloves and handgun.  
First-degree robbery is a Class B felony in Iowa that carries a mandatory prison sentence of 25 years, 70 percent, or 17 1/2 years, must be served before parole can be granted. 
First-degree theft is a Class C felony that carries a prison sentence of up to 10 years. 
Being a felon on possession of a firearm is a Class D felony that carries a prison sentence of up to five years. 
Martin and Hopkins were being held Friday night in the Scott County Jail. Bond for each of them was set at $100,000 cash.   
During a first appearance Friday in Scott County District Court, Martin waived a preliminary hearing. He will be arraigned Jan. 17. 
A preliminary hearing for Hopkins is scheduled for Jan. 4.