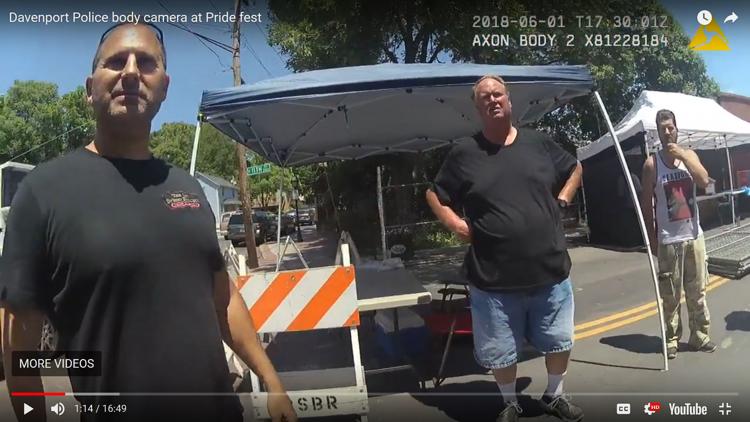 For more than 10 minutes in a video released Thursday, 11th Street Precinct owner John Wisor berated a Davenport Police officer in an expletive-filled tirade about portable toilets set up near his restaurant for the Pride Week festival.
"I want to do something nice down here and this is the s--- I get? Can't even move a f------ urinal 30 feet. Holy s---. What the f--- has this come to? Because they take it up the a--, they can do whatever the f--- they want? Is that what it is? Christ, give me a f------ break."
On Thursday, the Davenport Police Department released body camera footage of the June 1 interaction between Wisor and Lt. Shawn Voigts as the Pride Week festival was being set up on 11th Street in the Village of East Davenport. The 16 minute, 49 second video, which was released to the Quad-City Times through an Open Records request, does not show Wisor using anti-gay slurs in front of the volunteers who were setting up for the festival, as was alleged by some witnesses who spoke out this week.
The video does, however, show his growing frustration and anger over festival organizers placing the portable toilets near his business, which was approved by the city, and the responding officer's refusal to make the organizers move them. 
The Quad-City Times reached out to Wisor on Thursday for comment. He hung up the phone when a reporter identified herself.
Later in the afternoon, after a post including the video on the Times' Facebook page had reached nearly 20,000 people and had been shared more than 200 times, Wisor released a written statement saying he was sorry a "shadow was cast over the events of Street Fest in the Village of East Davenport this past weekend."
"What was to be a celebration of inclusiveness became a show of divisiveness and misunderstanding," he said in the written statement. "Admittedly, frustrations of feeling uninformed and excluded turned into some regrettable words and actions. For that, I deeply apologize to those whom I have offended. It is my hope that we are able to put these events of the past weekend behind us and that we can move forward, together."
As a "gesture of good will," he continued, he will donate $1,000 each to five Quad-City area charities: The Project of The Quad-Cities, which is a sponsor of Pride Week, The SMB Foundation for Families, King's Harvest, the Jared Box Project, and The River Music Experience.
Wisor also will make an annual $5,000 donation to a local charity or charities, he said.
"The staff at the 11th Street Precinct and myself have always strived to make our place welcoming to ALL and we will continue to welcome the diverse humans who come to be together, who come to celebrate, who come to enjoy life," he said in the statement. "ALL ARE WELCOME HERE."
The incident began just after noon a week ago today, when Davenport police were called to the 2100 block of East 11th Street for report of a disturbance between Wisor and crews setting up for the weekend Pride festival.
Several witnesses told the Times this week that Wisor was shouting anti-gay slurs at festival volunteers. Near the end of the video, Bill Sheeder, co-owner of Baked, told Voigts he was concerned because Wisor was calling people "f------ queers" and threatening them.
Wisor had denied using the language and told the Times earlier this week that police, organizers, the city council, other merchants, volunteers and event sponsors were to blame for his upset over an event that never should have been allowed in the Village.
In that interview, Wisor said he was not notified that the Davenport City Council was considering a request by QC Pride to close off part of 11th Street to hold the street festival. Originally scheduled for the area of Mary's on 2nd in Davenport, plans changed when Mary's was struck by a stolen SUV, sustaining considerable damage.
Things seemed to escalate Friday when festival volunteers set up a tent and two portable toilets which were to be used for free AIDS/STI testing. The toilets were not for public use, a volunteer said in the video.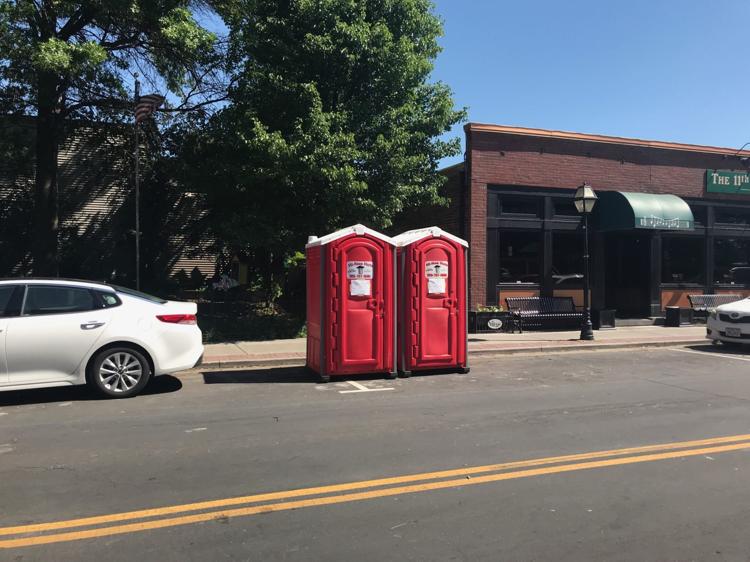 An employee from the Precinct approached the volunteers and asked them to move the toilets away from the front of the building, which they did, another volunteer told Voigts.
Cody Hootman, a member of QC Pride and employee of Baked Beer & Bread Co. in the village, told Voigts that Wisor "threatened to come back out and mess s--- up."
After speaking to the festival volunteers, Voigts went to talk to Wisor, who was seated at a table on a small raised porch on the Mound Street side of the business. 
"What do you think the problem might be?" Wisor said when approached by the officer. "There's a urinal in front of my f------ door, 20 feet from my door. Is that a really nice thing to do? Already they've cost me a 40 top for lunch because they couldn't get in, there's nowhere to park. They cancelled. Now they go ahead and put urinals 20 feet from my door? I'm paying property tax down there. Do you think your city is going to get one dime from these people? Not one dime they're going to get."
He continued, "They don't have to put the urinals there. Why can't they put them over here or in the park? Why do they have to be right there, 20 feet from my door? I'm not asking to move the f------ world. I'm asking, get the smell out. It's going to be there for two days."
Voigts told Wisor multiple times that the plans were approved by the city council and that festival organizers can put the portable toilets wherever they want.
"It's not my place to say," Voigts said. "They have permission to do what they do. I cannot make them do anything different."
"So, they can't cooperate with the local community, they have be a--holes to us?" Wisor said. "They have to rub it in our face that they just cost me a 40-top and they're taking up all my parking? They have to rub it in our face and put urinals 20 feet from my door? Honest to God, that is not asking a lot. I'm being reasonable here."
Voigts reiterated that festival organizers had permission to use the street and told Wisor to contact his alderman or Tiffany Thorndike, administrative assistant to the city council and administration. 
Police have said that no police report was generated and criminal charges were not substantiated.
Davenport police officers worked the festival throughout the weekend in an off-duty capacity and some officers received complaints from festival goers related to alleged offensive language used by a business owner.
Officers took information from people and are following up on the complaints. Davenport Police Maj. Jeff Bladel said Wednesday that there is "nothing to charge" at this point.