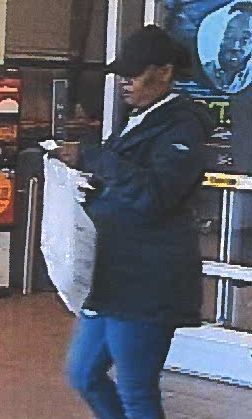 Crime Stoppers of the Quad-Cities is looking for information regarding the theft of a wallet at Panera Beard in Moline.
According to Crime Stoppers:
You have free articles remaining.
"On April 20 Moline police took a report of a wallet that came up missing while the victim was at Panera.
"The person suspected of taking the wallet is described as a black female in her late 40s to early 50s wearing a black hat, white shirt, blue jacket, blue jeans and black and white shoes.
"The suspect used the victim's debit and credit cards at the Walmart stores in Moline and Geneseo. While at the Moline Walmart the suspect took the cash and cards out of the wallet and threw the wallet in a trash can. The suspect purchased about $1,500 worth of gift cards at the Moline Walmart with the stolen credit card and over $2,600 was charged at the Geneseo Walmart."
Anyone who knows the identity of the pictured suspect or her whereabouts, is asked to call the tip line 309-762-9500 or submit a tip using the P3 Tips app. All tips are anonymous and you could earn a cash reward.