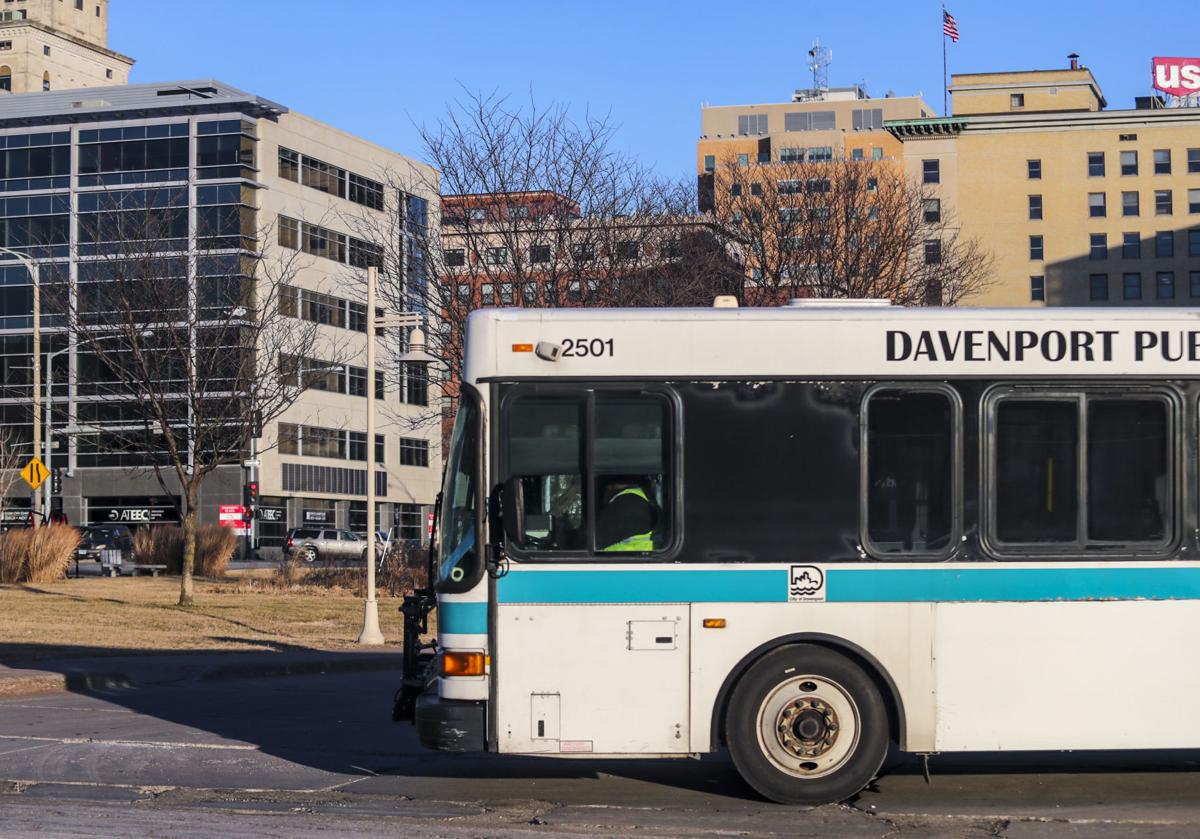 Davenport alderman on Wednesday voted to reject all bids for the purchase of transit signs after concerns were raised by residents and City Council members over the potential use of prison labor to make the signs.
Davenport City Council voted 9-1, with Alderman Matt Dohrmann, Ward 5, opposed, rejecting a resolution to approve a $106,311 purchase from Iowa Prison Industries of Anamosa for bus stop signs and hardware for all CitiBus routes. The signs would include a new city logo, route labels and CitiBus contact information.
Iowa Prison Industries bid was the lowest of three received by the city. The second-highest bid was submitted by Signs Now of Davenport for $183,413. Davenport Printing Company also submitted a bid but did not respond to all items included in the city's solicitation for bids and was deemed nonresponsive.
City ordinance requires Davenport officials to award a contract to the lowest responsive and responsible bidder to ensure effective and efficient use of taxpayer dollars.
City Attorney Tom Warner said Iowa Prison Industries likely had the financial wherewithal and resources to carry out the contract. However, several Davenport residents and aldermen objected to using prison labor they say pays an "allowance" of between 58 cents and $1.92 an hour, with an average earning of $1.15 an hour, as opposed to a minimum wage.
Several residents who spoke at the meeting, as well as some aldermen, called such prison labor exploitative and equivalent to "slave labor." And some argued the city's acceptance of the bid would be a tacit endorsement of mass incarceration in the U.S. that disproportionately impacts Black, Hispanic and Latinx Americans.
Aldermen and residents, too, contend that Iowa Prison Industries unfairly puts local small-businesses at a competitive disadvantage, as they avoid or have the state heavily subsidize overhead costs that normal businesses incur and must account for in their bids.
City officials say this is the first time they can recall that Iowa Prison Industries has submitted a bid to the city.
Dohrmann called the use of the term "slave labor" to describe Iowa Prison Industries "alarming," arguing that in addition to an hourly allowance, the state pays for the person's costs associated with incarceration, including mental health treatment, medical and dental care, security and supervision, meals and more. The costs of those average $35,000 a year for each inmate.
Dohrmann, too, argued that IPI's work training program helped prepare the more than 90% of inmates scheduled for release to reenter society by providing them employment skills. And Dorhmann pointed to an email sent to city officials by IPI that claims its program lowers recidivism by 8%.
Dohrmann, as well, argued participation by inmates in the IPI program was voluntary and provided convicted felons valuable experience, certifications and other credentials to help them secure a job after release.
Alderwoman Judith Lee, Ward 8, suggested the city draft an ordinance requiring a minimum wage be paid to people who make products that the city purchases. Alderman Kyle Gripp, at-large, and others said they supported such a move.
The city received money from the Federal Transit Administration to help pay for the signs. Moving forward, city staff will need to evaluate FTA regulations, which may say the city is required to use the lowest bidder, "and determine whether we can go forward with a different version" of bids, City Administrator Corri Spiegel said.
"The second-lowest bidder was far above the project budget," Spiegel said. "If we can't bring the project within budget, the project won't proceed."
Get local news delivered to your inbox!
Subscribe to our Daily Headlines newsletter.