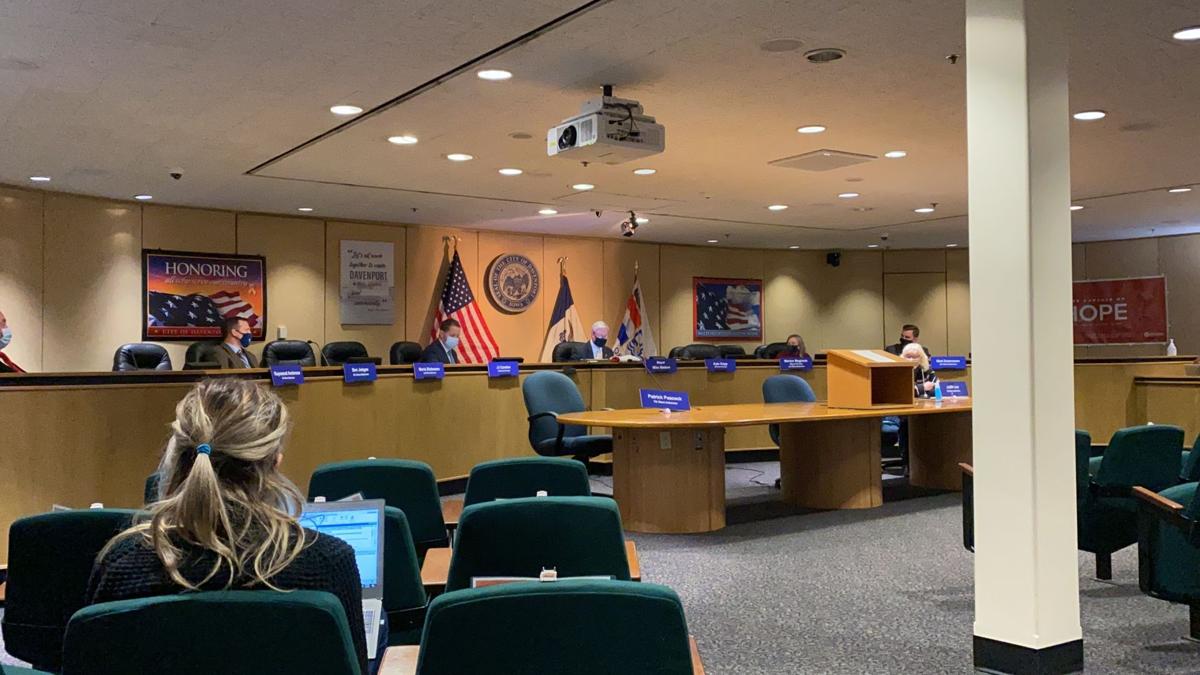 Davenport City Council members decried Iowa Gov. Kim Reynolds' sweeping K-12 education bill, fearing the legislation will weaken Davenport Schools by diverting taxpayer dollars from already underfunded public schools.
Davenport aldermen met as a Committee of the Whole on Wednesday to discuss as resolution opposing the proposed omnibus education bill, which includes the creation of a private school voucher program and elimination of voluntary diversity plans in Iowa.
The legislation, Senate File 159, creates taxpayer-funded private tuition assistance for students in struggling schools, expands the state's public charter school program and eliminates school diversity programs.
"We need Davenport Schools to be strong and growing and successful in order for us to be successful," Alderman Matt Dohrmann, Ward 5, said. "To think that we would hinder them, potentially" by creating a private school voucher program "is one that is frightening and alarming."
Reynolds and Republican supporters say the legislation would provide more educational options for Iowa students and families, particularly in schools that are underperforming.
"I've been an advocate of the voucher program for a long time," Alderman Ray Ambrose, Ward 4 said. "I think all parents want their children to go to school in a safe, wholesome environment, and this allows some different options for parents that believe their schools are not teaching the kids what they believe should be taught. Some people call it social engineering."
Democrats and public education advocates argue the measure will weaken the state's public school system by creating more competition for state funding.
The governor's plan provides up to $5,260 in state scholarships to cover private school or home schooling tuition and other expenses.
An analysis by the nonpartisan Iowa Legislative Services Agency projects the scholarships would result in a loss of $2.1 million in state aid and local property tax revenue for Iowa public schools in the first year, $3.1 million in the second year and $3.8 million in the third year. That represents a tiny fraction of the more than $3 billion Iowas spends annually on K-12 public education.
The LSA analysis is based on a projection that 3.5% to 6.5% of eligible students would apply for and receive scholarships.
About 10,000 students attending 34 public schools receiving support under the federal Every Student Succeeds Act would qualify for the scholarship fund. That could mean up to a $54 million shift from public education to private, Davenport Mayor Mike Matson said. Matson is a Junior Army Reserve Office Training Corps teacher at Davenport Central High School.
"I am a product of the Catholic schools here in Davenport," Matson said. "My children are the product of the Catholic schools here in Davenport, and we believe in Catholic schools. But, public money, ladies and gentlemen, is for public schools. ...  We need to focus on jobs and improving the Iowa economy, not these divisive issues."
Matson added: "I've heard legislators and people talk that some schools are failing. What I see is our schools excelling. I see our teachers and our students every day ... doing great work."
The bill also calls for ending diversity programs that allow districts to reject open-enrollment applications in order to maintain diversity in the student population. Davenport is one of five districts across the state that has such programs. Using recent years' open enrollment requests, LSA estimates the Davenport school district would lose more than $783,000 if more students are allowed to leave the district via open enrollment.
"This bill would ... finance a cycle that could lead to segregation in Davenport schools, allowing wealthier families to flee public schools for less-diverse charters or private schools and reducing funds for poor minority students," Alderman Patrick Peacock, Ward 7, said. "This will take Davenport backwards."
Alderwoman Maria Dickmann, Ward 2, who has a child with special needs, objected to the notion of diverting tax dollars into unaccountable private schools that do not have to accommodate special education and other diverse groups of students.
Alderman Ben Jobgen, Ward 6, a member of the Davenport Assumption Foundation for K-12 Catholic Schools, while personally supportive of aspects of the legislation, worried the bill "will be detrimental" to Davenport schools.