Families of Davenport police officers who lost their lives in the line of duty over the years were part of a ceremony Monday in observance of Peace Officers Memorial Day and National Police Week at Davenport Police Department.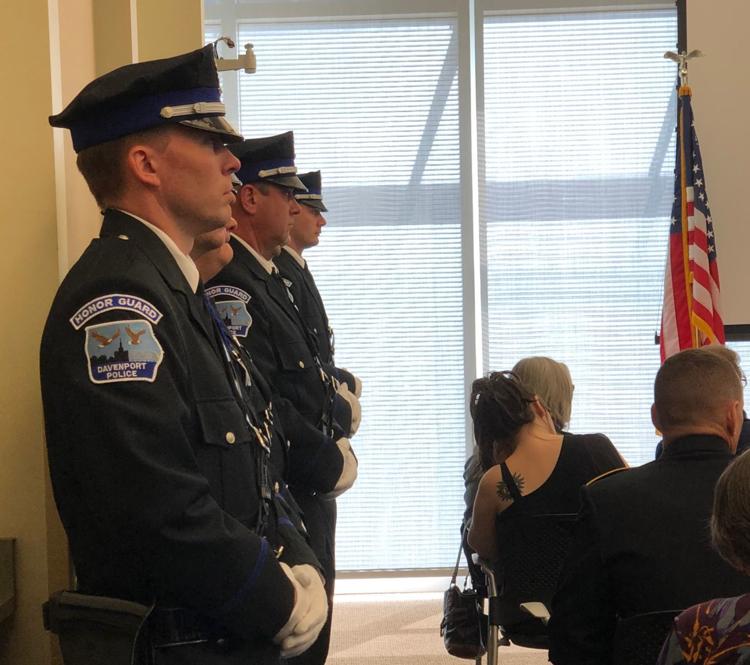 Police officers, firefighters, other city employees and other supporters packed the meeting room where Davenport Police Chief Paul Sikorski, along with Mayor Frank Klipsch and Major General Duane Gamble, U. S. Army Sustainment Command, Rock Island Arsenal.
In 2018, 144 police officers died in the line of duty, Sikorski said. He acknowledged four Davenport police officers who have been killed while they were on duty: Emil Speth, Jan. 26, 1917; Bernard Geerts, July 16, 1928; William Jurgens, July 16, 1958; and Michael Farnsworth, Dec. 5, 1971.
During the ceremony, family members of the officers received recognition and bouquets.
Nationwide, 42 officers have been slain in the line of duty so far this year, Sikorski said.
Klipsch said he and his wife have four children and 10 grandchildren. "How fortunate we are to know that you are putting your lives on the line so they can rest comfortably every night," he said. "We can't thank you enough."
He swears in the young Davenport police officers and firefighters, he said. "Today's the day we say thank you."
Gamble, whose father along with numerous other family members was a police officer, said they are special people with a dedication to a higher cause.
He said their service, and their loss, takes a toll on their families.
After the indoor ceremony, a brief outdoor session included the sounding of "Taps."