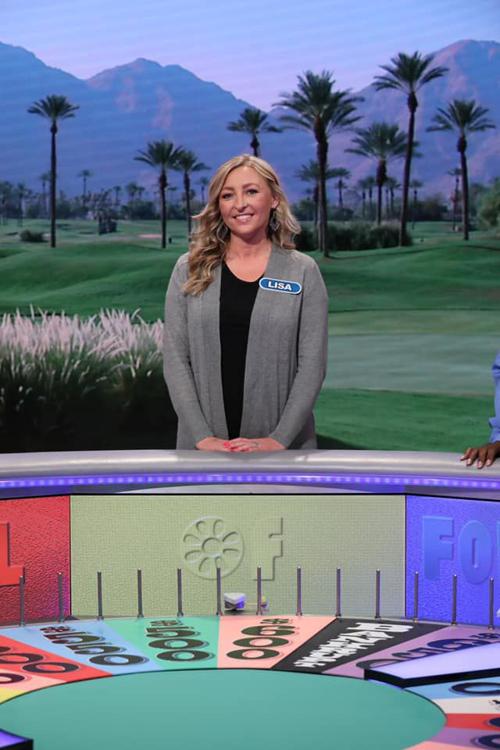 DAVENPORT — Wouldn't an unexpected $15,100 sound good to spend for Christmas?
That's the amount Lisa Perkins of Davenport won playing on "Wheel of Fortune," in the episode that aired Thursday, Nov. 14, but she won't see her check until up to four months from now, she said Friday.
"I don't know. I haven't put my mind to what I want to do with it," Perkins, a 35-year-old mother of three, said, noting she really needs a new vacuum cleaner. "I don't really know. We do family vacations every year."
She and her husband recently had new siding installed on their house, which was about $7,000, so the winnings would have come in handy for that. They had a great time, though, at Thursday night's viewing party at Riverside Grille in Bettendorf.
"It was packed and loud," Perkins said Friday of watching herself on "Wheel," which she filmed July 26 and couldn't tell anyone until Oct. 31. "It was fun. We had a ton of people there. It was wild. I had to re-watch the episode this morning, it was pretty cool. I definitely made the faces I thought I made."
One puzzle she solved was "US women soccer team wins World Cup again." Among the three contestants, Perkins was a close second, following one who earned $17,000 total, and the other $1,000.
You have free articles remaining.
Her family attended the taping in southern California and she said her 8-year-old boy leaked that she was on the show to her sister-in-law.
"The hard part was not to give it away," Perkins said. "He never told anybody how much I won."
This week, many people learned about her national game-show experience for the first time.
"Most of the people I surround myself with, they said, we can't believe it," Perkins said. "It's been on the news, this is so cool. (Thursday) at work, we  couldn't get anything accomplished, we were talking about it."
Her boss at IHMVCU also had a viewing party at the Moline headquarters.
"I'm paying for it today," Perkins said Friday morning. "I'm not feeling myself; I definitely celebrated hard."