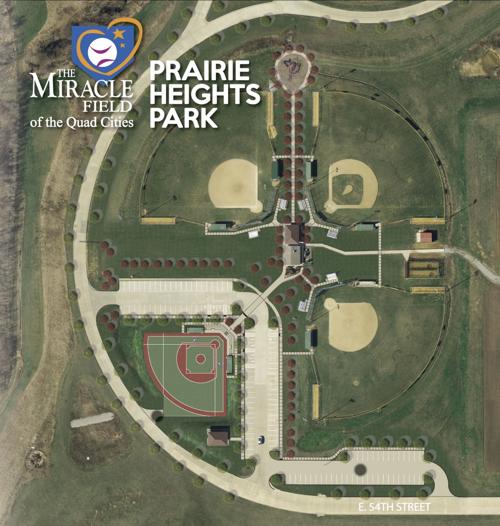 After almost six years of meetings, planning, researching and fundraising, Miracle Field in Davenport is finished and will be dedicated at 5 p.m. Thursday at its location in Prairie Heights Park, north of 53rd Street along Eastern Avenue.
Miracle Field is an inclusive baseball field that allows youth with physical and mental limitations to play baseball without the obstacles presented by traditional field surfaces.
The final estimated cost will be around $775,000, with the cities of Davenport and Bettendorf contributing $188,752 and $50,000 respectively, Chad Dyson, parks and recreation department director, said.
The remainder is from private donations and grants, including Quad-Cities River Bandits, Kwik Star, Smart Toyota, Robert and Blenda Ontiveros Foundation, Challenger League, Vonderhaar Family Foundation, Roy J. Carver Charitable Trust, Optimist Clubs, Regional Development Authority, Scott County Regional Authority, Q-C Rotary Clubs, Atlee J. Hendricks Trust and Bechtel Trusts.
Following the dedication, there will be a game by the Challenger Baseball League, a co-education baseball league started nationally by Little League in 1989, with a Quad-City group started around 1993 by the Iowa Quad-Cities Rotary Club, Dyson said.
From 5:30-7:30 p.m., the city will host the last of its summer Party in the Park events, a get-together inviting representatives of all city departments, members of area groups and organizations and residents.
You have free articles remaining.
The city provides music, children's activities such as face-painting and a meal of hot dogs, chips and a drink. Hy-Vee donates cool treats.
Construction of Miracle Field began last fall with grading, pouring the field's concrete base, erecting a small shelter and adding 15-20 parking spots.
Finishing work this spring included installation of the synthetic surface, permanent fencing, lighting and furnishings such as the scoreboard, bleachers, player benches, equipment racks and scorers table, Dyson said.
The term "Miracle Field" was coined in 2000 when a Rotary Club in Conyers, Georgia, constructed an inclusive field.
Traditional baseball fields are troublesome for people in wheelchairs because of differences in height and surface texture, and even a little rain can cause a cancellation because the field is too soft for chairs, Dyson said.
By now there are 240 Miracle Leagues across the country, Puerto Rico and Canada, according to the Miracle League website.
When not being used by the Challenger League, the field will be programmed by Davenport parks and recreation, working with various providers such as the Handicapped Development Center, Hand-in-Hand, the city of Bettendorf and Davenport Community Schools, Dyson said.
It also can be used by the public, just like any other field, and is multi-use, having a bump-out to allow for other games such as soccer.