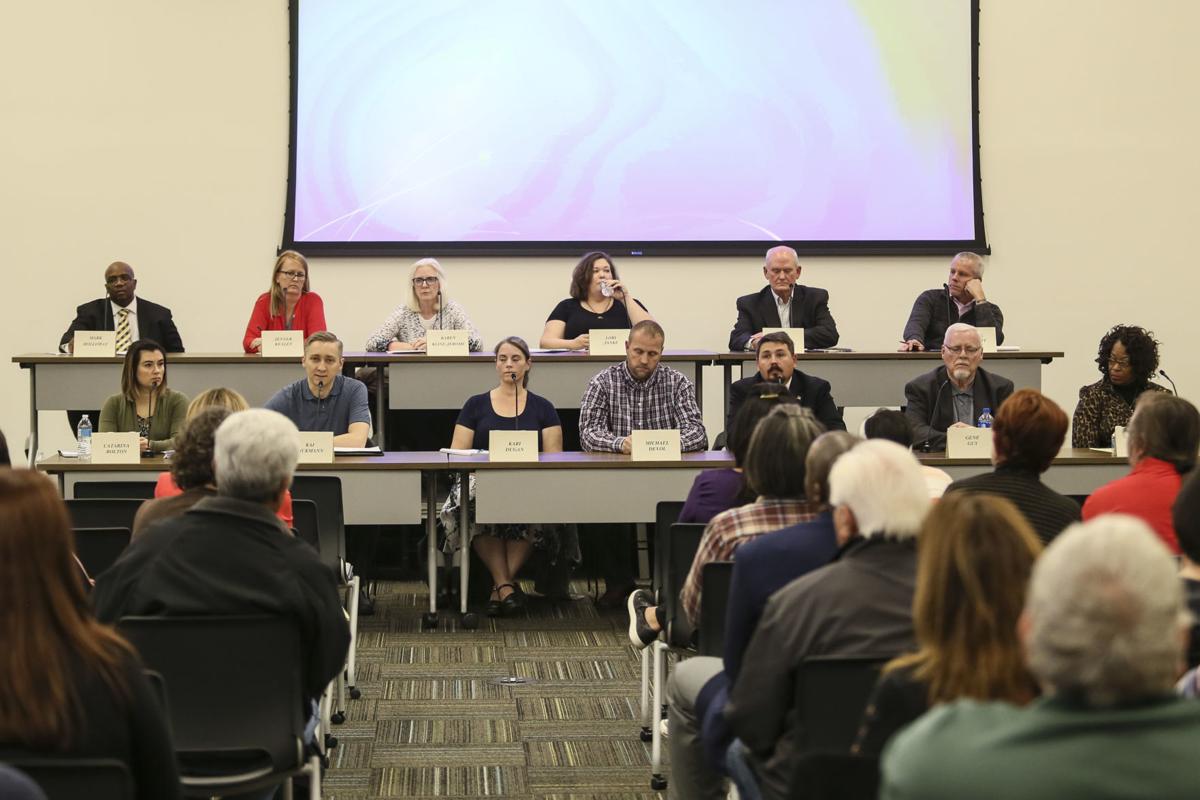 Ten of the 14 candidates running for the Davenport School Board offered stances on a variety of topics Tuesday at a forum hosted by the Juvenile Justice Coalition of the Quad-Cities. It was the second school board forum in as many days. 
Many of the questions focused on social-justice issues, including special education, substance abuse, students and teachers of color and mental health.
The 14 candidates are vying for four at-large seats. The election is Nov. 5.
Students and teachers of color
Davenport Schools were cited for disproportionality, which includes over-identifying students of color for special education services, and giving harsher discipline to students of color and students receiving special education services.
"The legacy of systemic racism is incredibly complex, the way it's woven in our society, the way it's woven into laws," Kari Dugan said. "… This starts at an administrative level."
Dugan also referenced current board member Clyde Mayfield, who has repeatedly asked administrators about hiring more diverse staff.
"We haven't created that space for them," Catarina Bolton said. "We have to do that hard work. We're not going to be able to recruit or retain those teachers with the district we have."
Several candidates said the district needs to change its approach to professional development.
"It needs to be quality training," Karen Kline-Jerome said. "It needs to be more than a one-shot deal, so that administrators and teachers are all getting the same message."
On the topic of race in the district, Craig Piggott said, "I've always thought this, and I'm going to say something that's probably very taboo: I'd hate to be a great black person and see these younger kids that are crazy and don't have any respect ruin it for black people."
Special education and trauma-informed care
After an early question asked candidates if they supported implementing trauma-informed care, audience member Ann Ring, in a tense moment, asked each member of the board to explain what they understood about trauma-informed care. 
"Trauma-informed care in our education is needed. It's demanded," Lori Janke said. "… Zero-tolerance policies are outdated, and Davenport Schools clings to it."
Three of the candidates — Bolton, Dugan and Janke — spoke about their personal experience with having children affected by the state audit that showed the district was not in compliance with special education requirements. 
"The one thing I want everyone to remember is you're one person," incumbent Dan Gosa said, adding that he had sat in on Individualized Education Plan meetings to better understand special education and pushed for changes in the department over the last four years. "I wasn't able to get the outcome I wanted. I've always tried to stand up for parents and advocate for them."
School resource officers
School resource officers are police officers working in schools, but a grant former Superintendent Art Tate pushed for allowed another $1 million to be spent on security personnel in all schools. These personnel are not police officers, and some research suggests that increased security personnel can disproportionately affect students of color and students with disabilities.
One question from the audience asked candidates if they would remove school resource officers from schools — the field was split fairly evenly.
"Why don't we work on building a school that doesn't need the resource officers there?" Michael DeVol asked.
"Officers aren't really wanted until they're needed," Mark Holloway said. "Unfortunately, things are happening in schools where an officer needs to intervene."
"We're just kidding ourselves if we take those officers out of the schools," Kent Paustian said. "I think it'd be a very bad idea."
"When you start with a negative, you end with a negative," Gene Guy said.
Get local news delivered to your inbox!
Subscribe to our Daily Headlines newsletter.