A world traveler from Davenport dedicated to empowering young, at-risk girls through soccer is preparing for her next overseas adventure.
Sarah Van Vooren's global connections helped her secure a voluntary role on an upcoming trip to Jordan, where female soccer players will host a series of camps for hundreds of girls in the region.
At the end of the journey, the athletes plan to set the Guinness World Record for the lowest-altitude soccer match ever played by competing against each other along the shore of the Dead Sea. Bordered by Jordan to the east, the salty lake located at 1,412 feet below sea level is Earth's lowest point on land.
Van Vooren, 33, recently launched an online fundraising campaign when she learned she would serve as a member of the group's support crew. As of Tuesday afternoon, she had raised $2,120 of her $3,200 goal. Donations, she said, will fund her travel expenses during her three-week tour.
Equal Playing Field, a nonprofit organization that challenges gender inequality in sports, is orchestrating the venture. In June 2017, Equal Playing Field set the Guinness World Record for the highest-altitude soccer match ever played at the summit of Mount Kilimanjaro, 19,341 feet above sea level.
Van Vooren said she did not make much money the past two years while working for nonprofits in the Philippines and, most recently, Haiti. Those jobs and other volunteering experiences helped spur her enthusiasm for mentoring young girls, which remains at an all-time high. Her eyes lit up when she reminisced this week about her travels.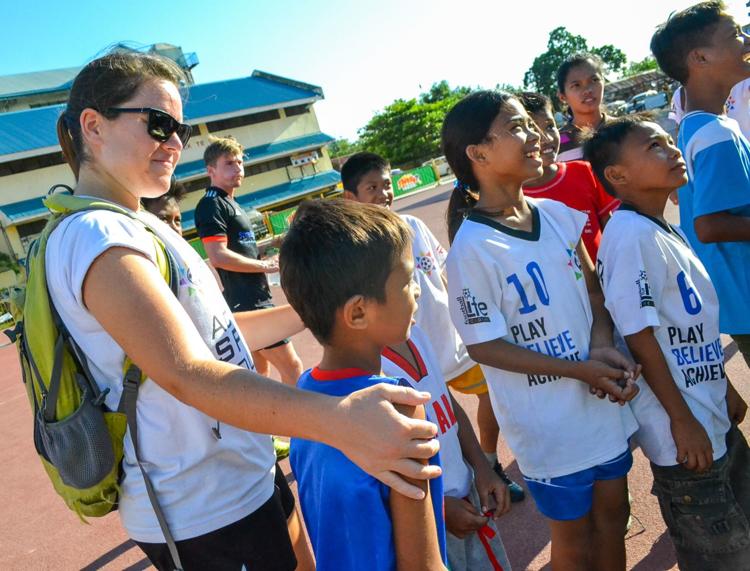 "I love being around kids and watching them unlock their potential through extra education, arts, sports and mentorship," Van Vooren said.
She emphasized the power sports, particularly soccer, may have on children.
"It gives them self-worth, confidence and a positive environment with peers who want to develop themselves despite all the negativity around them," she said.
Van Vooren, who graduated in 2003 from Assumption High School in Davenport, was a standout golfer for the Knights. She went on to compete at the collegiate level during her four years at Loyola University Chicago. After college, Van Vooren moved to Italy and learned the language while working almost four years in the film production industry. She then attended Trinity College in Dublin, Ireland, where she received a Master of Philosophy in International Peace Studies.
Van Vooren's explorations eventually led her to India and Cambodia. She credited her relationship with Yuwa India, which uses soccer and education to combat risks impoverished girls face in rural Jharkhand, India, for her involvement in Equal Playing Field's record-setting trip to Jordan.
She connected the two organizations before offering up her services to Equal Playing Field.
Van Vooren expects this "once-in-a-lifetime opportunity" to work alongside other like-minded women from around the world will motivate her to do more.
"It gives me hope that they are creating social change in their communities, which will trickle down to other generations of girls," she said.
Van Vooren departs Tuesday. Until then, she plans to continue searching for full-time work related to youth development. She is not picky about the location and someday, she said, she may want to start her own nonprofit in the Quad-Cities.
Following the Dead Sea soccer match on April 5, ESPN's SportsCenter will air a live interview with the players.