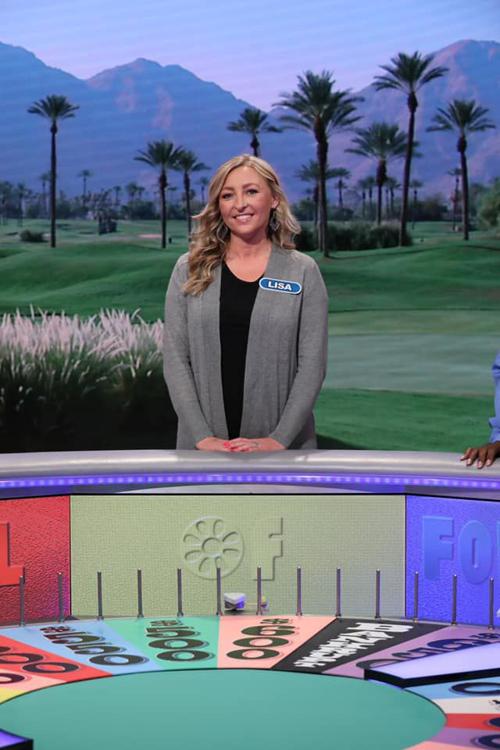 DAVENPORT — Twenty-five years ago, Lisa Perkins of Davenport loved watching "Wheel of Fortune" with her grandma. This summer, she achieved a longtime dream by appearing on the game show as a contestant.
Perkins — a married mother of three (her kids are 19, 14 and 8) — will appear on "Wheel of Fortune" at 6:30 p.m. Thursday on KWQC-TV.
"I like solving puzzles, and at some point, I realized I could solve these," she said this week. "This was my thing for me, on my list of lifetime goals. My family has been super supportive."
Perkins works at IH Mississippi Valley Credit Union, as regional director of six retail branch locations. For over five years, she's had a free membership to the Wheel Watchers Club and has a Spin ID. (You can register at wheeloffortune.com/account/register.) Perkins is notified by email when contestant coordinators bring the "Wheelmobile" to her area.
She first went three years ago to try out for the show in the Chicago suburb of Rosemont. She was there six hours and wasn't randomly picked to participate.
"Even if you're called, you're not guaranteed to get called to a second audition," Perkins said. "It's how you respond. It's about stage presence, how you speak. You have to be enthusiastic."
She went to another session in Osceola, Iowa, (a two-and-a-half hour drive) last April, and got called for a mock game. "It was pretty cool," Perkins said. "I was running up, screaming, my hands in the air. I was excited."
She got called back to audition in Des Moines in May, which included a written test with puzzles partially filled in that she had to complete. Before then, Perkins researched online tips on how to get on the show. "There are several discussion boards out there," she said.
It was nerve-wracking waiting to hear if she'd get to be on TV. "They say over million people a year submit to try to be a contestant, and they only select 600 a year," Perkins said of "Wheel" -- hosted by Pat Sajak, a 73-year-old Chicago native who's hosted since 1983 and holds the Guinness World Records title for longest career of any game-show host on the same show.
Perkins found out by mail in June she'd be on the show, and got an email July 2 (her 35th birthday) saying her taping would be July 26, in Culver City, Calif. She'd planned a family vacation then anyway, and they did a weeklong trip (at their own expense) around the "Wheel."
Her family went to the Hollywood Walk of Fame, Universal Studios, Warner Brothers, and checked out the Sony studio, where "Wheel" and "Jeopardy" are filmed.
That day, Perkins was at the studio all day, starting at 7 a.m., and taping began at noon (with her family in the audience). Six episodes are filmed each day.
Famed letter turner Vanna White greeted the contestants in jeans and a T-shirt, with no makeup. "She was still very beautiful; I couldn't believe it," Perkins said. "We were all blown away." They didn't meet Sajak until they were on set.
"On the set, the wheel is very heavy," Perkins said. "It's hard to turn. They had us practice, and hear us call out letters, to make sure they could hear us."
Her episode was the last, not starting until 5 p.m., and they couldn't have cellphones with them. As the other shows were taped, contestants sat in a section of the studio audience.
"It was a lot of fun. It was really nerve-wracking. They keep the studio pretty cold, because you're under lots of lights," she said. "You're sitting freezing and then up there, you're sweating.
"It goes extremely fast; the games move very quickly. Your contestant coordinators keep it light and fun, and Pat tries to make it fun," Perkins said. "You have to stay smiling, no matter how you're doing in the game."
"It was incredible. At the end of the day, it's like a whirlwind," she said. "Once you got there, it was like hurry up and wait. It was surreal; so THAT just happened."
Perkins is hosting a public viewing party of Thursday's show at Riverside Grille in Bettendorf, starting at 6 p.m. She couldn't announce publicly she'd be on until Oct. 31, and her grandma will be watching. "She was so excited. She is 85, still lives in Davenport," Perkins said.
Her boss at IHMVCU also is having a viewing party at the Moline headquarters. "They're very supportive; they knew how excited I was."
Perkins is on during "America's Game" week —spinning the Wheel, calling out consonants, and buying vowels to solve hangman-style puzzles with the chance to win vacations and cash prizes.
Get local news delivered to your inbox!
Subscribe to our Daily Headlines newsletter.