DeWitt resident Tom Tiefenthaler got his first glimpse of his future hometown on RAGBRAI in 1994, the last time the route passed through the city.
"I was never in DeWitt before in my life," Tiefenthaler said. Years later, he moved to the eastern Iowa town because it was close to his business, and realized his first trip to where he'd eventually raise three kids was actually by bike.
"I remember coming into town and I remember all the memories were great -- the south side and TC's had something going on. Later on I put it all together, but that day it was just great memories of DeWitt."
This year, Tiefenthaler, a long-time biker, has been busy planning for months with dozens of other volunteers to set up entertainment, beverage gardens, and logistics for DeWitt's first overnight stop on what is colloquially known as the biggest mobile party in Iowa.
Friday night, DeWitt will swell with people and bikes traversing the state for the Register's Annual Great Bike Ride Across Iowa, and the planning committee has mainstage entertainment planned, local food vendors scattered across town, and a beverage garden serving cocktails, beers, and non-alcoholic drinks. The seven-day, 426-mile route will finish in Clinton on Saturday.
"We're gonna knock it out of the park on Friday night," Tiefenthaler said. 
DeWitt leaders were approached late 2020 by RAGBRAI organizers to host the last overnight stop, meaning the town would need to set up camping and prepare food and entertainment for thousands of hungry, thirsty bikers with dollars to boost local businesses.
Maquoketa, just 19 miles north, decided to bow out of the rescheduled 2021 tour because the week dates conflicted with a major road project scheduled for this year and the county fair, said Interim City Administrator Mallory Smith.
DeWitt leaders held public meetings and discussions with the city council, said City Administrator Steve Lindner, to see how much interest businesses, nonprofits, and the chamber held in helping come up with everything needed to host the riders. Feedback was positive, he said, and the city agreed to do it, forming a nonprofit called RAGBRAI Incorporated.
Lindner said city leaders thought this was a chance for local businesses to snap back after a pandemic year of limited retail shopping and in-person dining. With 15,000-20,000 extra people coming through your town, he said, businesses are bound to see benefits.
"We think it's going to be a big deal," Lindner said.
The statewide RAGBRAI organization paid DeWitt $15,000 for expenses such as added law enforcement and offered $15,000 to be set aside for nonprofit grants to be a host city.
Once DeWitt got the green light, volunteers on an executive planning committee started meeting weekly to plan how the town of 5,200 people would entertain and accommodate quadrupling in size overnight.
And planning for hosting thousands of people required creative solutions.
For example, one problem to solve was how to accommodate bikers that will be desperately looking for a shower after a long day of riding.
A downtown car wash, the Shine Shed, took up the mantle, and plans to trade cars for bikers this weekend, transforming into a shower station for 24 hours.
Chair of campgrounds and sanitation Kim Broders called owner-operator Matt Trujillo with the idea, and he wanted to go for it. Trujillo said him and his family have been putting in overtime – often eating dinner at the car wash – to build and test out different shower configurations.
The car wash will set up six shower heads in each of three stalls, and put up PVC pipe and tarp walls for privacy.
He expects to wash more than 1,000 riders on Friday and Saturday at his 11th Street location. One difference from more traditional traveling showers, he said, is that car washes can run hot water the entire time.
"I talked with some RAGBRAI riders and they said that's the best feeling on Earth – finding somewhere to shower after biking for hours," Trujillo said.
Putting the best foot forward
Adorning flower planters along 6th Avenue in DeWitt are colorfully painted bike wheels. Hundreds of people donated bikes to the RAGBRAI organizing group, pulling old bicycles out of attics, garages, backyards, some missing a wheel or rusted out, that the committee dismantled and used to decorate the downtown.
Local residents got creative with some of the two-wheelers, and entered them into a Bike Beautification Contest. Facebook likes decided the winner, and a 70s flowery bike with yarn between the spokes won the top honor.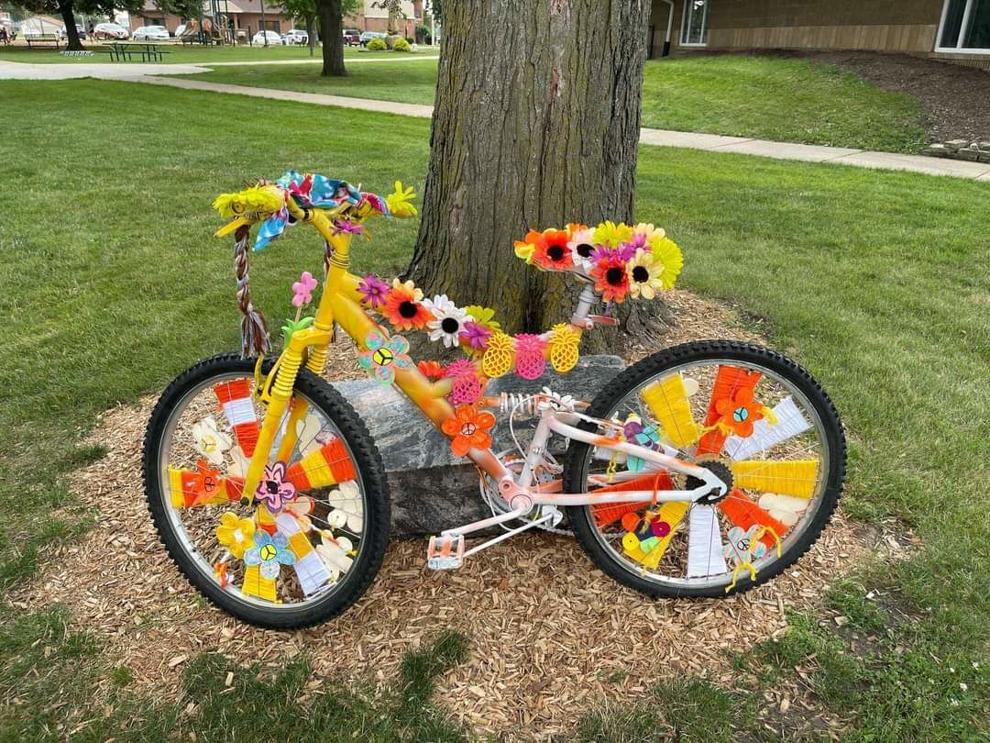 Beth Hughes, who coordinates hospitality and publicity, said her husband welded some of the bike parts together to form a giant statue of a man, woman and kid to be stationed outside the DeWitt Aquatic Center, the main information hub.
A freshly painted water tower, spruced up flower pots, and a banner hanging over the main drag signal that soon the town will be hosting company.
DeWitt needs more volunteers
One hurdle the executive committee still faces in the final few days is recruiting volunteers, many RAGBRAI organizers said.
Hosting an overnight stop requires hundreds of volunteers, an estimated 800, in the planning stages the DeWitt Observer reported.
Now that the event is getting closer, organizers say the biggest need for volunteers is on the late-night beverage garden shifts. The group is looking for 21+ volunteers from evening until after midnight for clean-up. People interested in volunteering can sign up here or go to https://ragbrai.com/route-maps/dewitt/ and find links to volunteer, provide housing for riders, find maps of events, food, and shuttles in DeWitt, or ask questions.
Organizers are offering grant money to encourage volunteerism. When a volunteer signs up, they can attribute their shift to a local nonprofit, and every nonprofit with 50 or more volunteer shifts will receive a $500-dollar grant, Hughes wrote in an op-ed in the Observer last week. 
Tiefenthaler started riding in Sac City on Sunday, the first day of the ride, and will end early in Waterloo on Wednesday to return to DeWitt and get ready for his hometown to host the big night. He said he hopes people from communities nearby DeWitt: Davenport, Eldridge, Maquoketa, Clinton and Scott County residents, come down for a night of music, food, and drinks. 
Local economic advocates are hoping the event will be a business generator for local retail businesses and be a unifying event for DeWitt residents said Molly Goettsch, the DeWitt Chamber of Commerce's program, event, and marketing coordinator. Several restaurants in DeWitt paid for expanded business permits to grill or serve food on the sidewalk in front of their store.
"In DeWitt, we always say we may be small but we think big," said Goettsch. "We're always looking for the next opportunity. What can we do to help our businesses help our community members, how can we continue to have DeWitt thrive and be such a special place to live."