Digging into Q-C's doughnut scene: Old-fashioned favorites to funky new treats
Whether it's glazed or cake, topped with a candy bar or plain, your favorite type of doughnut can say a lot about you.
And in the Quad-Cities, as I've learned, so does your favorite doughnut shop.
Here, the doughnut scene is full of old-fashioned shops such as Tommy's Cafe, Donut Delite and Donuts & More, where generations of regulars have routinely stopped in to satisfy sweet cravings, as well as newer bakeries, such as Oh So Sweet by Tiphanie and Baked Beer & Bread Co., where cases show off colorful rows of gourmet fried dough. 
The Quad-Cities also is home to three — soon to be four — Dunkin' Donuts franchises. A Rock Island location is expected to break ground later this year and open in early 2018.
All of those spots were called out when we asked readers, via Facebook, about their favorite doughnut establishments.
Skimming through the 74 comments we received, it's clear Quad-Citians have strong feelings about where to get fresh doughnuts. Messages ranged from, "Leo's South Park Bakery Donuts are the best in the world!" to "Donuts & More, a Sunday tradition" to "I have Celiac disease. This entire post is torture because all I want everyday is a doughnut."
Starting Wednesday, you can add another option to the Q-C doughnut scene.
Hy-Vee stores in the Quad-Cities will now be stocked with fresh — not frozen — doughnuts daily.
Twelve grocery stores in the area will offer doughnuts that are "fried fresh, in-house, every day," according to Allie Johnson, Quad-City area digital marketing coordinator for Hy-Vee.
"Hy-Vee is going back to the old-school way of making our doughnuts," Johnson said, adding that each store has been equipped with a fryer.
About 28 varieties and three price points are on the menu, including classic options for 99 cents and supreme options for $2 each. 
So, now, we can all grab a fresh doughnut while grocery shopping. Talk about convenience.  
But, when it comes to the Quad-City doughnut scene, there's a lot more to talk about. 
'Joy and a few pounds'
At the Quad-City's oldest, family-run doughnut shop, you won't find a "funky doughnut with Rolos or Fruity Pebbles," owner Susan Lillybeck said.
Moline's Donut Delite is all about the "tried and true stuff," including its signature buttermilk bar.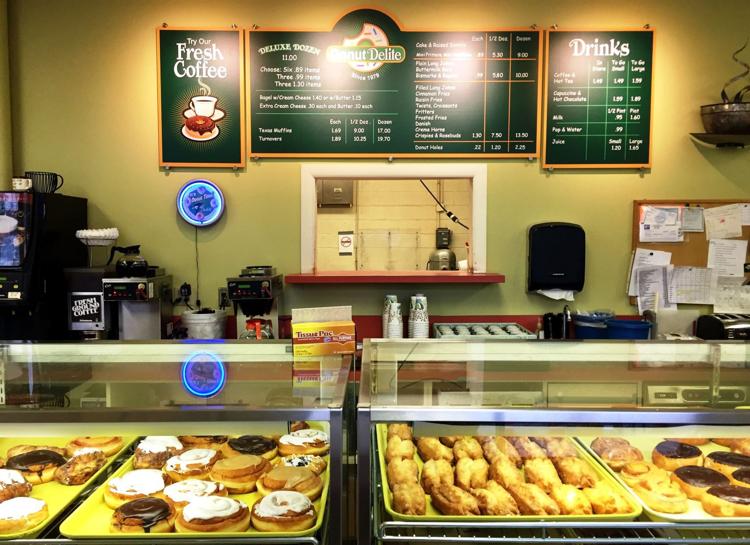 Lillybeck has heard the grocery store chain is getting into the fresh doughnut game, but she isn't worried about competition. 
"An outfit like Hy-Vee is going to try a lot of different things," she said. 
"When Krispy Kreme opened here years ago, people said they were going to run me out of business," Lillybeck added. "Well, they're gone."
At Donut Delite, "People know what to expect. We've been the same forever, and people like that."
They expect the "winning combination of great doughnuts, lovely people and a nice atmosphere," Lillybeck said.
It's been that way since her parents opened the store in 1979, and she took it over in 1982. Two additional Donut Delite locations, in Silvis and Milan, have since closed, but doughnuts have only gotten more trendy in recent years, she said.
"People are crazy about doughnuts right now," Lillybeck said, adding that she's supplied doughnuts for several recent weddings. "It used to be cupcakes that were the thing, and now, it's doughnuts."
Her team tries new recipes every now and then, but Lillybeck said she got this advice a long time ago, and she's sticking to it: "Keep it simple."
"Those places where people stand in line to buy weird doughnuts with weird names — that's great and probably goes in the Q-C for some people," she said. "But we're going to keep doing what we're doing."
For 38 years, it's worked.
She has her loyal customers to thank, from multiple generations of families to "little groups that meet every morning and solve the world's problems."
"It's a version of hanging out at 'Cheers' but with coffee and doughnuts," Lillybeck said. "It brings joy and a few pounds to their life."
Finding a niche
That "homey" feeling comes with being around a long time, said Jan Amyette, owner of Donut & More's two locations.
Jan Amyette and her husband, Tom, have seen lots of doughnut shops come and go.
They were almost one of them.
The couple had sold Donuts & More, which they opened in 1984 as a Donutland franchise, and had been in retirement for five years when they learned the new owner wasn't going to renew the building lease.
"The stores were going to close, and we didn't have the heart for that," Amyette said.
They bought back the business in 2015.
"We haven't regretted it," Amyette said. "We wanted to save the jobs for the workers, fix the properties and save the Donuts & More name. We've done what we wanted to do."
Amyette continues to works seven days per week and splits her hours between the Davenport and Moline locations, mostly to keep up with regulars at both stores who come in to "reminisce and share stories," she said.
"They say, 'This is where I grew up getting doughnuts' or 'This is my daddy's favorite place,'" she said. "That's why I'm here every day. It lifts my spirits to see all these people share their memories."
When choosing a doughnut shop, Donuts & More has time on its side, although Amyette said, "We don't compete with others. We each have our own place and our own niche."
Their niche, she said, is offering more varieties of cake doughnuts compared to yeast. Plus, they change colors and sprinkles based on "the seasons or our mood."
"I want it to be a happy place and a place to build memories," she said.  "If you're in in a bad mood, we'll try to get you to not leave in a bad mood."
Beyond the basics
When Stephanie Sellers, co-owner of Baked Beer & Bread Co. in the Village of East Davenport, decided to add doughnuts to the bakery's menu, she knew she wanted to offer "more than the basic glazed doughnut."
"The doughnut scene here is pretty basic so far," she said. "There's not a lot of people pushing the envelope."
Over the past two weeks, Baked has "really pumped up the doughnut dance," she said, and they've regularly sold out by noon each day.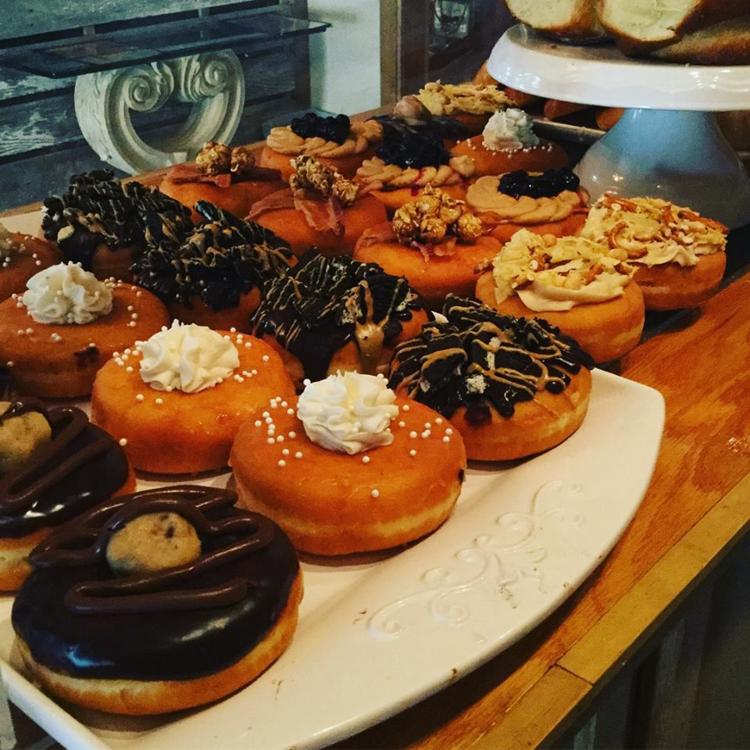 That goes for a few of Baked's specialties: A peanut butter and jelly doughnut named I Don't Want to Grow Up and a cookie dough option named It Was All a Lie, "because of all those people that said it wasn't good to eat cookie dough," Sellers said. There are also doughnuts, freshly prepared each morning, topped with graham crackers, cereal, fruit and candies.
In addition, Sellers expects to roll out doughnut and cocktail pairings and liquor-infused doughnuts this weekend.
So, yes, we can consider the doughnut envelope pushed.
"You can get the basic stuff at Hy-Vee or other places," she said. "We know people have to make an effort to come see us in the Village, so we wanted to make it worth the trip."
On the topic of fancy fare, Donut Bouquets QC, a mobile business that arranges doughnuts — instead of flowers — for gifts and special orders, launched here last month. You can find (and follow) them on Instagram.
"You can be so creative with doughnuts," Sellers said. "I think the Quad-Cities is ready for that."
What do I think? There's room for every one — and every kind of doughnut here.