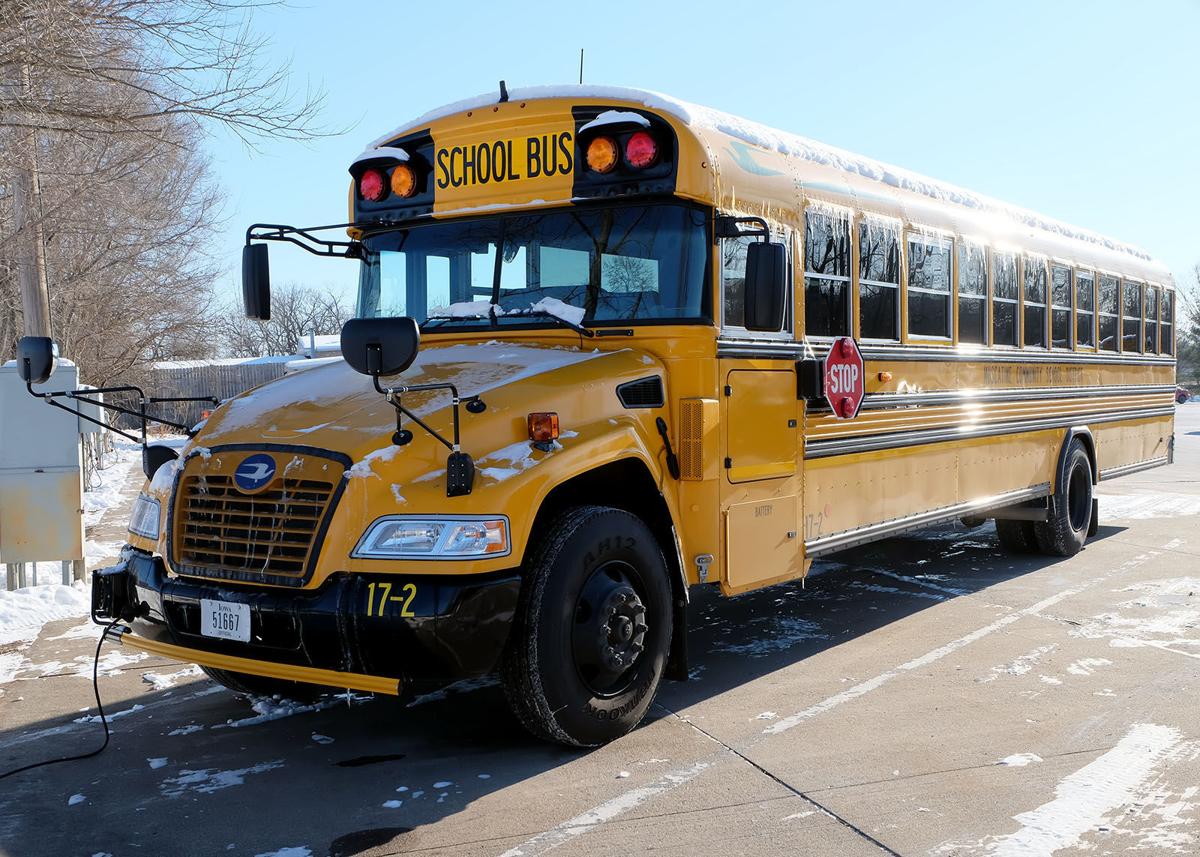 School buses are going to start looking a bit different in Iowa this fall. 
The state Board of Education unanimously approved a new rule August 1 requiring new school buses to be fitted with seat belts. 
The new rule only applies to buses manufactured after Oct. 2. Older buses will not have to be retrofitted. 
David Tilly, who works with the Department of Education, told the state board that, given typical school bus life spans it would probably be at least 15 years before every school bus in Iowa has seat belts. 
In Bettendorf, Transportation Supervisor Tim Mesick said their nine buses are replaced after about 10 years.
"We try to replace at least two buses every year," he said. "... If we're replacing two a year, we're looking at four or five years." 
According to a statement from the Department of Education, a new school bus can cost anywhere from $90,000 to $100,000, and the seat belts add an additional $8,000 per bus. 
Given the lifespan of a bus, Mesick said that additional cost works out to be "pretty minimal." 
"Yeah, there's initial costs, but over the life of the bus, the cost is minimized," he said. "If it's going to make it safer -- you have to spend the money." 
State board members had a few questions, including concerns about kids struggling to buckle themselves in, and whether the restraints would hinder evacuation efforts in an emergency. 
"We believe that kids are going to know how to use the buckles," Tilly said. 
As for the time-delay, he said that in drills the difference in evacuation times with and without seat belts was about 1.5 seconds. 
North Scott Superintendent Joe Stutting said he thought the seat belts wouldn't just make buses safer, but would help discipline and management on buses easier too, since students are more restrained. 
As far as safety goes, Stutting said any minimal time delay was outweighed by the benefits. 
"I think if you look at those arguments, we've proven the safety you gain of not being thrown around outweigh any potential situation where it might slow you down," he said. "I don't buy that argument myself." 
Even with 36 buses, Stutting said that since the rule only applies to new buses, finding funding becomes much more manageable than if all the buses had to be retrofitted, which would have cost North Scott upward of $350,000. 
"They're not funding it, but it gives us all time to work it into our budgets," he said. 
Seat belts aren't the only safety addition required by the new rules. The rule also mandates new buses be equipped with:
an additional stop arm

handrails

exterior boarding lights

fire-resistant crash barriers between the front bus seat and the bus driver. 
"Generally speaking, we're very supportive of these initiatives around the country," said Charlie hood, executive director of the National Association of State Directors of Pupil Transportation Services. "We're encouraging state and local school districts to phase them in as soon as they can." 
According to Hood, eight states had rules for seat belts before Iowa, starting with New York in 1987 and, most recently, Nevada starting this summer.