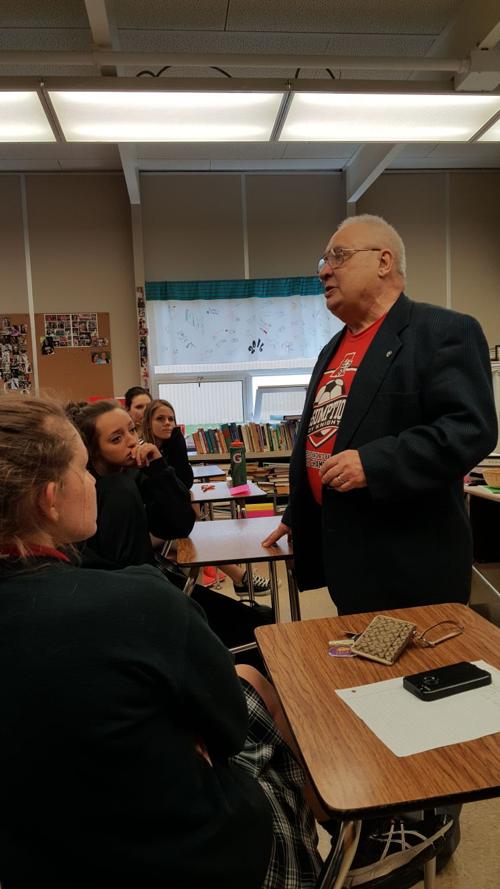 The flip phone was good for a laugh.
But a little dated technology and imperfect hearing were all that separated a senior citizen from a classroom full of teenagers.
Thanks to the voices in his head, Jon Ripslinger is an 83-year-old hipster.
The author of 11 novels, his characters come from two places — experience and imagination. The father of six and grandfather to 13 spent 33 years in classrooms at Davenport West High School. The kids got into his head and stayed there.
Throughout his teaching career, Ripslinger pined to write fiction. But he worked a couple of part-time jobs (See: six kids), and the serious writing had to wait until after his retirement in 1994.
He collected ideas over the years, archiving them in his memory. One such idea was to borrow from one of the Quad-Cities' most notorious crimes: The murder and dismemberment of Joyce Klindt by her husband, Davenport chiropractor James Klindt.
The book, "Missing Pieces," is required reading in Jan Luton's composition classes at Assumption High School. As coincidence so often goes, one of her current students is one of Ripslinger's grandchildren.
"Hi, Grandpa!" Lexie Ripslinger sang as she bounced into her 12:25 p.m. composition class Thursday, obviously looking forward to introducing him to her classmates.
Luton was looking forward, too. In addition to reading "Missing Pieces," most of her students had familiarized themselves with Quad-City Times coverage of the Klindt case. They had questions about the relationship between fact and fiction.
"What the kids are struck by is his language," Luton said of Ripslinger's writing. "It's real to them. The first sentence of the book is, 'I was pissed,' (referring to the hung jury in Klindt's first trial)."
The real and not-so-real exist in tandem inside "Missing Pieces."
The story's main character is Kyle Donovan. But he is the imagination's twin of Bart Klindt, Jim and Joyce's only child. Though born of the book, Kyle is not merely borrowed from headlines of the 1983 murder.
Bart Klindt went to school with one of Ripslinger's sons, and the author remembers the then-teen visiting his house. He used Kyle to tell readers what it must have been like to be Bart.
"A writer sort of becomes the character," he told the students. "The character actually comes alive in your head. I let the character take me to the end of the story."
At the end of "Missing Pieces," Kyle writes a letter to his father, forgiving him.
But most of Luton's students weren't having it, she said.
"We talked about that," she said. "Most of them said, 'I couldn't forgive that.' I found that interesting."
Ripslinger said he prefers a happy ending, despite a dark story line. And he keeps a certain distance from the truth. It is a fine line of liberties to walk.
The young people he understands so well are there to keep him honest. For instance, it was pointed out to him that his teen characters do not refer in his novels to texting. Reaching into his pocket, Ripslinger held up a flip-lid cellphone as an explanation.
"He's so cute!" student Laura Olds gushed across her desk in a whisper to Lexie Ripslinger.
As the author and the teacher introduce new generations of Quad-Citians to the notorious nature of a 33-year-old murder, they are jarring the memories of the generation that came before.
Asked whether reading "Missing Pieces" at home brought back memories for their parents, nearly every student threw a hand in the air.
"My mom was James Klindt's patient," Jillian Yachley offered. "She didn't believe he did it (murdered his wife). She said he was too nice to have been abusive.
"My dad said, 'You weren't married to him!'"
The novelist took the students' enthusiasm for his work as proud accomplishment, including the disclosure by one teen that he wasn't sure where parts of the book were going. The remark erased the 65 years that exist between writer and reader.
"Well, cool!" Ripslinger nearly shouted. "I'm glad that upset you! That was my intention. Tension is what keeps the reader reading."
In other words, he never could dismiss a class.