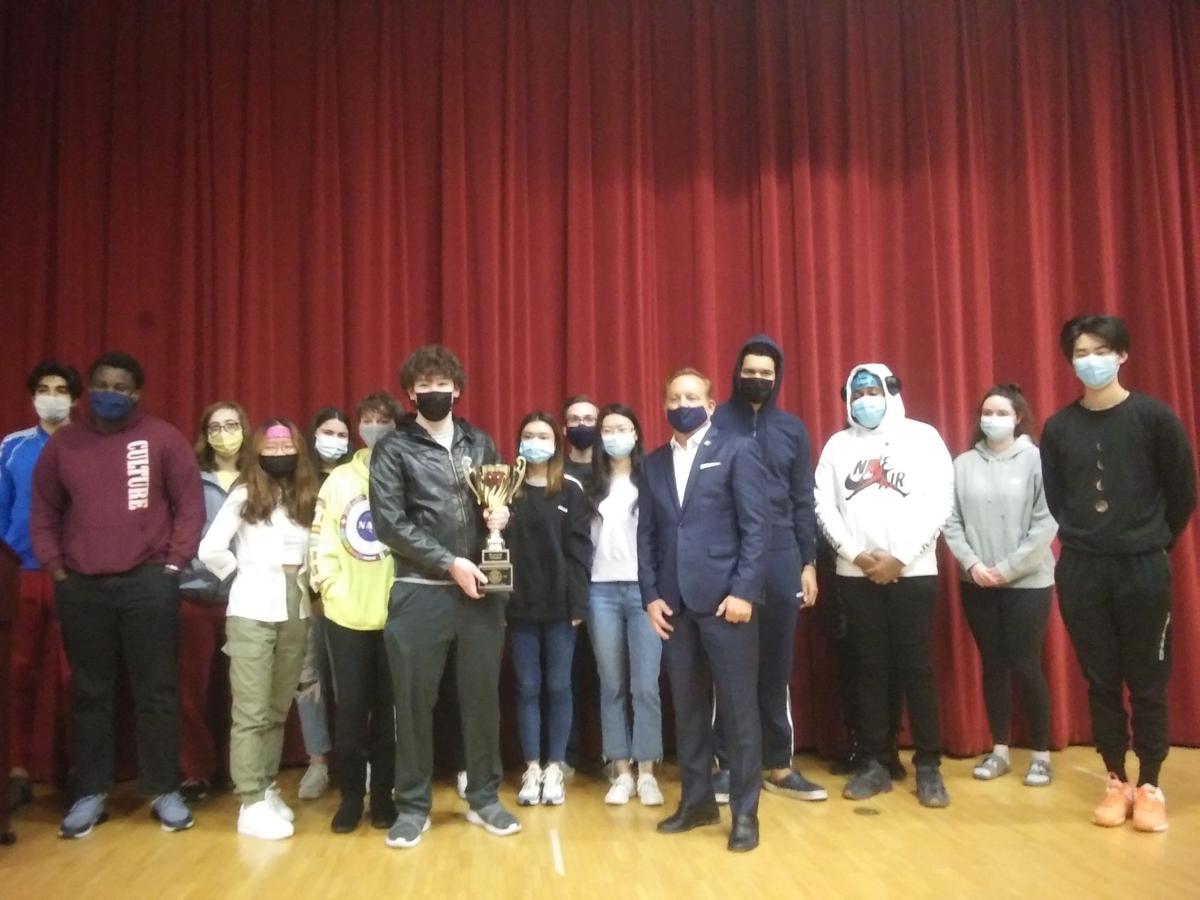 Rivermont Collegiate students were recognized Friday by Iowa Secretary of State Paul Pate for their efforts to encourage voting. 
Pate presented the school with the Carrie Chapman Catt award because its students registered at least 90% of their eligible fellows so they could vote, according to the news release. The school registered 100% of those students.
Rivermont is the first school to qualify for the award this year, and this is the second time the school has won it. It is the second time Rivermont has registered all of its eligible students. 
"Here at Rivermont you stepped up and were very successful in registering students," Pate said during the award ceremony.
In the most recent election cycle, the state was happy to see Iowans in the 18 to 24 demographic more involved in the process, he said.
"We saw a huge uptick of not only registrations, but voting in the primary," Pate told them. "We saw a lot higher voter participation across the state in general but with the 18 to 24, we saw a big jump, and we saw it again in the fall elections."
It's not something officials see often, he said. An example of a similar increase he cited happened when Ronald Reagan won his first term. Another was when Barack Obama won his first term.
He said every election was important, but data shows that candidates do make an impact. 
Iowans understand that voting is important, Pate said. The state is in the top five nationally in voter registration and participation.
"We want to do better, and that's part of why we are doing this particular program to inspire young people," he said. 
The hope is to encourage participation in smaller-scale elections such as city and school board elections, as well as the larger ones, Pate said. 
The Catt Award is named after an Iowan instrumental in getting the 19th Amendment passed 100 years ago, clearing the way for women to vote in the U.S., according to the news release. 
"She did not only crusade in Iowa to get it done, she traveled the country to help get it passed in other states as well," Pate said. "She was also the founder of the National League of Women Voters, and that is a group that has been very instrumental and very key in promoting voter education across this country."
Will Austin, 19, a Rivermont senior, said he voted in the last election and he thinks it is important because people in his age range are not voting often. 
When he did it, it was easy — much easier than he thought it would be. 
"I don't think people realize how easy it is," he said. "You spend less than 30 minutes in there and people, at least where I was, people were very kind and everybody seemed rather inspired, and they acted as if they wanted to help us vote." 
Rivermont students and Pate had more to say. Videos of their comments are available on the newspaper's website.