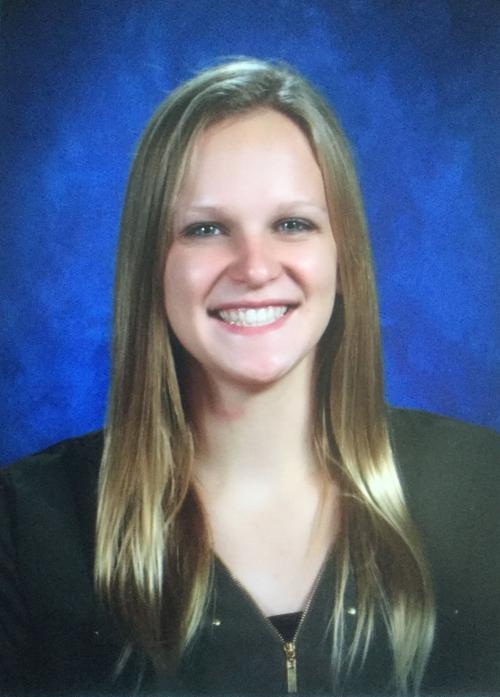 DURANT High School, has selected these outstanding students from its class of 45 students:
Academics
CATHERINE RALFS, daughter of Steve and Ann Ralfs, of Durant, plans to major in business at the University of Iowa, Iowa City.
• Academic All-State Team, volleyball
Describe a classroom learning experience you'll remember forever: When looking back on the classes that I took in high school, one class stands out to me in particular. I took an Adventure Literature class when I was a sophomore. I was timid to take this class; it was out of my comfort zone. I ended up really enjoying it and I pushed myself to do things that I never thought I could do, such as write a fifteen-page research paper. This class specifically challenged me by making me be creative when making projects and papers, something that I was not used to doing. The teacher that I had made the challenging work into interesting projects, which helped make the class more enjoyable. Adventure Literature made me realize that I loved to write and it encouraged me to continue writing in the future. Without this class, I am not sure if I would have realized that about myself.
The Arts
HALEY WOLF, daughter of Scott and Darcy Wolf of New Liberty, plans to major in music therapy at the University of Iowa, Iowa City.
• Governor's Scholar Recognition Program
• University of Iowa Belin-Blank Recognition for Outstanding Achievement
• Duke University Talent Identification Program Grand Recognition
Describe a classroom learning experience you'll remember forever: One classroom learning experience that I will never forget is from my sophomore year of high school. It was not a typical day of going from class to class. It was a special day called Challenge Day, which was being hosted by an anti-bullying program called Be The Change. Sometimes anti-bullying programs are not as effective as they could be, because high schoolers don't relate to them or don't feel the need to take them seriously. But this program was life changing for all of us, and I really saw a difference in the way people were treated at school in the weeks that followed. We played games and took part in activities that brought us all closer and forced us to see and understand the problems with which our classmates were struggling. We faced our insecurities and became more confident in ourselves. In short, it was an amazing experience.
Humanities
MADISON HOWE, daughter of Wes and Shirley Howe of Durant, plans to major in biology at Grinnell (Iowa) College.
• National Merit commended student
• Academic All-Conference, cross country, track & field
Describe a classroom learning experience you'll remember forever: I will never forget going on my school's Spanish trip to Costa Rica during my junior year. It was such an amazing and enriching experience. After four years in the classroom, my classmates and I were finally able to use what we had learned in the real world. We really enjoying learning all about the Costa Rican culture and talking to the locals. The trip would not have been the same without my classmates and our Spanish teacher. We had so much fun hanging out together in the hotels every night and finding things to do at the airports between flights. Our teacher made the trip even more enjoyable with his constant stream of jokes. If I could go back and do it all again, I would do so in a heartbeat. I will carry the memories made on that trip with me forever.
Leadership
JACOB CONLEY, son of Denise Harmsen and Phillip Conley of Durant, plans to major in engineering at Black Hawk College, Moline.
You have free articles remaining.
• Academic All-Conference
• 3rd Place, QCESC Annual Trebuchet Egg Throw Competition
• Competed in FTC Robotics
Describe a classroom learning experience you'll remember forever: I classroom learning experience I will remember forever is the Annual Trebuchet Egg Throw Competition. I learned a lot from this. It really showed me how working together can get very difficult at times. Also, we came in 3rd in the competition overall. This was a huge achievement for us because we beat most of the powerhouse Quad-City teams. I had a lot of fun doing this project with my classmates. I also learned a lot, especially working together with people in a project.
Math/The Sciences
SARAH SCHEMMEL, daughter of Dean and Susan Schemmel of Durant, plans to attend the University of Iowa, Iowa City.
• "A" Honor Roll every year
Describe a classroom learning experience you'll remember forever: A classroom experience that I'll remember forever is the day that we tested our trebuchets in Physics. Prior to this day we were constantly stressed, worried that we wouldn't finish in time. We stayed late after school a couple days and finished it. When we went to test it that day, we were hoping that it would work. At that point we didn't care if it worked well; we just wanted it to work. We held our breath as we pulled the firing mechanism, and, to our surprise, it worked. We cheered with excitement. Obviously, it wasn't perfect, but it worked. We spent the rest of class making adjustments. We adjusted the angle of the release mechanism, made a track for the sling to follow, and made a track for the wheels of the arm to follow. I'll never forget the relief and excitement I felt after class.
Vocational Education
COLIN WEIH, son of Matt and Tonya Weih of Wilton, plans to complete an electrician apprenticeship.
• Academic All-Conference
Describe a classroom learning experience you'll remember forever: I participated in the ACE Mentoring Program my junior and senior year. The ACE Mentoring Program allows students to work with contractors and build a large project. In our region, we built a baseball dugout, baseball crows nest, and a multi-sport locker room. During my junior year alone, I worked over 100 volunteer community service hours. I learned a significant amount of information about trade jobs such as: carpenters, plumbers, roofers, electricians, concrete workers, etc. I also gained experience in these trades and it influenced me to make my career decision of being an electrician and going through an apprenticeship instead of going to college. The most memorable thing about this project was the contractors used my design for the lockers in the locker room. They also used most parts of my design for the entire building when they drew up the final professional drafts.
Young Journalist
SKYLAR WARNER, daughter of Devin and Chris Warner of Durant, plans to major in nursing at Kirkwood Community College, Cedar Rapids.
• Nominated to participate in National Council on Youth Leadership Muscatine Area Chapter
Describe a classroom learning experience you'll remember forever: Although there are many learning experiences I will remember forever, I will always cherish the lessons I learned from my choir director, Mr. Lee. Practically every day at the beginning of choir class Mr. Lee would have a story (or two) to share. Somedays they were just funny and would be a pleasant distraction from the everyday stresses of high school. But other days, his stories taught us valuable life lessons that I will remember forever.