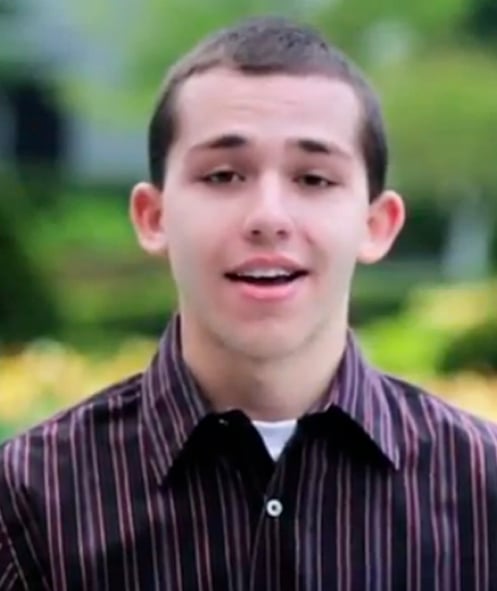 Keaton Fuller said he has attended Prince of Peace since kindergarten, and although he felt some trepidation when he decided to come out as gay to friends at school in late 2009, he has always felt supported and accepted by his classmates and the school.
That was until he was informed April 27 that a representative of the Eychaner Foundation would not be allowed to award him his scholarship.
"The support feels like it's gone, as far as the diocese goes," he said in an interview late Monday.
Keaton said he knows the church's stance on homosexuality, but he also knows that he has been taught in his religion classes the importance of tolerance and acceptance of other people.
"All of a sudden, I'm not being treated with respect and acceptance, which is counter to what they have been teaching me all these years," he said.
Keaton said he is hopeful that the diocese will reverse its decision if he has enough support.
---
EARLIER STORY: An openly gay student at Prince of Peace Catholic School in Clinton says the school is refusing to allow a representative of Iowa's Matthew Shepard Scholarship program to present his $40,000 award during an upcoming school awards ceremony.
Keaton Fuller, a senior at Prince of Peace, and his parents, Randy and Patricia Fuller, are asking the school to reverse its decision.
The scholarship is a program of the Eychaner Foundation in Des Moines and benefits distinguished Iowa high school students who are openly gay, lesbian, bisexual or transgender.
Prince of Peace school referred all questions to the Catholic Diocese of Davenport, which issued a written statement that the diocese congratulates Keaton on his scholarship. The release states Keaton will be presented the award May 20 by a member of the school staff, rather than the scholarship committee member, because of the diocese's "long-standing policy regarding guest speakers."
"This policy was explained to Keaton's parents at their meeting with Bishop Martin Amos last week. It states: 'We cannot allow any one or any organization which promotes a position that is contrary to the teachings of the Catholic Church to present at a diocesan institution,'" the statement reads. "Bishop Amos also expressed his congratulations for Keaton's reception of the award and recognized his hard work in achieving it."
The diocese declined requests by the media to discuss the issue further.
In response, Rich Eychaner of the Eychaner Foundation said its mission is to promote tolerance, understanding and anti-bullying policies. He is shocked that the bishop and diocese find these positions contrary to the teachings of the church.
"How can it be acceptable to have school staff present the award in the school but not allow the sponsor of the award to make the presentation?" he asked. "How is the award itself
acceptable to Catholic beliefs but not those who make it possible? Why would we allow others to present an award we make possible?"
Ed O'Neill, president of the Prince of Peace school board, said Keaton's scholarship was discussed at the April 17 school board meeting and nobody expressed any concerns about having someone from the Eychaner Foundation present Keaton with his scholarship.
O'Neill said he was "disappointed and confused" by the diocese's decision, especially because the school already had given assurance that a representative of the foundation would be allowed to present the scholarship.
"If you say you're going to do something, you do it," O'Neill said. "I guess I don't understand what the big deal is about somebody from the foundation coming to present the award."
O'Neill said it is common practice at the school for representatives of organizations awarding scholarships to make the presentations to the winning students.
"How this became a contentious situation I don't know," he said.
He called Keaton "a great student" who is active in school programs.
Keaton's mother, Pat Fuller, was near tears as she talked about how "extremely hurtful" the situation has been for Keaton and the entire family, which includes two siblings who also have attended Prince of Peace.
"We love our son, and that will never, ever change," she said. "His mission is to pave the way for the next gay student who goes there. That's why he's doing what he's doing. That's why we're standing behind him. We admire his strength and his courage, because it's not easy."
Fuller said she hopes the school, which Keaton has attended since kindergarten, will reconsider, adding, "We have to try to live what we say we believe, and that's a challenge, but that's one that I think we all have to take up."
Keaton did not return phone calls seeking an interview.
A news release issued Monday by the Eychaner Foundation said Keaton won the scholarship for his scholastic achievement and work reducing homophobia in his school and community.
He learned about the scholarship program and was encouraged to apply by Prince of Peace, he said in the release. The school also issued a signed statement that a committee member would be allowed to present the award to Keaton at the ceremony if he were selected for the scholarship, the release states.
"We were pleased that Prince of Peace promised to support all of their students," foundation executive director Michael Bowser said. "We had faith that their written agreement would mean something."
But on Friday, Keaton and his parents were told the scholarship presentation would not be allowed, after all.
Keaton wrote an open letter to the student body and staff, saying that he suffered a lot of anxiety before he "came out" as gay at the small Catholic school. But he "was pleasantly surprised and touched to find that nearly everybody treated me with the same acceptance and respect as they always had," he wrote.
In March, the school told him about the Matthew Shepard scholarship opportunity, and the moment he learned he won "was one of the happiest of my life," he said.
"It made me feel that my efforts had truly paid off," he said. "When word got around about this achievement, I received a great deal of praise from many of you, for which I am extremely grateful."
The school's decision to not allow the scholarship presentation, however, was very hurtful, he said.
 "I have never felt as invalidated and unaccepted as I have upon hearing the news that the scholarship that I have worked so hard for not just in the application process, but also in my deportment and actions over the years, would not be recognized in the way that it should at the graduation ceremony," Keaton said. "It is difficult to understand how after I have spent 13 years at this school and worked hard during all of them, I would be made to feel that my accomplishments are less than everybody else's. This whole ordeal has been incredibly hurtful, and I am even sadder that this will be one of my last experiences to remember my high school years by."
Keaton wrote that this is "a teachable moment for Prince of Peace, to stand up against rejecting and invalidating the accomplishments of any student."