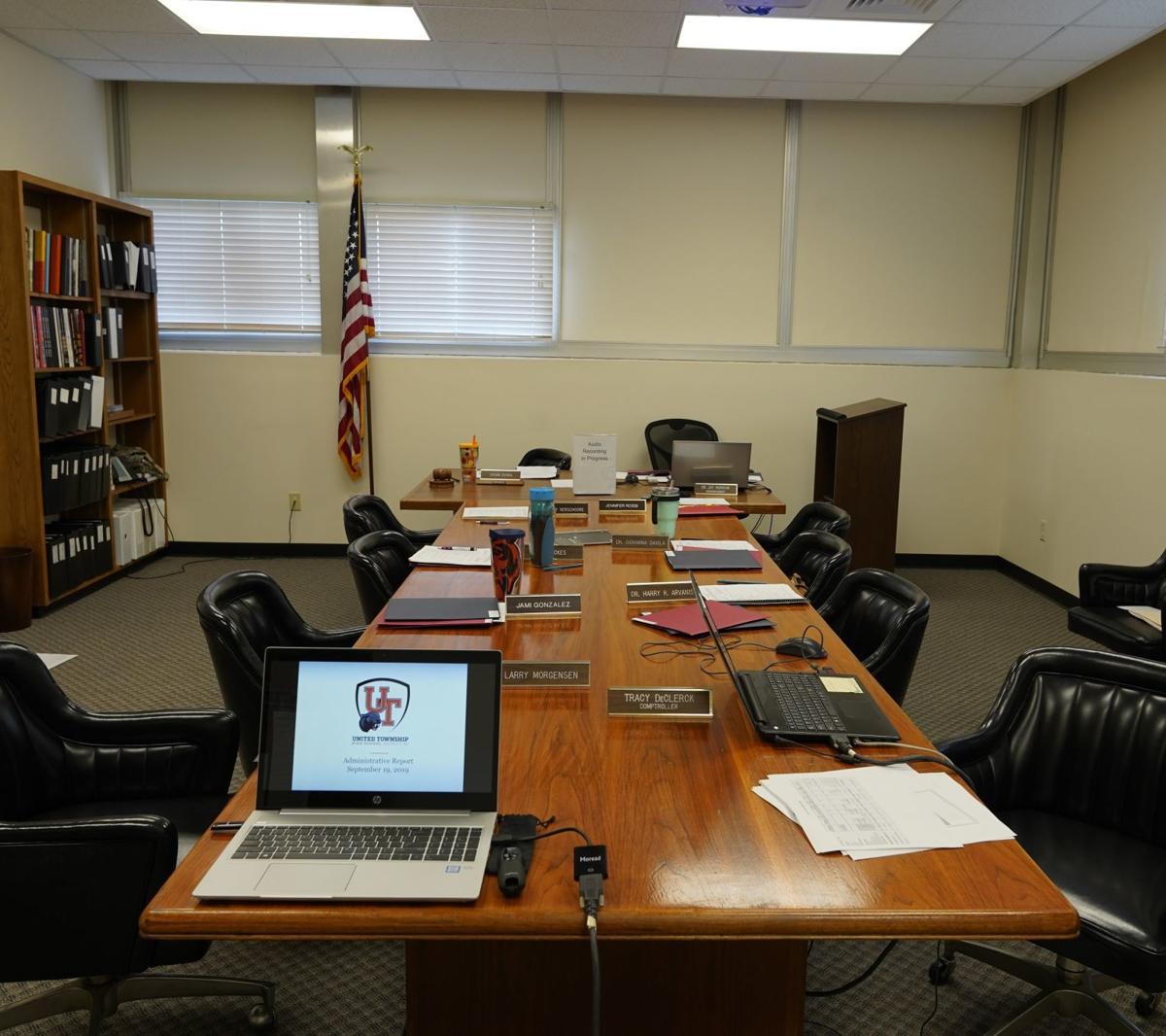 EAST MOLINE — At its regular meeting on Monday night, the district board of United Township High School welcomed two visitors. They were students at St. Ambrose University. They were there to observe school governance in the real world.
"Bring your friends next time," joked Susan Koska, board president, as she greeted the guests. "We have empty chairs."
The school board of UTHS District 30 routinely makes important decisions, often involving hundreds of thousands of dollars. By law, meetings are open to the public.
And yet the public almost never shows up.
The Dispatch-Argus reviewed board meeting minutes from the summer of 2017 to the present. Over those two years, only two visitors were logged. One was a local college student who was attending for course credit. The other was a journalist from the Dispatch-Argus.
Is this a problem? Or a tacit acknowledgment of trust from the public?
Either way, the reality of sparse attendance is years-old.
Comptroller Tracy DeClerck has been at UTHS since 2007. Over that time, board meetings have been quiet and mostly amiable, she said.
"It's usually pretty low key," DeClerck said. "We really haven't had a lot of attendance — unless someone is interested in becoming a board member."
The principal will often invite guests to appear at the start of board meetings for recognition or brief presentations.
On Monday night, three drum majors from the marching band spoke about the group, even performing a salute as their families stood by and watched.
But after their cameo, the students and their families left. Invited guests almost always leave before the board begins its usual business.
UTHS is an outlier in the Quad-Cities. Board meetings in Bettendorf and Davenport regularly draw large crowds and occasionally local press.
The issue isn't East Moline. At East Moline School District 37 board meetings, teachers and parents routinely show up. Those meetings usually start at 6:30 p.m., whereas UT's start at 6 p.m.
UTHS Principal Matt Wright said that low attendance isn't unusual for him. In East Peoria, where he worked as dean of students at a local high school, "we had someone once a year, maybe," he said.
You have free articles remaining.
Wright tries not to read closely into the low attendance at UTHS.
"I think there's a feeling things are run pretty smoothly," Wright said, adding that he felt the community has a sense of trust in their officials.
Others said that although the low attendance might not be desirable, it reflects competence or orderliness.
"We have a fairly stable board," DeClerck said. The average length of service for current board members is eight years. Koska, the board president, has served since 2005.
Unlike other districts, UTHS also has avoided publicity-generating controversies.
"We're doing things aboveboard, in a legal, ethical fashion," said Superintendent Jay Morrow, who also acknowledged that board meetings aren't accessible for every citizen. "People are very busy, whether they're working or with children."
As the number of journalists in the region declines, many public meetings are unreported. Months sometimes pass before some items discussed by public bodies receive public attention.
Still, in the age of social media, many seem to believe that if an issue were important enough, the community would invariably find out. Information has a way of leaking and spreading, including through social media.
Plus, school board meetings aren't the only chance to stay informed, said Brian Schou, English teacher and president of the United Township Education Association.
"The really hot-button issues tend to be shared with the public in different venues," Schou said. "If there's something important that's going to happen, there are additional meetings that will be held, and open houses."
"People could educate themselves on the complexity of these meetings," Schou added. "But they tend not to be exciting. And that's probably what keeps more people away than anything else."
Still, local meetings remain important. Civic engagement in municipal affairs is low across the country and in the Quad-Cities.
Morrow expressed hope that civic engagement will renew.
"Everyone talks about presidential elections," he said, "but what often impacts you most on a daily basis is local and state elections."
The next board meeting at United Township High School will be held on Oct. 21.