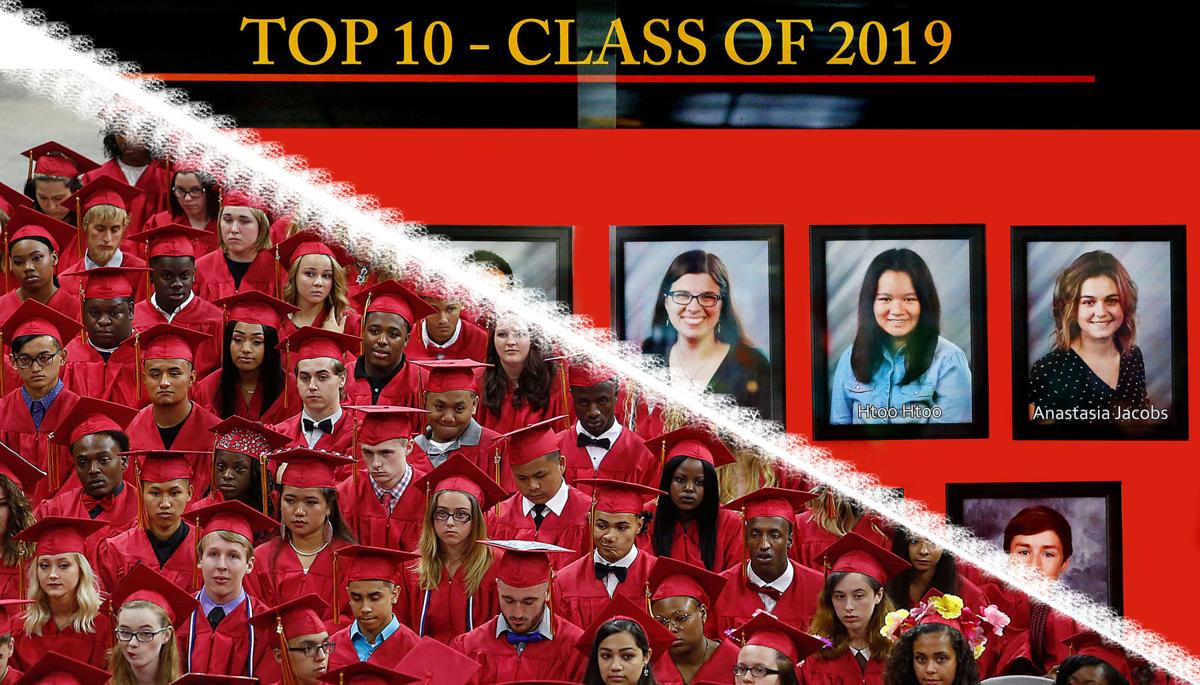 Ashley Preston mastered the rankings. She was a top ten student at United Township High School every semester. She graduated in June as one of three valedictorians, the highest-ranked students in a class of more than 370.
Now, the UTHS board of education is considering abolishing class rank.
What does one of the school's best and brightest think about eliminating the system that rewarded her years of hard work?
"I'm actually 100% in favor of abolishing class rank," Preston said.
She's not alone. Both of her co-valedictorians agree. Joey Dryoel called class rank "rather pointless and harmful." Alison Ogden, the other valedictorian, said class rank "encourages an atmosphere of rivalry and intense competition."
Over the last 20 years, class rank — the system in which students are ordered against their peers by grade-point average — has been dropped at an increasing number of high schools. High schools in suburban Chicagoland, including many of the top schools in the state, have mostly phased out GPA-based rank.
So, too, have college admissions boards. In 1993, 42% of colleges surveyed by the National Association for College Admission Counseling assigned "considerable importance" to class rank. In 2017, just 9% did.
Many students feel that class rank pits them against their classmates, generating unhealthy competition and incentivizing grades over learning.
"It just places unnecessary stress on the already very taxing world of advanced placement programs," co-valedictorian Dryoel said.
Removing class rank, said co-valedictorian Ogden, "will reduce their stress and make high school more enjoyable. It definitely would have for me."
Schools moving away from rank
The UTHS discussion reignites a years-old debate about how schools ought to evaluate and reward students. In the Quad-Cities, high school rank has mostly endured, though some schools are moving away from a traditional ranking system.
"Over half the high schools in the United States no longer report student rankings," UTHS Superintendent Jay Morrow told the district board at its most recent meeting. "As a high school, we need to have this conversation."
Nationally, schools are moving away from class rank, a system that critics claim is unduly stressful and misaligns student incentives.
Locally, most high schools use class rank, including Rock Island High School, Moline High School, Davenport Central High School, Bettendorf High School, and UTHS.
But not all do. Rivermont Collegiate, the private school in Bettendorf, doesn't rank, according to the Iowa Board of Regents. Geneseo High School also doesn't. Pleasant Valley High School hasn't ranked its students for years.
"I think there was a little bit of pushback initially. It wasn't anything significant," said Darren Erickson, Pleasant Valley principal. "I haven't heard any complaints in quite some time."
Class rank, which typically is reported on a student's transcript, has a straightforward purpose. Internally, it tells students how they're faring in school. Externally, it conveys information about a student's academic prowess to employers and universities.
For many schools, class rank has endured because of college admissions.
But most universities these days don't consider students from non-ranked schools to be at a disadvantage. Most colleges, including the flagship public schools in Illinois and Iowa, either do not use class rank in their admissions, or otherwise have a separate protocol to evaluate unranked students.
At Augustana College in Rock Island, fewer than half of the newest freshmen came from high schools with class ranks, said Kent Barnds, who oversees admissions at Augie.
You have free articles remaining.
"Given colleges' and universities' level of experience with schools that don't offer class rank, I don't think it places high schools and high school students at a disadvantage in any way" if rank is eliminated, Barnds said.
Colleges have developed their own ways of evaluating student transcripts. Augie and many other schools recalculate applicant GPAs to exclude non-academic courses or to emphasize certain core subjects.
Barnds said that the overall rigor of a high school transcript and the student's recalculated GPA are "the best indicators of success at Augustana ... superior to class rank and standardized tests."
In some states, class rank is essential. In Texas, students who graduate in the top 10% of their public high school classes gain automatic admission to state universities.
In Iowa, on the other hand, top students are guaranteed admission to a state university based on the Regent Admissions Index, which does not require students to have a class rank.
Class rank can be useful as context on a student's performance, Barnds said. However, even traditional class rankings require interpretation, depending on whether the schools are larger or smaller, more or less resourced, more or less competitive, or have more developed cultures of college attendance.
"Class rank is seldom very precise to begin with, when you have six students tied for valedictorian, or 13 tied for No. 8," Barnds said. "Class rank for some time has been moving away from precision we've ascribed to it."
At UTHS, debate begins
Class rank can be personal. It also can be expensive.
"In my high school career, I had one B that cost me $40,000," UTHS Principal Matt Wright told the district board at its recent meeting.
Wright, who graduated from high school as a salutatorian, explained that he missed out on a half-tuition scholarship to college because his GPA was 0.004 below that of the valedictorian.
For many students and alumni, class rank has had personal consequences in their academic and professional lives. Though rank matters less to colleges and scholarship providers, the system still matters to many students gunning for top spots.
Is that competition healthy or counterproductive? Officials at UTHS criticized rank for producing mixed incentives.
"I'm not sure if it's a matter of working hard," Morrow said of students who rank well. "I think it's a matter of playing the game."
He explained how students will avoid certain lower-weighted courses — such as fine arts, technology and vocational classes — in order to keep their GPAs high, even if their interests don't match up with their chosen course load.
For co-valedictorian Alison Ogden, class rank sends the wrong message. "Students are more than just a number, and by putting a number next to someone's name, it is almost like the school is saying, 'This is your worth,' " she said. "That is really demoralizing, especially to students who are not ranked high."
At the most recent UTHS board meeting, board member Giovanna Davila pushed back, arguing that class rank encourages good habits such as determination, discipline and hard work.
"I don't think it's fair to those who are working hard, and want that No. 1 and No. 2, to take that away from them," she said about removing rank. "The valedictorians I've met are very dedicated. It was their goal. Why should we take that goal away from them?"
Morrow explained that if the school jettisoned its ranking system, all current UTHS students would be grandfathered in and remain ranked by GPA; the changes would only affect the next incoming class of current eighth-graders.
School leaders also discussed adopting a different, softer type of ranking that rewards groups of students. One such model is the Latin honor system popular at universities, in which a GPA cutoff distinguishes highest honors (summa cum laude), high honors (magna cum laude) and honors (cum laude).
UTHS has not taken any action on class rank. Board members said they will study the issue and speak with constituents.
In the meantime, the debate will continue.
"If you worked hard and didn't get it, there's a lesson there," Davila said. "We rank our kids when they go to All-State, or when they go to the playoffs. We rank our kids. Why wouldn't we rank them in academics as well?"
Reporter Megan Valley contributed to this article.