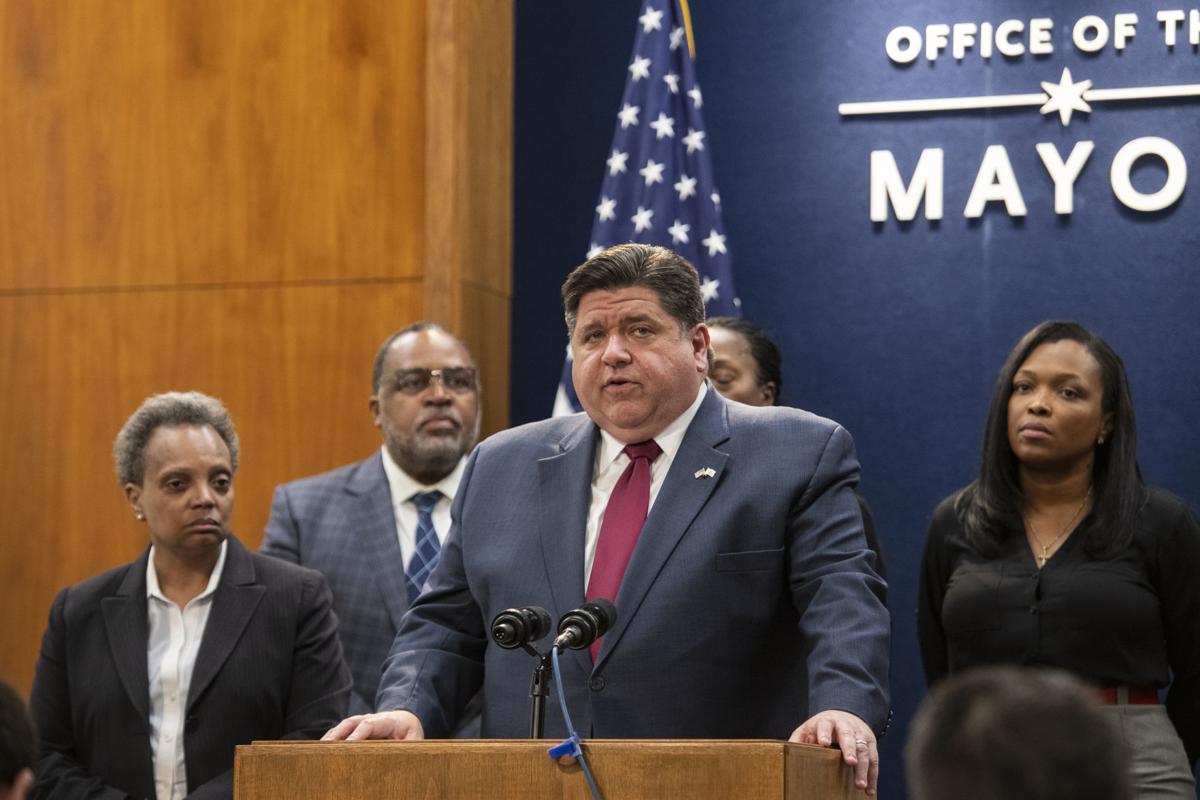 Illinois Gov. J.B. Pritzker on Friday announced all schools in Illinois will be closed from Tuesday, March 17 through Monday, March 30 amid concerns about the COVID-19 coronavirus. 
Other states and large cities shut down schools this week over COVID-19 concerns, but officials in Illinois and Chicago resisted until Friday. Pritzker announced his decision in Chicago where more than 355,000 public school students will be affected. Statewide, nearly 2 million students will not be returning to the classroom.
For now, daycare centers will remain open and will follow "strict health and safety guidance," according to a news release issued by Pritzker. 
Pritzker acknowledged that the decision will deeply affect students who receive meals at school and parents or family members who are unable to work from home. The Democrat, who has been particularly critical of the federal government's response to the spread of COVID-19 cases, said he still believes closing schools is necessary to limit the virus' spread.
"None of the choices that we have had to make over the last week have been easy or simple," Pritzker said. "All of these choices have cascading effects."
Illinois officials on Friday also reported 14 additional cases of people who had tested positive for the virus, bringing the state's total number of COVID-19 cases to 46. State officials are focused on trying to limit transmission in Illinois and hope that broader actions will help, said Illinois Department of Public Health Director Dr. Ngozi Ezike.
In Iowa, public schools in the state will remain open, at least for now, Gov. Kim Reynolds said at a press conference Friday afternoon. 
Gov. Kim Reynolds said Friday during a news conference that her administration does not yet feel compelled to close public schools or urge all Iowans to avoid gathering in large groups.
"We want to make sure that we're protecting the health and well-being of Iowans, but we also want to make sure that we're doing what we can to be responsive and mitigating our approach, and that we're keeping business and normal activity going as much as possible," Reynolds said.
Dr. Caitlin Pedati, the state public health department's medical director and epidemiologist, said the department is not yet recommending schools be closed or large gatherings be cancelled because the documented cases of coronavirus have been linked the infected individuals' travel.
If the virus spreads in a way that Iowans become infected without knowing how, that calculation may change, Reynolds and Pedati said.
Reynolds said a 17th case of coronavirus was confirmed Friday, this one in Harrison County in western Iowa. The case was travel-related, Reynolds said, but not related to the Egyptian cruise that is responsible for 15 of the confirmed cases in Iowa.
For most people, the new coronavirus causes only mild or moderate symptoms, such as fever and cough. For some, especially older adults and people with existing health problems, it can cause more severe illness, including pneumonia.
The vast majority of people recover from the new virus. According to the World Health Organization, people with mild illness recover in about two weeks, while those with more severe illness may take three to six weeks to recover.
The school cancellations are the latest blow to Chicago families, where students were kept out of classes earlier in the school year by an 11-day strike by the district's more than 21,000 teachers. About 70% of the district's students are eligible for meals at school based on their families' incomes, making them particularly vulnerable to disruptions.
Pritzker said state officials are working to plan food delivery to students' homes or to neighborhood facilities around the state. He also said the state has granted access to unemployment benefits to people unemployed due to concerns about the coronavirus.
State Supt. Carmen Ayala encouraged school districts to provide activities that students can do at home but said administrators for each district have "full autonomy" to make their own decisions.
This is a developing story. Check back for updates.
Concerned about COVID-19?
Sign up now to get the most recent coronavirus headlines and other important local and national news sent to your email inbox daily.