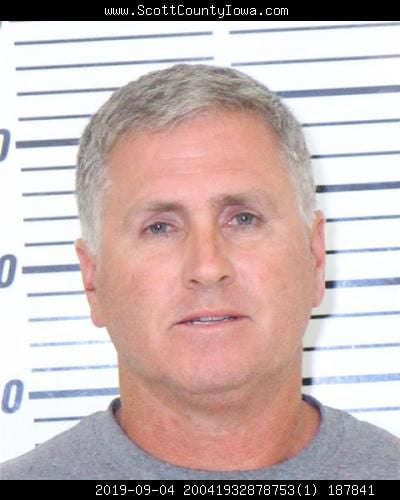 A Bettendorf High School physical education teacher was arrested and held on a charge of domestic assault with injury Wednesday. The misdemeanor charge initially came without bond — and without comment from the district, which has a policy of not commenting on personnel matters.
In the meantime, Jay Fitzgerald paid $1,000 through a bail bond company after his first court appearance Thursday morning and was released from the Scott County Jail. There are still processes to conduct, both for the criminal proceeding and at the district level.
What happens in the meantime?
According to the Bettendorf Employee Handbook, Fitzgerald, or any employee arrested or convicted of any off-duty criminal charge, must report it to human resources within three business days, or incur discipline "up to and including termination."
District spokeswoman Celeste Miller said via email that any report to human resources are treated and maintained as part of confidential personnel files, and the district could not comment.
Board President Adam Holland said he would reserve comment on a personnel issue.
"They have to contact their employer immediately to let them know what's going on, because they do hold a license," said Toby Paone, director of the Great River UniServ Unit, which represents members in the Bettendorf Education Association. "The fact they hold a license means they have certain public responsibilities, one of them being that you have to contact your employer as soon as possible."
After the initial notification, it's a waiting game.
There's a "flurry" of activity behind the scenes, Paone said. Sometimes, teachers who are arrested resign, if the charge or circumstances are serious enough. If not, districts usually wait until the criminal proceeding is completed, and the teacher goes on leave in the meantime. Paone has seen teachers put on both paid and unpaid leave, but said paid is far more common.
"A person is innocent until proven guilty, so they almost always put them on paid leave," he said. "In the event they are found innocent, they shouldn't necessarily be harmed financially."
You have free articles remaining.
If the teacher is found not guilty, Paone said the district might rehire the person, or conduct its own investigation.
If the teacher takes a plea or is found guilty, it becomes a little more complicated.
"If it's drunk driving, that's usually not specifically related to a person's job in the classroom," Paone said. "Typically there isn't jail time — though there could be. Normally in those circumstances, a person's (teaching) license is not in jeopardy."
But for serious criminal charges, including assault, anyone found guilty could end up with jail time. Depending on the plea or conviction, the Iowa Board of Educational Examiners could strip the teacher of their licensure, though a serious misdemeanor domestic assault — like Fitzgerald is charged with — is not listed as one of the automatically disqualifying criminal convictions. Disqualifying criminal convictions include forcible felonies and a number of criminal sexual offenses involving a child.
According to Chapter 25 of their professional code, the Board states that "Violation of federal, state, or local laws in the fulfillment of professional obligations constitutes unprofessional and unethical conduct which can result in disciplinary action."
"Typically, these are multi-faceted. It's not linear, in the sense of 'oh, a teacher's been arrested, therefore they're automatically terminated from their employment,' " Paone said. "They have a right to a hearing, they have a right to due process under the law. These things take a bit of time."
In the meantime, Paone said concerned parents should talk to the administrator in charge to keep abreast of things. Typically, he added, an administrator might write a letter to parents.
"Normally, that's what happens — there's communication from the school district to parents that the process is continuing, their children are safe and they're cooperating," Paone said.
Initially, Miller said the district did not plan to disseminate any communication to parents. Friday afternoon, though, High School Principal Joy Kelly sent an email to high school parents. The email makes note of how the school "strives to instill our values of poise, respect, integrity, determination and excellence," through expectations outlined in the parent and student handbook, as well as the employee code of conduct. 
"If there are allegations of noncompliance or improper behavior, the district investigates such allegations and implements consequences as appropriate," the email states. "As it relates to both students and staff, district and school administrators are unable to comment on specific instances of student discipline or personnel matters." 
The email does not mention Fitzgerald or allude to any incident involving the police.