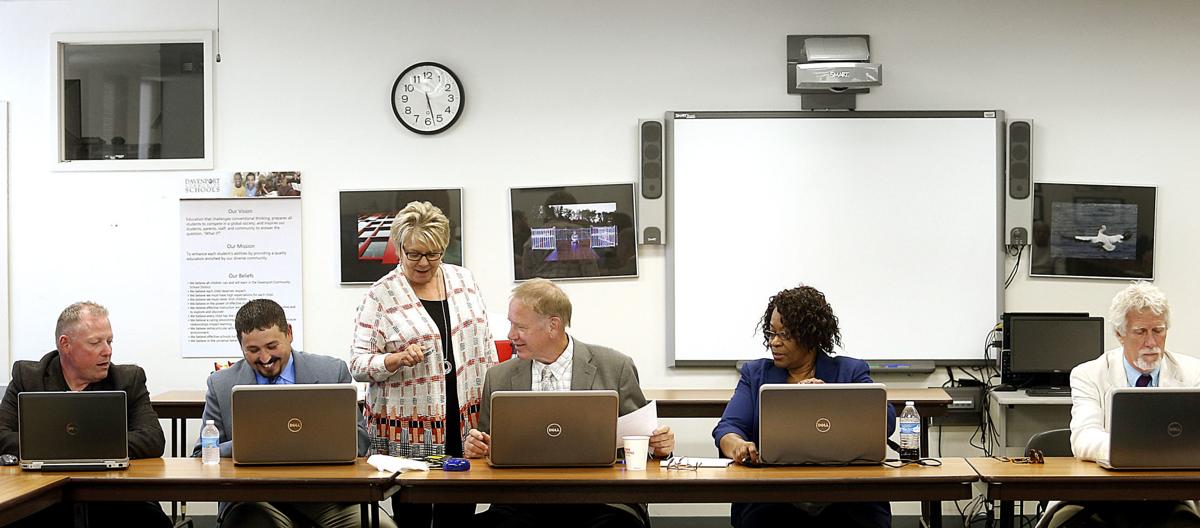 Some neighborhoods have school board members representing them year after year. Others haven't had anyone elected out of their district in more than a decade.
In Bettendorf and Davenport, board directors all serve at large, which means they're supposed to represent the whole city. Pleasant Valley, on the other hand, has director districts, so each board member represents a certain geographic area. In other parts of the state, there's a third option: a combination of district-designated and at-large board members.
With seven seats and 18 elementary schools, it's impossible for every community in the Davenport School system to be represented on such a local level at the same time. In Bettendorf, there are five elementary schools and seven seats, so some communities will have more representation on any particular board. Over time, though, trends regarding which neighborhoods are the most represented — and which are the most likely to produce candidates in the first place — start to emerge.
Not all neighborhoods are equally engaged at the board level. But when a community lacks representation, it's not because candidates are losing elections — it's because no one is running in the first place.
The Times looked at school board directors and failed candidates in Davenport and Bettendorf since 2003. That's when the Scott County Auditor's office changed computer systems, making address information much harder to track down for prior years. Here are three takeaways.
Six Davenport elementary schools haven't had anyone on the board since at least 2003. 
Every intermediate school has had at least one board member — though Smart and Walcott have each had only one — but six elementary schools haven't had a board member in at least 15 years. Buffalo, Hayes, Walcott and Wilson Elementaries haven't had anyone file to run. Garfield and Monroe Elementaries have had one person run, each, but no one made it to the board.
Everyone from Bettendorf's Thomas Jefferson neighborhood that has run since 2003 won a seat.
Before it merged with Mark Twain Elementary at the end of the 2018-2019 school year, the Thomas Jefferson neighborhood was on a hot streak. Despite being the smallest elementary, with only a single section for each grade, all five of their candidates since 2003 have made it to the board room. Only Grant Wood Elementary has produced more board members in that time, with six. 
Meanwhile, the neighborhood they're merging with has had only two people run in that same time period. One is President Adam Holland, and the other had a failed run. 
Davenport's North High School has more failed candidates than the other two put together.
You have free articles remaining.
While not equal, the spread of board directors between Davenport's three high schools is much closer than the intermediate schools. Engagement and representation, though, aren't always the same thing. Of the 13 to run from Central High School, for instance, seven have been directors — about half. But two-thirds of West's six candidates have won. Meanwhile, a third of North's 15 have made it. While North has had the most candidates since 2003, which suggests a high level of engagement, they've had the lowest "win" percentage. 
Does at-large versus director districts matter? 
Of Iowa's 367 school districts, 148 have director districts, according to the Iowa Secretary of State. While Davenport is the largest in the state to have an entirely at-large board, there's no clear trend between size and the likelihood of having districts. In the 10 largest districts by enrollment, three have director districts: Waterloo, Des Moines and Cedar Rapids. There are 18 districts with more than 5,000 students, but looking at those schools only adds one more with a director district: College Community School District. 
The Iowa Association of School Boards said different board structures have different advantages and disadvantages, and that communities are allowed the flexibility to find a structure that best needs their local needs.
"The director district method of election ensures that different geographic areas in the community have ownership and control over who represents them at the board table," Communications Director Tammy Votava said via email. "Communities may struggle if open director districts seats have no interested candidates. This is a reason some communities have a combination of systems — director districts and at-large, voted on through the variety of methods outlined above." 
"The at-large method provides an opportunity for citizens to run for an open seat no matter where they live," Votava said. "This method can be helpful in order to fill open seats rather than being restricted to a certain director district in communities that struggle to find interested school board candidates. Communities who are using this system seem to be satisfied with the election process."  
Ahead of the failed general obligation bond in 2018, Bettendorf polled voters over the phone on a number of topics, including creating individual school board districts: "Do you support keeping the same system where all members are elected across the entire school district or change to a system with individual districts for each board member?" There were 381 participants, and 146, or 48.5%, said they would "definitely" or "probably" keep the current system. In the 2018 bond vote, there were 18,299 eligible voters.
"The district did not feel the response showed an interest in switching to districts within the district," Director of Communications Celeste Miller said via email. While 26.6% said they'd lean toward creating individual districts, nearly a quarter of participants either refused to answer or were unsure of which they'd prefer. 
"Honestly, it's something that keeps circling. Different boards and different superintendents," Miller said. 
The petition to put it to a vote requires 20% of eligible voters or 400, whichever is less, according to the Scott County Auditor's office. 
Ideally, though, the IASB said any board member would try to represent the entire district, not just their neighbors, or their official constituents. 
"Regardless of the system chosen by the local community, IASB advises school board members that after they are elected, they don't just represent their director districts — they represent all stakeholders, students, teachers, parents, community members — the entire district as a whole," Votava said.