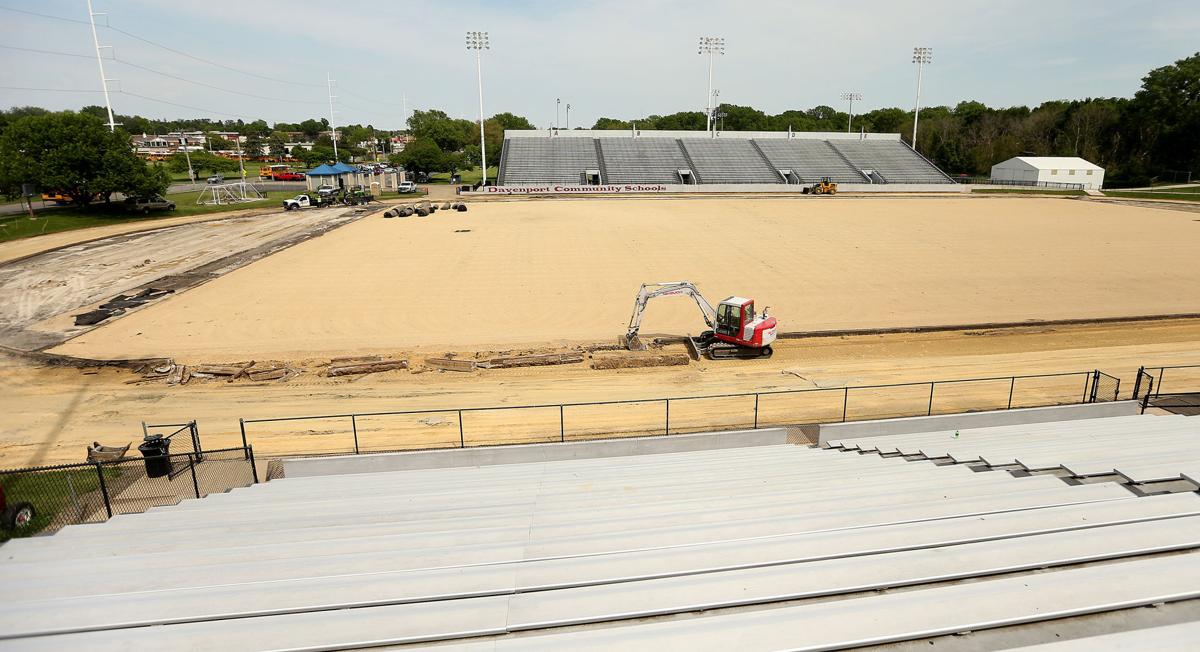 Rock Island County farmer and businessman Steve Bush, 57, who took the landscaping business that he and his wife, Julie, started in the 1980s after the agriculture markets tanked and turned it into a thriving sports venue turf business, died Friday.
Milan farmer Jim Coyne, who farms the Bush farmland, said he had known Bush for decades and had done some of the truck driving for the turf business. Coyne and Bush also served together on the board of the Rock Island County Farm Bureau.
"Steve was a big family man," Coyne said of Bush. "He believed in the Lord in the Catholic way and family was ahead of work by all means. He put in his 10- and 12-hour days, and when he was done he went home to his family."
Bush made sure he spread around the work to people in the Quad-City area, Coyne added.
"He had a business to run, but he was a friend and a big-hearted guy," Coyne said.
"He built himself a pretty good business," Coyne said. The pandemic hurt the business some, as it did many businesses, and ballparks did not need too much turf work done. Bush then began seeding restoration work, going behind construction crews on the highways and byways and reseeding the grass where construction crews had been working.
"Steve was always thinking, always self-sufficient," Coyne said. "He told me, 'I'm not going to lay any of these guys off. They've been with me a long time, and I'm keeping them working.'
"He believed in his workers, and he took care of his people," Coyne added.
Taylor Ridge farmer Tom Mueller said he had known Steve Bush for decades.
"I knew him when he first started farming, and as I recall he was an Outstanding Farmer in the State of Illinois with the Jaycees, and then I know he sold seed corn because I remember buying Wyffels seed corn from him for several years. Then he got into the turf business when agriculture was going through tough times and did amazingly well. He worked hard and developed that business, and it became a huge success."
Mueller said Bush's first contract for his sports turf business was the TPC Deere Run golf course in Silvis.
On the company's website, Bush explained the history of his business:
"I went to school for agronomy and planned to be a farmer, but that market tanked in the mid '80s, so my wife and I got into landscaping. I bought a grass seeder and was seeding old ladies' yards until I heard John Deere was going to build a golf course. I started driving out there every day and finally found a guy with the PGA Tour and told him I could help build the course. He said to give him a quote, so that meant I had to go to the library and learn how to build a golf course first."
"A few weeks later he called me up and I was hired. I researched some more and then built TPC Deere Run, which launched us into sports. Next, we did a job at Kinnick Stadium for the University of Iowa, and eventually we got in with the Los Angeles Dodgers, which opened the door for more professional sports fields."
Bush's works include the rebuilding in 2018 of the Field of Dreams near Dyersville in Dubuque County when it was vandalized.
Alex Stuedemann, TPC Deere Run superintendent, said he had Bush's crew working on the property a little more than a month ago installing 1,400 feet of drainage.
Stuedemann was an assistant and Bush was part of the grassing contingent when Deere Run was built. Stuedemann said he had a photo in his office somewhere of Bush standing on the third green and they had just sodded the whole complex.
"Steve was the man," Stuedemann said. "He was always innovative; he was always trying to be better at what he did. It showed in the diversity of his business.
"He took care of little old Deere Run, cleaning up after the John Deere Classic, and went all the way up to laying down … being part of a committee that planned for the installation of natural turf grass fields inside sports stadiums. He was part of the crew that put in a natural grass field at U.S. Bank Stadium in Minneapolis right after it opened for the Premier League soccer match. He's rebuilt Kauffman Stadium, he's re-grassed Arrowhead Stadium (both in Kansas City) I don't know how many times," Stuedemann said.
Bush had a hand in many of the local sports fields, including just about every grass baseball field in the Quad-Cities, including Modern Woodmen Park and the Augustana baseball stadium.
"That is Steve's legacy," Stuedemann added. "He literally grassed the Quad-Cities if you break it down."
Stuedemann said Bush built a family with his crew.
"It seemed like I would see the same guys every time over the last 10 years come through that place," he said. "They were committed to Steve and Steve likewise to them and it showed. They took pride in their work. We certainly wouldn't have used them if (their work) wasn't perfect."
Stuedemann, like all the others who knew Bush, said he feels for Bush's employees and family.
"Right now, everybody is just in shock and devastated that a young man has been taken away far too soon," he said.