'Find the bone': Shed hunting with Boone the black Lab
If Zack Foster doesn't promptly respond to a text message this spring, there's a good chance the 23-year-old and his dog are foraging a forest floor for deer antlers.
Shed hunting, the search for antlers shed by bucks, is his dog's "favorite thing," Foster said, speaking of his 7-month-old black Labrador, Boone. 
The duo braved temperatures in the mid-20s Sunday morning to fit in a training session before Easter brunch with their family. Foster, who lives in Orion, hid previously discovered antlers, or sheds, for Boone to track down on a friend's property near Taylor Ridge in rural Rock Island County.
"Find the bone!" he repeatedly called out to his strong-sniffing 62-pound pup, who didn't stray far from his owner's side as they walked through an open field.
Foster hopes Boone eventually will learn to run ahead on his own and look for sheds.
"I want him to find them before I even get there," he said. "It's a big process."
While dogs may cover more ground and detect more scents than their owners, canines alone don't create success.
It takes a team effort in the field to consistently walk away successfully, said Jeremy Moore, a professional shed dog trainer based in Pulaski, Wisconsin. People with dogs may find more antlers than those without them, he noted, because they usually practice more.
"We all have a little bit of cabin fever this time of year, but those who have a dog are a lot more apt to go," said Moore, 38. "By doing it more often, you get better."
'Finding a treasure'
It also pays to know where to look, said Ben Mills, head ranger at Loud Thunder Forest Preserve in Illinois City, a popular shed hunting destination in the Quad-City area. 
Mills, 38, doesn't hunt with a dog, but he and his 6-year-old son, Brady, already have uncovered four antlers this season. He recommends homing in on deer bedding and feeding sites, as well as their travel corridors. The animals frequently lose their antlers in areas where they're forced to maneuver around an obstacle, such as a downed tree or an old fence line, Mills said.
"You have to get out before vegetation starts growing," he said.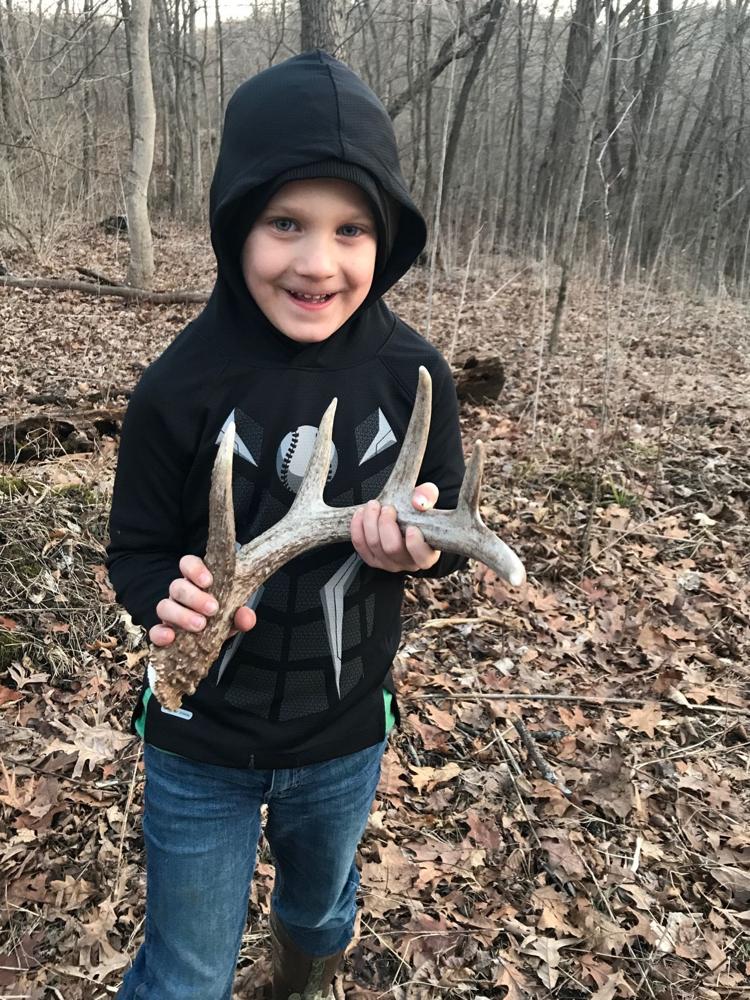 Mills likened securing a shed to "finding a treasure," similar to harvesting elusive morel mushrooms. One of his go-to shed hunting spots is the 240-acre Martin Conservation Area west of Loud Thunder, but he did not offer specifics beyond that.
"That's for me to know and everyone else to wonder," Mills said. "It's pretty secretive; you don't really talk about where you found your sheds."
He picked up tricks of the trade from his grandfather as a young boy in Minnesota, and he first introduced his son to shed hunting at the age of 3. 
"I remember what his eyes looked like when he found his first one, just sheer enjoyment," Mills said. 
'He's shed-crazy'
Ten years ago, most people had never heard of shed hunting, said Moore, who launched DogBone in 2010. His company developed a product line that helps people train their dogs to retrieve antlers.
It since has become the "fastest growing sport in the dog world," according to an organization dedicated to the activity — the North American Shed Hunting Dog Association in Northfield, Minnesota. The tactics used to train shed hunting dogs closely resemble those used to school bird hunting dogs, including a lot of praise and positive reinforcement, Moore said. 
Almost immediately after buying Boone in November from a breeder in Anamosa, Iowa, Foster presented his then-8-week-old Boone with a soft, synthetic shed antler patented by DogBone. He opted for the mock antler at first to prevent his dog from poking himself on a sharp, hard tine, which could've scared him of sheds for good. When they play fetch, Foster applies DogBone's liquid antler scent to the dummy to familiarize Boone with the target smell.
"He's shed-crazy because of me," Foster said, listing the benefits the pastime provides them. "It makes him happier, and I'd rather be outside than anywhere else."
Th Rockridge High School graduate is a member of Sheet Metal Workers Local 91 in Rock Island and works at Schebler Co. in Bettendorf. He dabbles in photography, too, and he manages the Instagram account for an outdoors television show in the works called Split Second Outdoors. The social media profile, which features several images of Boone, has nearly 3,700 followers.
Quality deer management
Moore credits the rapid growth of quality deer management for shed hunting's steady increase in popularity.
"For a lot of people, shed hunting is part of year-round whitetail management," Moore said.
Foster identifies as a member of that group. Shed hunting, he said, satisfies his deer hunting itch during the off-season, but more importantly it allows him to take inventory of herds on the private grounds he and his friends hunt. When the weather warms, he plans to plant food plots for deer on those same properties.
"I want these things (deer) to be healthy, but I also want to see them on my wall," Foster said.
Not only has he found more sheds this season with Boone than in previous years, he enjoys the company and camaraderie of his new best friend. 
"Instead of talking to myself like a lunatic, I talk to my dog," said Foster, who has learned a lot, including patience, since bringing Boone home with him five months ago. "It's one of the best things I ever did."