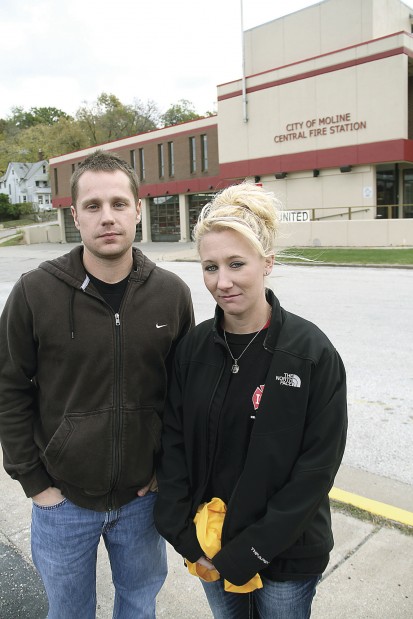 Moline city leaders are battling with the firefighters union over the future of the city's public safety.
The union staged a rally Wednesday morning in front of the Central Fire Station after aldermen voted 6-2 on Tuesday night to cut 12 firefighter positions in favor of privatizing emergency medical service.
One of those who would lose his job is firefighter/paramedic Justin Frederiksen, who said Wednesday he is disappointed the city will take services away from the town he grew up in and where his mother and grandmother still live.
"I found out just two weeks ago I could be losing my job," Frederiksen said. "They couldn't tell it to my face."
Moline Mayor Don Welvaert said the only firefighters being cut are ambulance personnel. Even after the cuts, which are supposed to take effect by July 2012, the city will maintain its three-firefighters-per-engine minimum.
"The city has the highest basic life support rate for EMS in all the Quad-Cities," Welvaert said. "And taxpayers subsidize that program. Should we look for an alternative? Yes. And we found that in the private sector."
He cited Davenport, Bettendorf and East Moline, which also contract out for their ambulance services.
"We're not losing a service," Welvaert said. "We found a means to maintain a high level of service for citizens at a reduced cost."
Still, emotions ran high at Wednesday morning's firefighters union rally.
"We need to set our priorities and make public safety a high priority," Brian Vyncke, president of Moline Firefighters Union Local 581, said.
Vyncke said Fire Chief Ron Miller resigned at Tuesday night's city council meeting because he didn't want "blood on his hands" if required to respond to emergencies with fewer firefighters.
Miller announced that he will retire Nov. 12. He couldn't be reached Wednesday to talk about his announcement.
Standing in front of Central Fire Station, Moline Fire Lt. Jim Versluis called the cuts "unbelievable," saying a typical shift will be reduced from 17 to 13 firefighters.
Moline City Administrator Lew Steinbrecher said the increase in personnel costs is outpacing the growth of
revenues to support local government operations.
"These are extremely difficult times for all levels of government," he said.
He added there have been significant cuts in personnel in various city departments over the past four years.
Alderman John Knaack, who favors privatizing EMS, pointed out that 90 percent of Moline's firefighters live outside the city, mostly in communities with volunteer departments.
"They're telling us we're going to be unsafe," Knaack said.
Alderman Sean Liddell, who voted against privatizing EMS, said he's not comfortable with the firefighter staffing levels that will result if the city-based EMS is cut.
"I have not seen enough information," Liddell said. "There simply wasn't enough time."
He said the 12 positions being cut are heavily subsidized by the fees that they bring to Moline through their dual role as EMS providers.
"I was not convinced of the cost-benefit of eliminating these revenue-generating positions," he said.
Illinois Rep. Pat Verschoore, D-Milan, attended Wednesday's rally and weighed in on the controversy.
"It's a bad situation both ways," Verschoore said. "Revenues are down. When you start cutting emergency personnel, that's severe."
Verschoore said he would talk to U.S. Sen. Dick Durbin, D-Ill., about passing President Barack Obama's $447 billion jobs bill - including money for first responders - that was blocked in the U.S. Senate last week.
Obama and Democrats in the Senate are trying to pass individual parts of the bill, including one provision that would include $5 billion for first-responders. Republicans object to the spending.
After Tuesday's Moline City Council vote, Rock Island remains the last Quad-City to have a city-based ambulance service.
Rock Island Fire Chief Jim Fobert said the fire department took over ambulance service in 1985 to save money.
"We're cross-trained to do both jobs," Fobert said of his firefighters/paramedics. "It's cheaper, and we also generate revenue for the city."
Last year, the service generated at least $1.2 million for Rock Island, Fobert said.
Moline Alderman Ted Ronk, who supports privatizing EMS, said Moline's city-based ambulance service also brought in $1.3 million from fees last year. But more than half who use the service are Medicare and Medicaid recipients, he said, so the fees pay only a small fraction of the cost of the service.
Ronk added the city lost $700,000 that had to be made up in shortfalls of payments out of property tax dollars.
"We have excellent fire and police forces, I would say are next to none," Ronk said. "But pension requirements mandated by the state are financially choking the life out of the city's ability to provide basic services properly for a city our size."
Get local news delivered to your inbox!
Subscribe to our Daily Headlines newsletter.