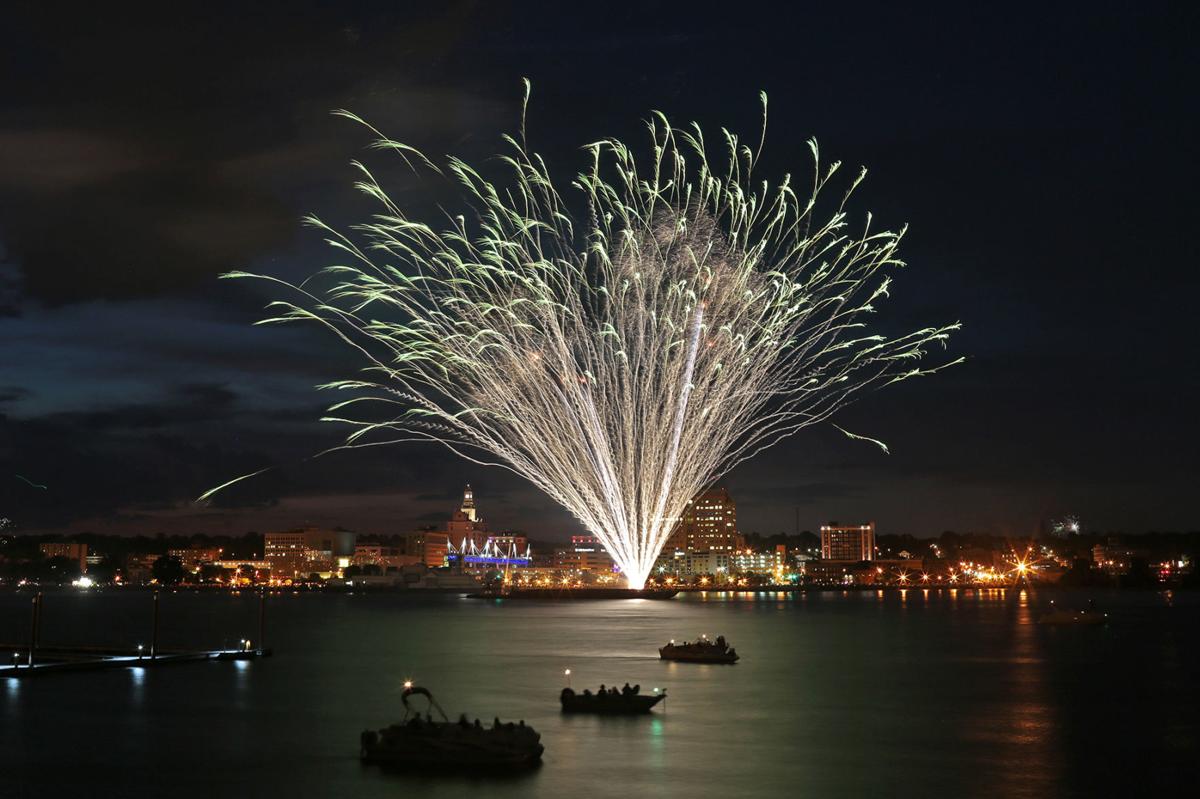 Following is a list of fireworks displays scheduled in the Quad-City area. 
WEDNESDAY, JULY 3
Red, White and Boom!: 9:30 p.m., downtown Davenport, Rock Island Schwiebert Riverfront Park and Arsenal Island. Festivities begin at 5 p.m. at Schwiebert Riverfront Park, 101 17th St., Rock Island, and at Modern Woodmen Park, 209 S Gaines St, Davenport and Arsenal Island. Festivities include inflatables, kid's activities, live music, and food vendors. See website for details https://www.redwhiteandboomqc.org/ 309-732-7275 or 563-322-1706.
Fireworks at the Quarter (music, food vendors, kids activities and etc.) 5:30-10:30 p.m., The Quarter, 101 Beacon Harbor Parkway, East Moline. Shuttle bus from JD Harvester, 1100 13th Ave. East Moline. Fireworks at dusk. Rain date information: 309-752-1599. (Rain date July 5) July Fourth Parade: Thursday, 1 p.m., 15th Ave. (13th St. to 3rd St.), East Moline. https://www.eastmoline.com/375/EM-Independence-Day
Matherville fireworks: 8:30 p.m., display on the shores of Lake Matherville. Rain date is July Fourth. All donated proceeds go to the Matherville Volunteer Fire Department. Take Highway 67 south out of Milan and north out of Viola, to the Matherville blacktop. Turn west off Highway 67. Follow blacktop to the business section and then the lake entrance. Only service dogs allowed. Starting at 5 p.m. Fraternal Order of Eagles will have food and raffle tickets available for purchase. 
Milan fireworks: 9 p.m., Camden Park, 2701 1st St. E., Milan. Inflatables, food and drink vendors before fireworks.
Orion Fireworks Festival and Lighted Parade: 5:30. Orion High School, 1100 13th St. Featuring a lighted parade at 8:45 p.m. followed by fireworks. Orion Fireworks Festival will start at 5:30 p.m. when the CH47F Chinook from Unit Bravo Company 2nd 211GSAB, out of Davenport, lands at the athletic field. There will be tours of the Chinook, live music and food vendors before the lighted parade. https://www.facebook.com/OrionFireworksFestival/
You have free articles remaining.
THURSDAY, JULY 4
Bettendorf Fourth of July parade, festival, and fireworks: 10 a.m. Parade along State Street, downtown Bettendorf followed by festival fun at noon with more music, kids activities, food vendors and fun back on Spruce Hills Drive, in front of Cumberland Square. Fireworks will be shot off at dusk from Middle Park in Bettendorf. Fireworks and park band rain date is July 6. https://www.bettendorf.org/
Galva Freedom Fest Celebration: 8 a.m. to 11 p.m. Downtown Galva. Events at Wiley Park, 188 NW 5th Ave. Free. Parade filled with tractors, bands and floats. Lunch in the park and stroll the streets, viewing many of the vintage homes. Fireworks at dusk in park district, 213 SE 6th St. http://www.visithenrycounty.com/event/galva-freedom-fest-celebration/
FRIDAY, JULY 5
Coal Valley Stars, Stripes & Freedom Fireworks: Valley Days begins at noon with bands, karaoke, food and beverage and event for kids. 9 p.m. fireworks at Coal Valley Municipal Park. See website for full schedule of events through July 6. http://www.coalvalleydays.org/index.html
SATURDAY, JULY 6
Buffalo Days (music, car show, bike show, race, parade, fireworks): 8 a.m.-10 p.m., City Park, 255 Dodge St., Buffalo. 563-210-5982. Free. See full schedule on website that begins Friday, July 5, through Sunday, July 7. http://www.buffaloiowadays.com/home.html
SATURDAY, JULY 13